Bosna at the Balkan Grill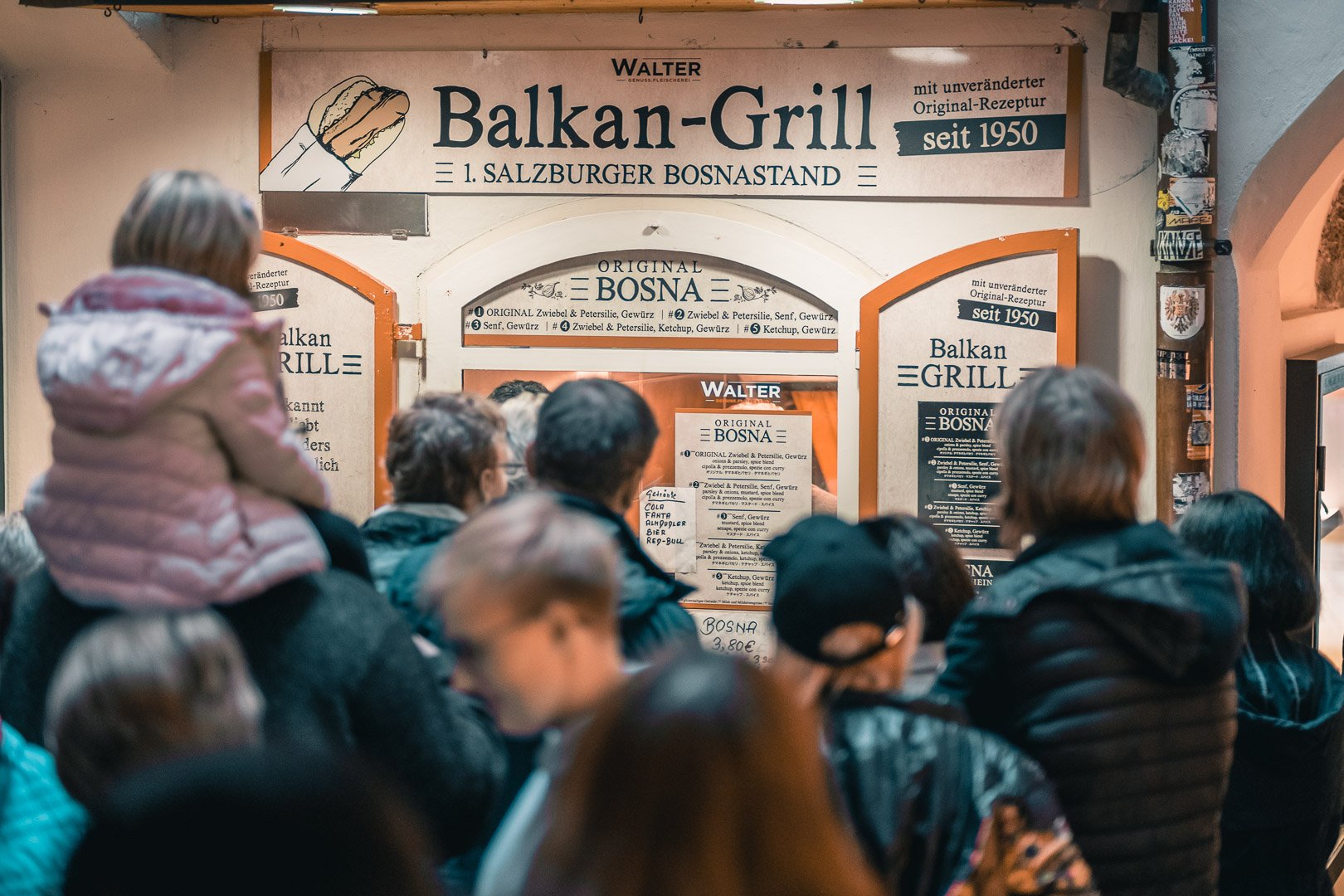 Food in Salzburg, in other parts of Austria and even in Bavaria is similar with few exceptions. One of those exceptions is Bosna. Bosna is similar to a hotdog. It contains two sausages, raw onion and curry powder. Sometimes also mustard and parsley.
Bosna was invented by Bulgarian Zanko Todoroff in 1949 when he prepared and sold it at the Augustiner brewery. He was so successful already in the first year that he was able to afford the grill imbiss in Getreidegasse where the original Bosna is still served nowadays.
The name Bosna probably originates from the fact that Todoroff gave his new invention a strange name which Austrians were not able to remember. They started calling it Bosna (Bosnian for Bosnia) because they associated spicy food and raw onions with slavic cuisine.
You find Bosna at most sausage stands in Salzburg but the Balkan Grill Imbiss only sells Bosna. They offer five different variations but I only consider two of them. Number one is without mustard. Number two is with mustard. Three, four and five are not worth mentioning.
Nowadays Bosna becomes popular in other cities but they are not doing a great job in imitating it. I remember an imbiss in Linz where they didn't even know how to spell it. Instead of "Bosna" the sign said "Bosner". So I advise you to take your chance and get a Bosna in Salzburg.
In summer when Getreidegasse is busy you should be prepared to wait a while for the original Bosna. The stand is tiny, there is often only one person working and people could be lining up until the end of the tunnel in which it is located.