Why there was no Free Walking Tour in Salzburg?
Salzburg receives 30 million tourists a year. Located between Vienna, Prague and Munich, it's a stopover for many travelers and with Hallstatt, the Eagles Nest and the largest Ice Caves in the world as day trips backpackers put it on their bucket list.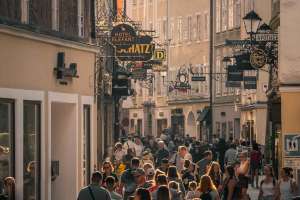 How come there was no Free Walking Tour until 2018? Well, in Austria guides need a license. To acquire the license, we attend two years of school and pass a state exam. That's how guiding is regulated and the number of guides limited.
In this article I will tell you my story and the story of the first Free Walking Tour in Salzburg.
How I found my passion in Tourism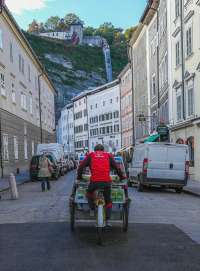 Until the age of 26 I worked here and there to enable me to travel as much as possible. Salzburg was never the place to be until in 2012 I worked as a Rikscha driver. Showing people around the historic center of Salzburg, I became fascinated by my hometown.
I cycled until winter came. However, I didn't want to stop meeting people for a living and therefore applied to a hostel. Hostel jobs are not a career and guiding was my actual passion. Therefore, I attended and completed tour guide school by 2018.
How Travel changed my Life for the Better
Before I fell in love with Salzburg when riding the bike, travel was my life. I spent over a year on pilgrimages across Spain walking thousands of kilometers. I hitchhiked Europe and Asia, lived abroad and met good people along the way.
How Couchsurfing changed my Life for the Better
After I settled in Salzburg, I missed these encounters so I started hosting Couchsurfers. Couchsurfing is a platform where people provide free accommodation to strangers. I hosted about 300 of these strangers in the course of 2,5 years.
Why I love the Concept of Free Walking Tours?
Many guests tip as much as they would pay for a paid tour. The same guests, however, wouldn't sign up for a paid tour in the first place. I believe the feeling of voluntarism makes the difference. Without a fixed monetary value there are fewer expectations from both sides. 
That results in both sides feeling grateful for what they receive. I certainly feel blessed that I can make a living by meeting people and trying to improve people's experience in Salzburg.
But Free Walking Tours are not Free!?!
Everybody knows that Free Walking Tours are tip based and not "Free". Right. And behind many free walking tour guides there are big companies charging commission. Of course these guides depend on the tips, having to pay for each of their guests. Not in this case. If someone decides not to tip, that's fine. Someone else will.
Even if in the future this is not a one-man company anymore, there will never be "per guest" commissions for guides.
We chose to spend time showing you around and you may choose to support us doing so. That's the concept.
If you are reading this because you are coming to Salzburg in the near future, I hope to see you on one of our tours and if there is anything we can help you with, don't hesitate to contact me!
Questions? I would love to answer!