Hallstatt Bucket List: 11 Things to Do in Hallstatt (and What Not to Do)
Explorer's note: Some links in this post are affiliate links. If you make a booking through them, we may earn a small commission at no extra cost to you. This helps us keep providing tours and top-notch travel advice.
Hallstatt, the picturesque alpine village at Lake Hallstatt in the Salzkammergut, is a UNESCO World Heritage Site and a must-see day trip destination for many tourists visiting Salzburg. With stunning scenery and a rich history, it's no wonder it's a popular spot. Movies were filmed in the beautiful town, and social media virality went rampant. That's why the place became so popular.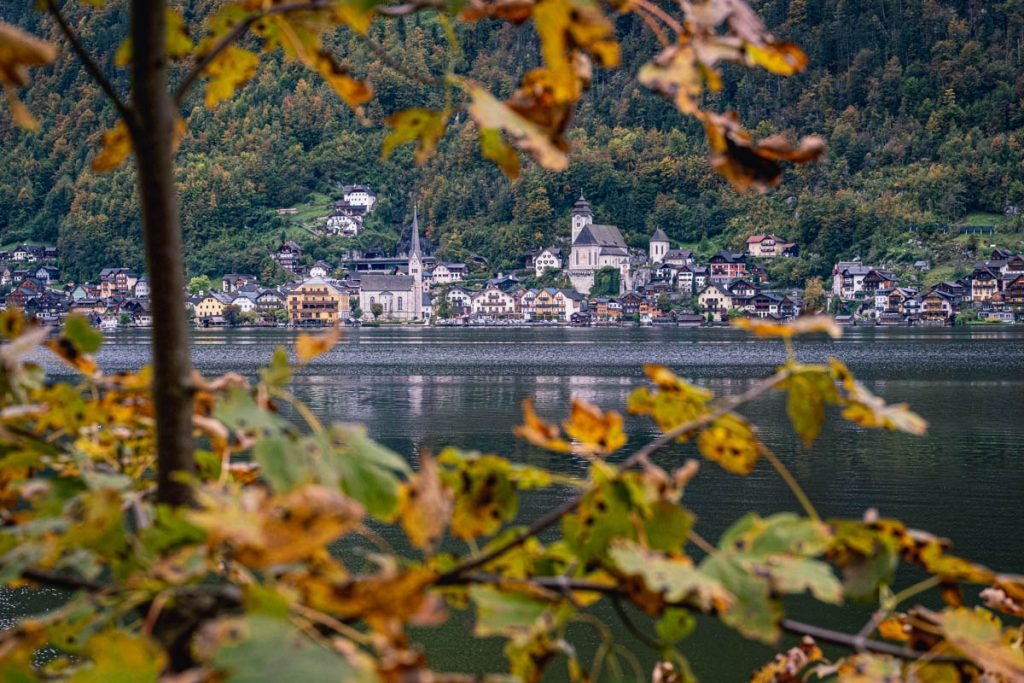 Beware: the tiny village can be swamped in the summer with thousands of tourists. If you're looking for a more off-the-beaten-path experience, check out my guide on the Salzkammergut Lake District for nearby villages like Sankt Wolfgang and Sankt Gilgen.
The Best Things to Do in Hallstatt
But if Hallstatt is your dream destination, I'll help you make the most of your visit with my top picks for things to do in Hallstatt. We start at the village entrance and head to the other side before discussing a few optional things to do in Hallstatt, like the salt mines and the Ice Caves at Dachstein Krippenstein.
1. Cruise Across Lake Hallstättersee
Take a boat across Lake Hallstättersee for a budget-friendly, unique way to experience this enchanting destination. Budget-friendly because if you follow my suggestion on how to get to Hallstatt from Salzburg, the boat is your way of entering Hallstatt. But even if you choose to enter Hallstatt by bus, you might want to take a boat just to ride it back and forth. Hop aboard one of the regular ferries connecting the lake to the train station on the other side, with cash-only tickets available on board for a few bucks!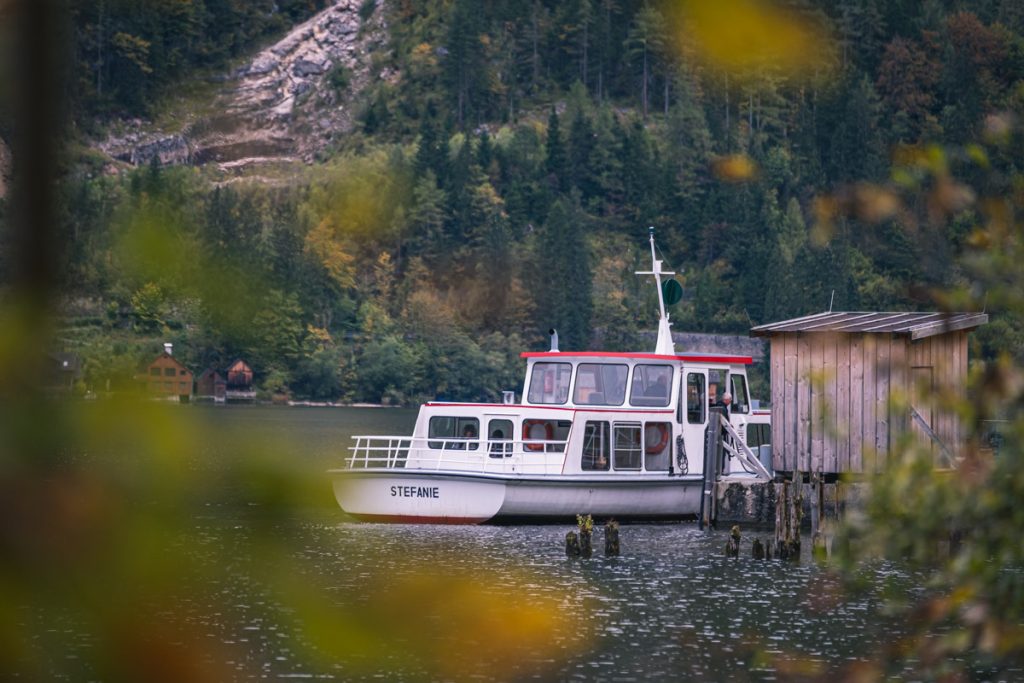 You'll be privileged to witness views of Hallstatt from the lake that are awe-inspiring and hard to forget. Or take it up a notch and either take one of the historic Zillen (flat-bottomed vessels) or rent one of the rowing boats, a pedal boat, or even an electric boat offered in Hallstatt – but be aware that a rowing boat won't get you all the way across the lake, no matter how hard you row.
2. Step Back in Time at the Hallstatt Museum
Next on our schedule of things to do is the Hallstatt Museum. Walking down the main street, you find the Hallstatt Museum on the left before you reach the market square. The Hallstatt museum is optional, but Hallstatt had become famous for its history long before it became world-famous with the rise of social media for being pretty. If you are a history buff, like I am, you should add the museum to your bucket list of things to do in Hallstatt.
It's an exciting place to learn about the 7000-year history of the small alpine village. Housed in a well-preserved building, the museum holds rare relics, artifacts, and artworks that trace back to the distant past of this area. Those who visit will gain insight into the first settlers from prehistoric times and learn about Hallstatt's development over the centuries.
From Iron Age settlements to Romans and Celts to political reforms during the 19th century – a journey through time awaits you at this unique museum! You will get an insight into old Hallstatt and today's Green Austria – anything and everything related to its stories are represented here. So take some time to explore Hallstatt Museum – it's worth your while.
TIP: If you stay in the Salzkammergut region overnight and plan to visit more attractions, pick up a Salzkammergut Card at the tourist office or your hotel! The Card gives you a 25% discount on many attractions in the lake district. It's free if you stay in the Salzkammergut for more than three days, and if you stay less than three days, it costs €4,90 or €3,90, depending on where you pick it up.
3. Market Square: The Heart of Hallstatt
The Hallstatt Market Square may lack activities and excitement, but it makes up for its historic charm. As the heart of Hallstatt, the Market Square features traditional buildings that have been standing since the early days of Hallstatt.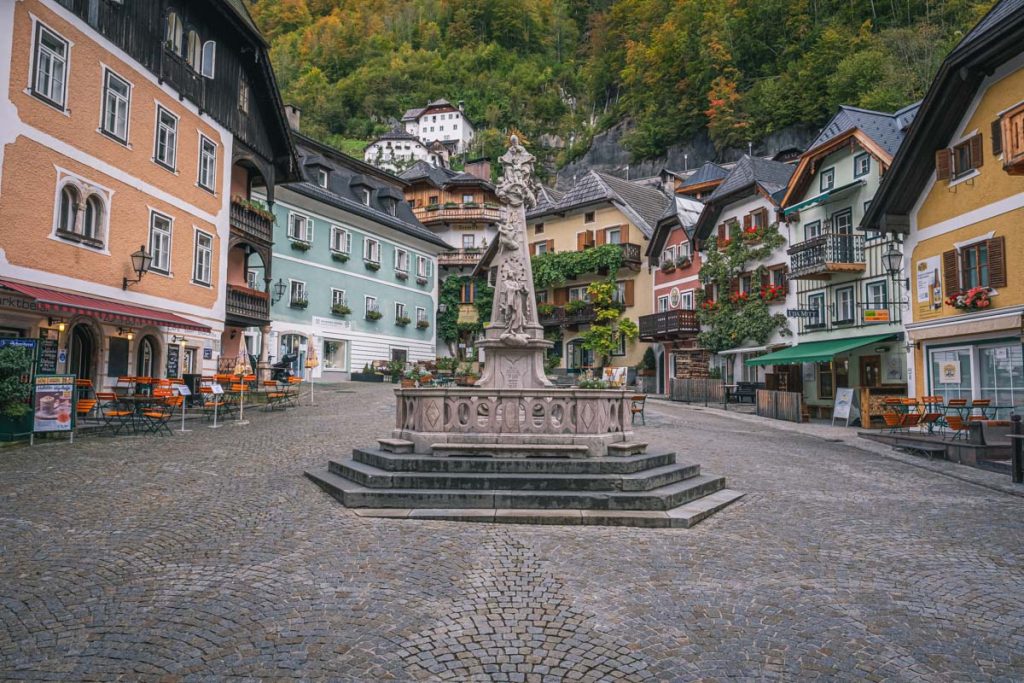 Take time to enjoy a peaceful cup of coffee or people-watch while sitting on one of the benches! The fountain at the center of the square has been a centerpiece for these activities for centuries, with its attractive holy trinity statue providing an extra touch of beauty. The square is also lined with souvenir shops, offering gifts for those eager to take a piece of this gorgeous townhome with them. Visiting Hallstatt Market Square is a must when exploring this historic city because there is no way around it when you make your way to the other end of town.
4. Explore the Protestant Church of Christ
The Protestant Church of Christ in Hallstatt is another must-see destination. This historic building has stood the test of time and offers visitors the chance to explore its interesting history. Built in 1785, this church was a Centrepoint for those who practiced Protestantism in Hallstatt during the 18th century. In other parts of Austria, Catholicism is still overwhelmingly practiced, but due to the unique circumstances surrounding Hallstatt's inhabitants, Protestantism became popular in the 18th century and was eventually tolerated by the Hapsburg ruler.
Outside, visitors can marvel at the impressive spire which stands proudly amongst the quaint buildings making up this wonderful Austrian town. Inside, visitors can admire traditional artwork, stunning stained glass windows, and intricate sculptures that adorn the walls. The Protestant Church of Christ is beautiful and fascinating, and, unsurprisingly, it is one of Hallstatt's most visited attractions.
5. Step into the Bone House of Hallstatt
After the protestant church, we almost reach the village's other end. But before we head out to take the iconic photo of the UNESCO World Heritage town of Hallstatt, we reach one of Hallstatts most interesting attractions and another piece of unique history. The Charnel House, also known as Hallstatt Ossuary in Hallstatt's Michael's Chapel, is a sobering experience. Since land in Hallstatt is limited, bodies had to be exhumed to make way for new graves in the town when the catholic church still prohibited cremation before the 1970s. Therefore, Hallstatt officials decided to transfer the bones from these exhumed graves to a Bone House (Beinhaus) built inside Michael's Chapel.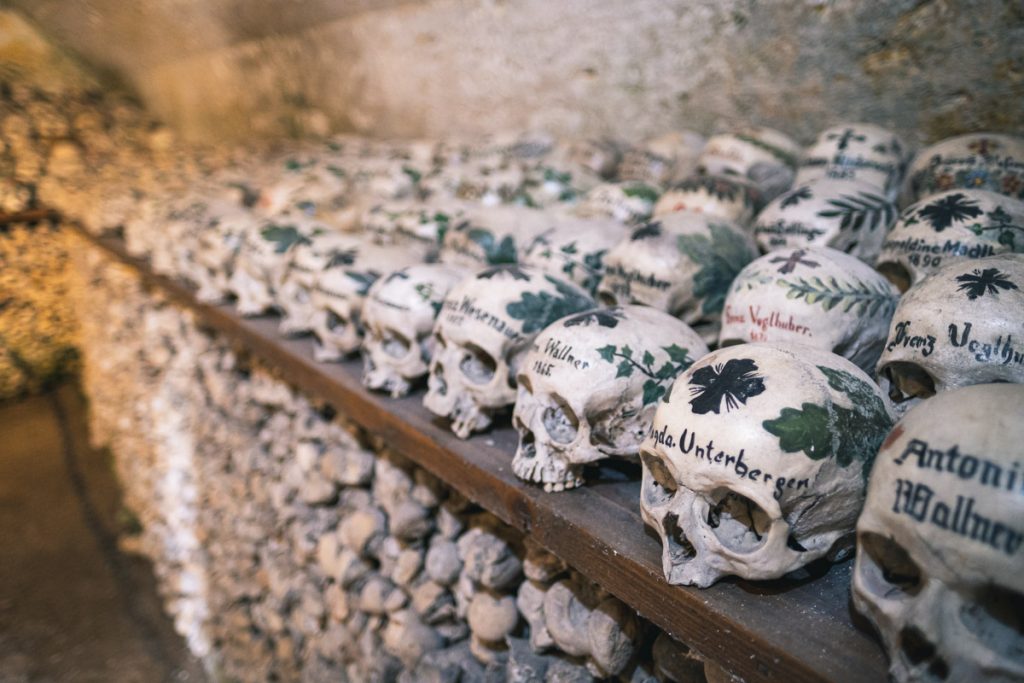 The Bone House has over 2,100 skulls and other human bones perfectly stacked throughout its walls. The room gives off a strange sense of calmness despite the macabre theme. Local artists have decorated and painted some of the skulls – adding another poignantly moving element to the experience! The writings on the skulls include the names and dates of the deceased. The Bone House requires you to pay a few euros, but visiting this unique landmark is undoubtedly one of Hallstatt's must-do activities and something you should put on your bucket list if you get a chance. Visiting this place will make you realize that death can be seen from many historical, artistic, and spiritual perspectives.
6. Take a Photo Walk for Postcard-Perfect Pictures
For the most picturesque views in Hallstatt, take a photo walk along the lakeside! With the bone house, we almost reached the end of the village. Both ends of the village are the two best places for pictures. Hallstatt is nestled between a mountain and a lake, making it a gorgeous location to take photos. Taking pictures is actually the main reason for many to visit Hallstatt, and those pictures are what made Hallstatt the most famous place in all of Austria at the beginning of the 21st century. The main street along the shore of the lake also offers great angles to capture your Instagram-worthy shots.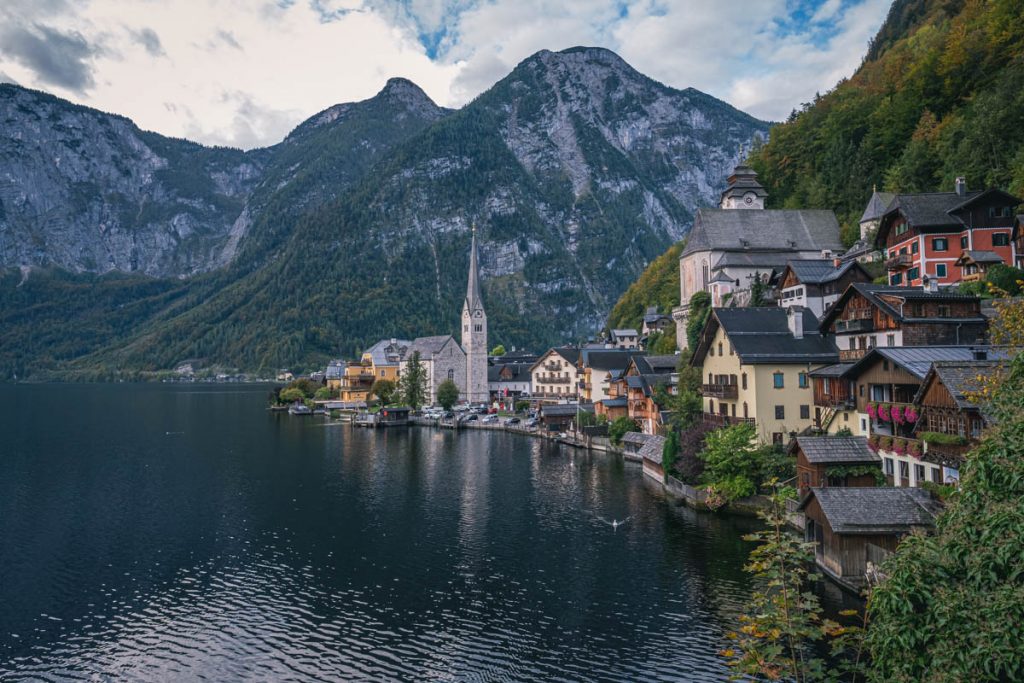 At both ends of Hallstatt's main street, you'll find breathtaking vistas across the lake and of the village's unique architecture blanketed by a mountainous backdrop – try taking some photos at different angles for varied perspectives. And don't forget to keep walking past the cemetery and almost out of town for even more postcard-perfect pictures. Check out this Google maps link for ideas on where to wander!
If you want to have your Hallstatt photos taken by a real professional, you should check out this photo walk organized by my friend and fellow licensed Austria Guides Edwin. He takes wonderful portraits of Hallstatt visitors.
7. Visit the World's Oldest Salt Mines in Hallstatt
Hallstatt is home to the world's oldest salt mines. These mines are one of the most popular things to do in Hallstatt. The features are similar to other Salzburg Salt Mines like Berchtesgaden and Hallein, but if you visit Hallstatt anyway, if your time is limited and a Salt Mine is on your bucket list, go for it! Berchtesgaden or Hallein would require another day trip or at least half a day. The salt mine in Hallstatt has a mining train, a salt lake, and an exciting wooden slide – all of which come together to make an unforgettable visit, just like the other two mines would.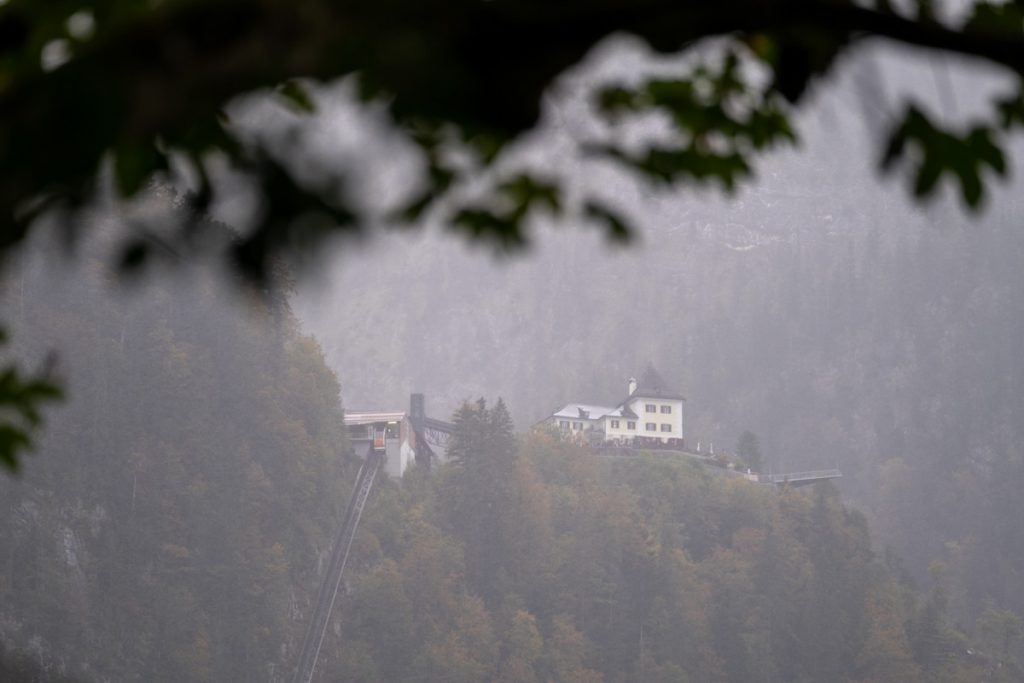 You can take a three-minute funicular ride from ground level or hike for about an hour to reach the mine and even head out onto the Skywalk viewing platform once you reach the top. With its ancient tower, which used to be a fortification, the Skywalk offers views of the lake below. You can tour miners' tunnels and even try Europe's longest wooden slide!
8. Why the Skywalk Viewing Platform is Overrated
The Skywalk Viewing Platform is on most travelers' lists of things to do in Hallstatt. In my opinion, the Skywalk is overrated. It's 12 meters long, and at an elevation of 838 meters, it offers stunning views over the lake and surrounding mountains. However, you end up behind the village, making it not the best angle to overlook Hallstatt's old buildings. Read on to the following two things to do in Hallstatt to find out where I would instead go to get a great view of Hallstatt. The Skywalk is alright and worth it if you visit the salt mines because it's on the way to the mines right after the funicular ride, but it's not worth the 20 euro ride up the funicular if you are not visiting the salt mines anyway.
Even if you're not keen on spending money, you can still experience the wonder of this place! There's a moderately difficult hiking trail from Hallstatt to the viewing platform – it takes around an hour and a sweaty climb up 350 meters, but when you reach the top, you won't regret that effort. The platform rests next to a medieval defense tower dating back to the 13th century called Rudolfsturm – now a restaurant – giving you both old-world charm and modern beauty together!
9. Hike Kalvarienberg Mountain for Unbeatable Views
If you're looking for a breathtaking view of the Hallstatt village, don't look any further than taking a hike up Kalvarienberg mountain. The path winds up the hill, allowing you to take an unrivaled view of this incredible place. Along the way, take time to stop and explore the beautiful Kalvarienbergkirche church – from here, you can enjoy an even better view of Hallstatt than from the Skywalk and marvel at its unique architecture.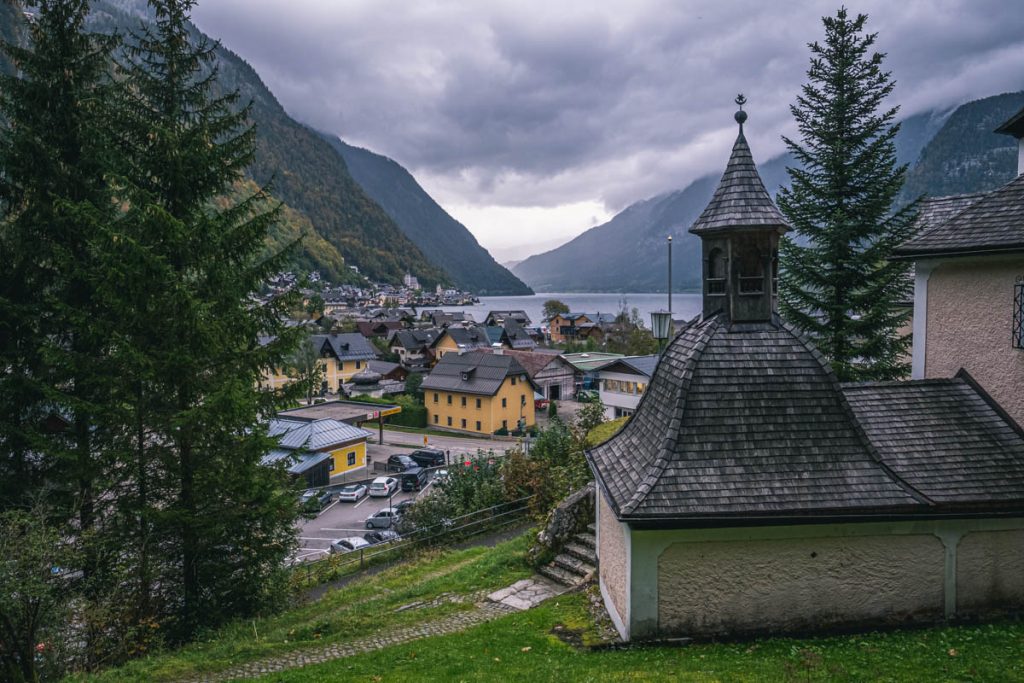 But if you're genuinely looking for an immersive experience, keep going on your hike – the path will eventually lead you to Hirschau Alm, which stands at 900 meters above sea level. Here, you'll be able to appreciate Hallstatt from a whole new perspective! Take pleasure in spotting landmarks from above, and snap some amazing photographs along the way. The entrance point for this fantastic journey is close to the P1 parking next to the petrol station, so get ready to embark on an extraordinary adventure!
10. Take a Walk on the Wild Lakeside in Hallstatt
If you want to get a feel for the town of Hallstatt, why not take a hike to see beyond? In 2020 I had the pleasure of doing precisely that and seeing what lies beyond the beauty of Hallstatt. You can choose to walk on either side of Obertraun or Hallstatt. On the Obertraun side, you have flat, easy terrain, while taking the other route takes you along a street accompanied by cars. But fear not! There's also an elevated path behind the road – now that's where the real adventure begins.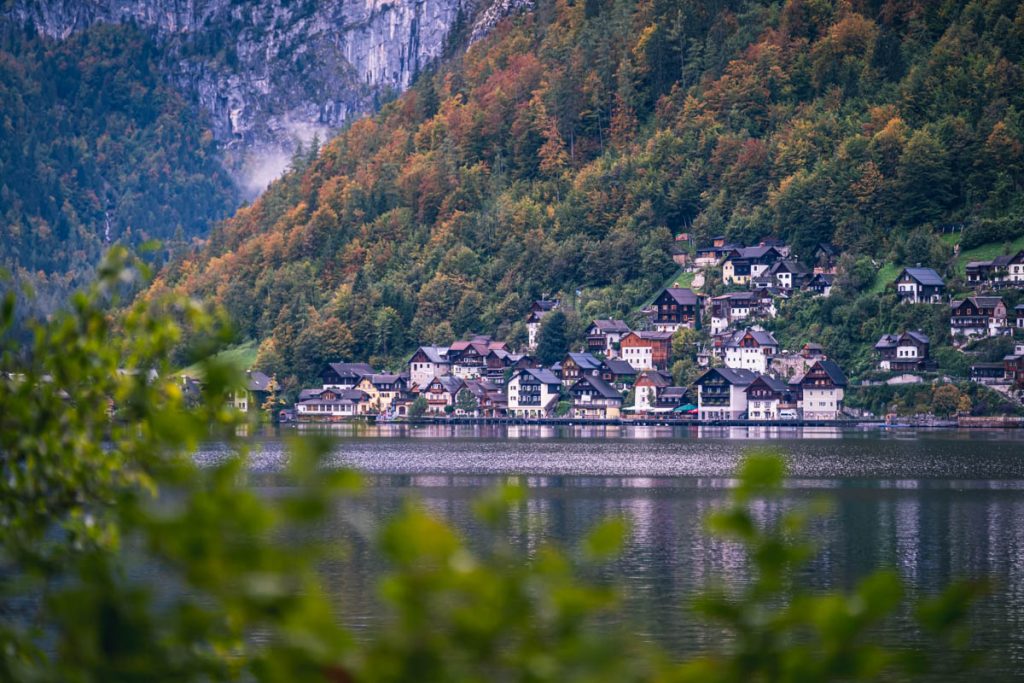 Here is a video of my friend, when we embarked on a three-day journey from Salzburg to Hallstatt on foot, tracing the Obertraun route for the last few kilometers and arriving at Hallstatt station. We concluded our walk by taking a leisurely boat ride across the lake, capturing memories to last a lifetime.
11. Explore Dachstein Krippenstein on a Day Trip from Hallstatt
Visiting Dachstein Krippenstein and the five Fingers is an absolute must-do if you're in Hallstatt. It only takes an hour or less to get there, but you should plan to spend the whole day soaking up all the fantastic alpine scenery. Three cable cars can take you up the mountain, so make sure to take at least two of them to do justice to your experience. The first cable car will take you up to the Ice Cave, where you can see a path surrounded by stunning peaks.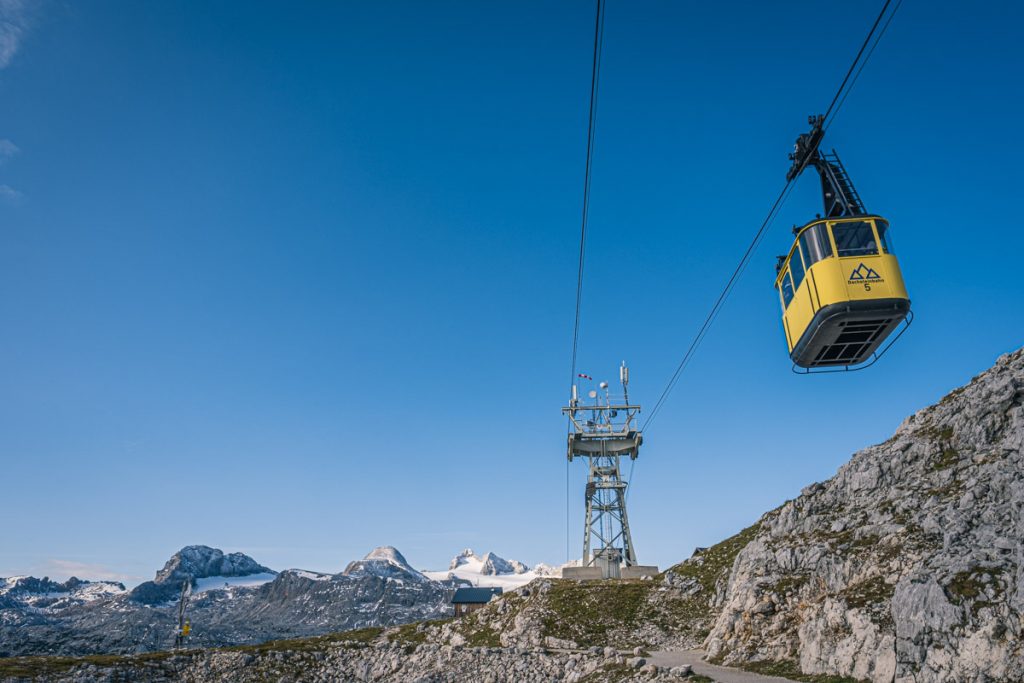 Taking the second cable car will give you access to hiking to the Five Fingers-also known as Dachstein's heart, where a maze of paths awaits your exploration! You could also visit the Mammut Cave along with the Ice Cave after the first cable car if you have the time, or even take the third cable car for 'nostalgic' reasons!
Getting to Dachstein from Hallstatt is easy; hop on bus 543 from Hallstatt, or stay in Obertraun and take the bus from there if arriving by train. If visiting Dachstein Krippenstein is on your wishlist of things to do in Hallstatt, read my complete guide on Dachstein Krippenstein and check out my video below for tips on how best to enjoy your day trip!
What not to do in Hallstatt
Don't get me wrong. Hallstatt is a gem of natural beauty and cultural heritage. Despite the crowds, Hallstatt is still worth visiting. But. The influx of visitors has taken a toll on the village and its residents.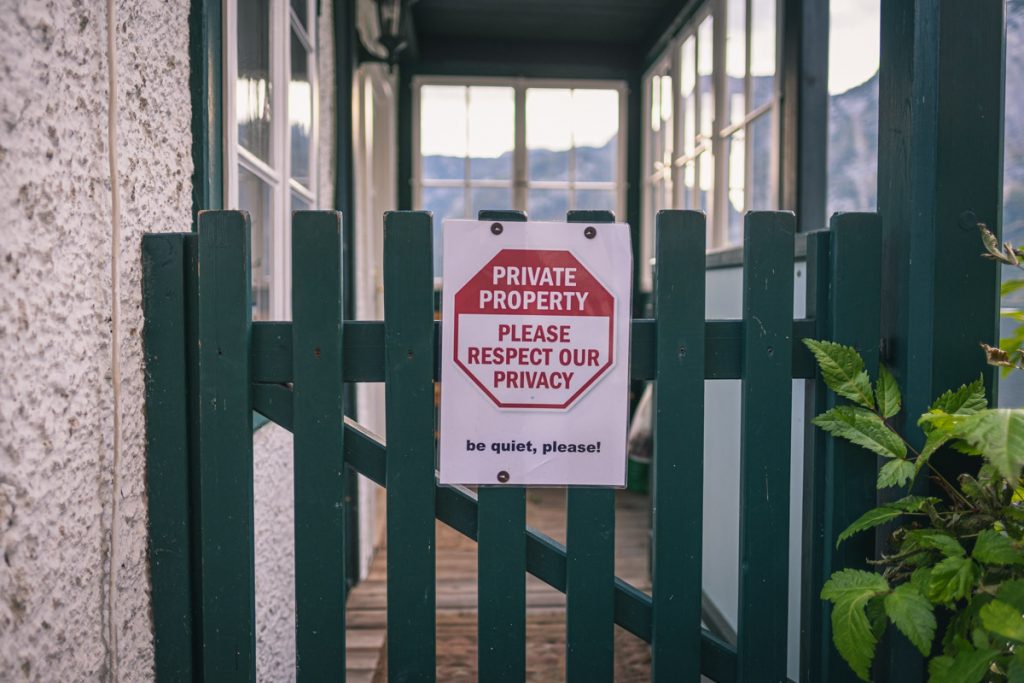 While the locals might not be as friendly as in other places, it's important to understand that this is due to the high number of tourists who visit the village. In the past, many tourists have literally believed that Hallstatt is a museum and have invaded the gardens of residents to take a closer look at their homes. This has led to installing "no drones" and "no photography" signs on many of the houses.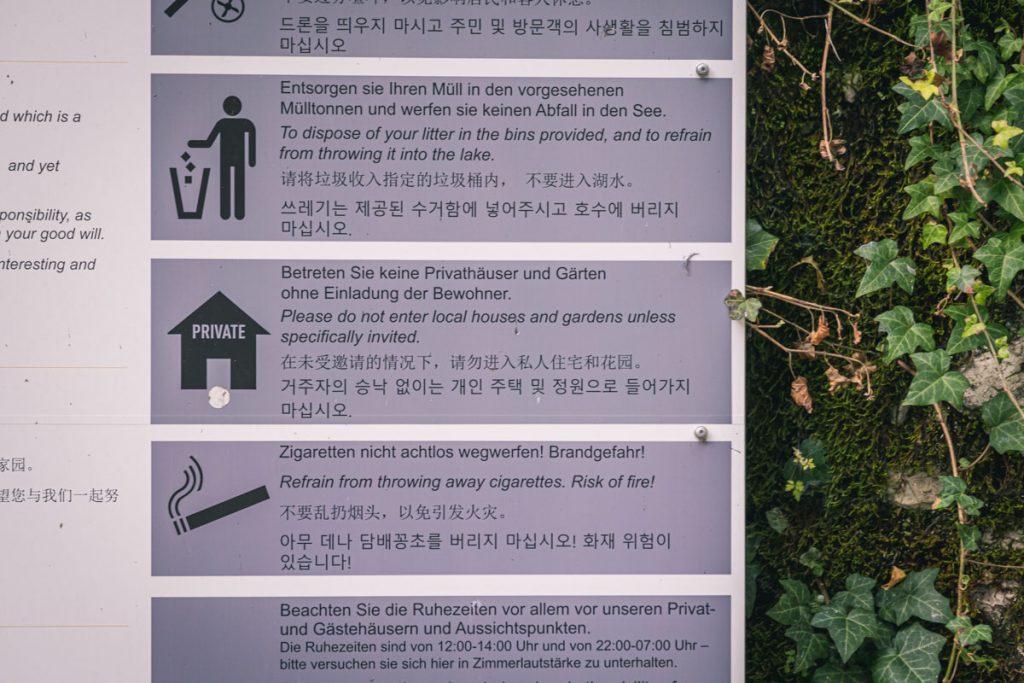 On a personal note, I first visited Hallstatt in my late 20s because a friend from Korea wanted to see it. Since then, I've only revisited it a few times for my tour guide exam and later to write about it here on the blog. In 2020, when tourism closed down, a documentary was released about Hallstatt in lockdown. It showed the different perspectives of locals, business owners, and the mayor. It's not up to me to judge, but if you're interested, the video is still online, and you can turn on English subtitles.
During that time, I ventured to Hallstatt and talked to a bus driver from a neighboring village. His opinion of Hallstatt could have been more positive. He recommended not staying overnight in Hallstatt and not buying anything there. Instead, he suggested staying in Obertraun, across the lake, which is an ideal starting point for the adventure on Dachstein Krippenstein and only a boat ride from Hallstatt. Another great place to stay and visit Hallstatt is Bad Ischl, which is half an hour from Obertraun by train. Bad Ischl even has actual budget accommodation like a hostel, and you would still be able to reach Hallstatt before the crowds.
When it comes to food and drinks in Hallstatt, I recommend only eating at the Maislinger Bakery in Hallstatt. They offer everyday bakery prices and are a great place to have a coffee, breakfast, or snack.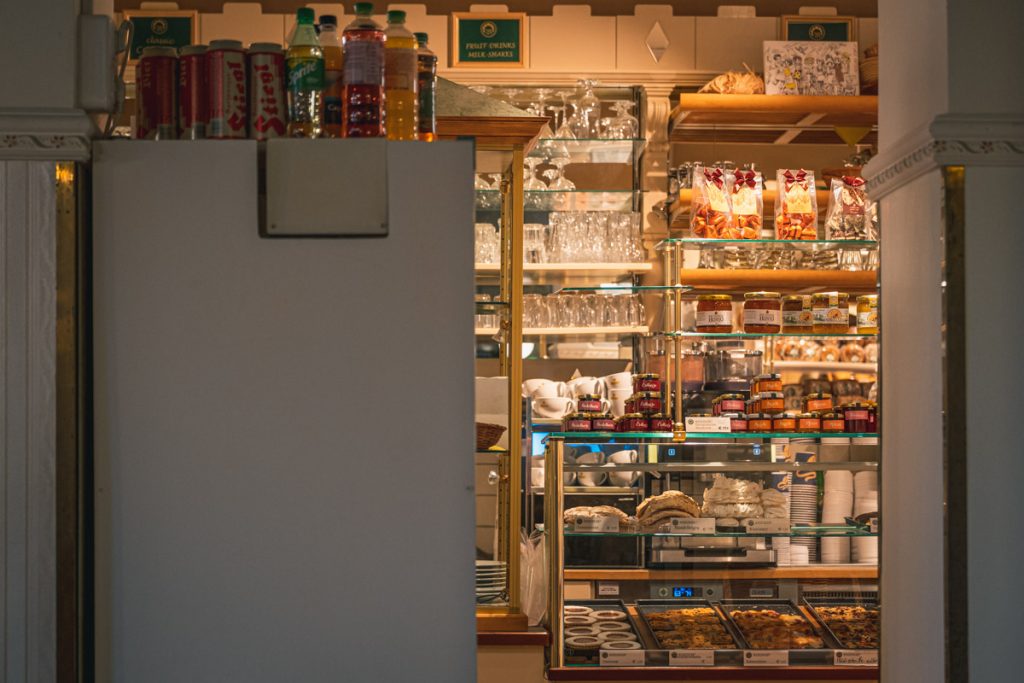 I've had bad experiences with other restaurants in Hallstatt, but the bakery is a safe choice. I also know of no other supermarket in Austria that has doubled its prices just because it can.
In conclusion, Hallstatt is worth visiting, but it's essential to keep in mind that the village and its residents have been affected by tourism. If you're looking for a more authentic experience, I suggest staying in Obertraun or Bad Ischl and visiting Hallstatt early in the morning before the crowds arrive. If you would like to learn about other similar places in the area, take a look at my guide to the Salzkammergut Lake District!