Free Walking Tour Salzburg
With the Free Walking Tour, we coordinate introductions to Salzburg intended for you and other travelers who are also independent, and eager to not only learn about Salzburg from historic and cultural perspectives but from a local perspective.
Like most places in the old town, the Free Walking Tour's meeting point is within walking distance from everywhere in the old town. That's because Salzburg is small. In 1,5 hours we cover the must-see sights but we also love to answer questions, recommend places to eat, and offer ideas of things to see and do.
Sights We Discover on the Free Walking Tour
We meet next to the Staatsbrücke bridge, a central location in the old town. After taking a look at Mozart's residence and Mirabell Palace, we cross the river and enter Getreidegasse, the most famous street in Salzburg and the place where Mozart was born.
We cross University Square and the University, take a look at the Concert Hall, where we learn about the Salzburg Festival, visit the monastery of St. Peter, take a look at the Cathedral, admire the fortress from below and pass Residenzplatz square, before ending our walk in front of the statue of Mozart, where you will learn how the Mozart cult began.
The Free Walking Tour Meeting Point?
The meeting point for the Free Tour is an artwork by Marina Abramovic called the "Spirit of Mozart". It consists of a 15-meter-high metal chair facing eight normal-sized chairs next to Staatsbrücke, the main bridge. Sometimes guests assume that the tour's focus is Mozart. It's not. Mozart is one of the topics, but the "Spirit of Mozart" is the meeting point.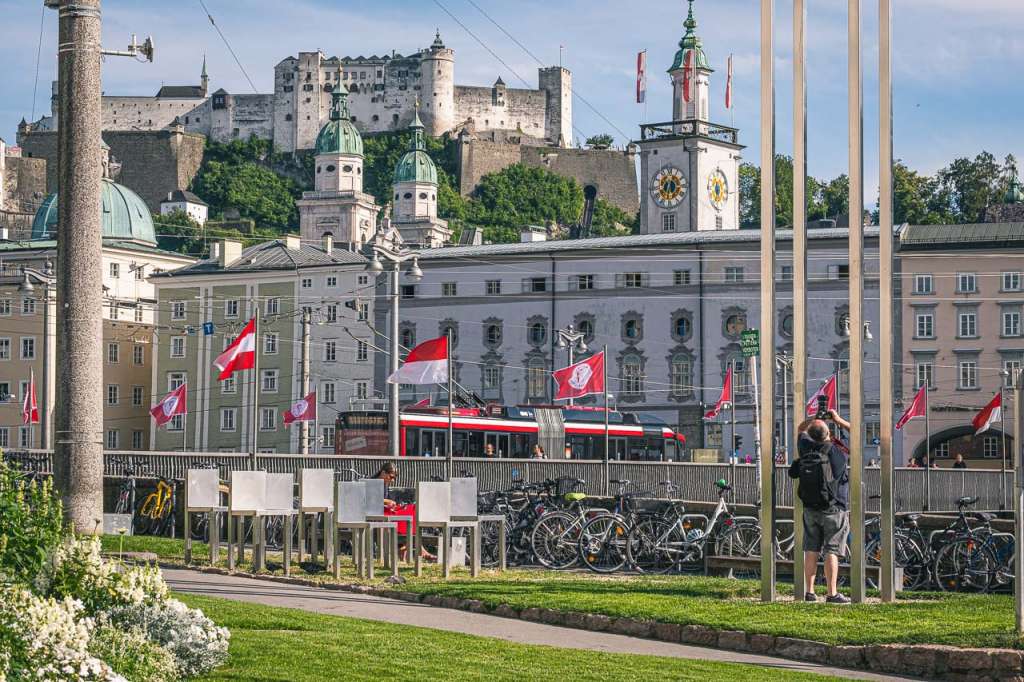 At times we were also asked to change the meeting point. The chairs are hard to find, not because they are hidden, but because they are not obvious. You also can't sit on them because they are often full of pigeon droppings, and sometimes it's noisy. But we love this place. Next to Salzburg's main bridge, it feels like the lifeline of the city.
The Free Tour covers the following Topics
Why are there so many Churches in Salzburg?
Why was Mozart not Austrian?
Why have most German speakers never heard about the Trapp Family?
What happened in Salzburg during the Second World War?
What's the Salzburg Festival about and does it matter to you?
Where was Salzburg founded and why?
Why are there pickles next to a statue of Friedrich Schiller?
Payment: Your Choice
We often experienced kindness on our journey and want to participate in that way. We want to enable everyone to get to know our city regardless of their budget.
How do Free Walking Tours work? You partake in a tour that doesn't have a fixed price and no payment upfront. At the end of the tour, you decide how much to pay based on your satisfaction and your budget.
Tips are appreciated and a way to thank your guide, but there is no obligation to pay a certain amount. Consider the tip a way to say thank you to your guide. Free Walking Tours are a part of the shared economy and alternative ways of travel. The concept was not invented by us but resonates with us.
More Information
15 Must-See Sights of Salzburg
25 > Wonderful People like Yourself
1 x City Map with Things to See, Do and Eat after the Tour
Unlimited Postcards with our own Photography
1 x Licensed Local Austria Guide
We schedule tours in the first week of the previous month based on season and guide availability. If your preferred time isn't available, check back later or inquire about a private tour.
Wheelchair accessible, no pre-notice needed.
Reviews of the Free Walking Tour
Important: Before You Book
Book your Free Walking Tour by clicking your desired date in the calendar below!
Because we guarantee a personal experience and we like to get to know our guests, free tours are limited to 25 participants. Therefore, reservations are required. You find upcoming tours in the calendar below.
In case you can't participate, please cancel your booking as soon as possible by clicking the cancellation link in your booking confirmation to release your spots for other travelers.
In the event that the tours are fully booked, you are still welcome to show up at the meeting point. We cannot guarantee a spot in that case, but we will do our best to accommodate you, and you can at least grab a printed city map, and a free postcard, and get some personal recommendations.
Free Walking Tour Schedule
Frequently Asked Questions
Welcome to the Frequently Asked Questions of the Free Walking Tour Salzburg. You can use this page to inform yourself. If you have a question that is not answered here, please don't hesitate to contact us.