A Guide to the Best Boutique Hotels in Salzburg
Explorer's note: Some links in this post are affiliate links. If you make a booking through them, we may earn a small commission at no extra cost to you. This helps us keep providing tours and top-notch travel advice.
Are you planning a trip to beautiful Salzburg and want it to unique? With its stunning landscapes and historical attractions, it's a place worth visiting. But with many hotels to choose from, how do you know where to stay? Have you considered trying one of the boutique hotels in Salzburg?
As a local working in the tourism industry for over a decade, I have had the opportunity to explore and experience many of the city's hotels. Among the many options, I have discovered a few boutique hotels that stand out for their unique features and creative elements. These hotels offer a perfect blend of modern luxury and traditional charm, making them ideal for any stay, whether for business, leisure, or a romantic getaway.
Why Choose a Boutique Hotel for Your Next Trip
Boutique hotels are small, often independently owned and operated, offering a personalized experience. They usually have a distinct design aesthetic, focusing on creating a warm and welcoming atmosphere. They typically have a limited number of rooms, which allows them to provide a high level of service and attention to detail.
Boutique hotels often have a strong sense of place, reflecting the local culture and history, or they create entirely new artistic environments and themes. I love them for their uniqueness. Many boutique hotels in Salzburg are located in historical buildings, making them an excellent option for travelers looking for something unique.
They offer an alternative to large chain hotels' generic and cookie-cutter experience. They provide guests with an intimate and personalized experience.
Additionally, many boutique hotels focus on sustainability and environmentally conscious practices, making them an ideal choice for eco-conscious travelers. If you are looking for a one-of-a-kind experience and want a sense of connection to the local culture, a boutique hotel is a perfect choice for your trip to Salzburg.
The Best Boutique Hotels in Salzburg
To help make your choice easier, here is my list of the best boutique hotels in Salzburg. Each offers something special: modern design features or traditional remodeled interiors that evoke Salzburg's Austrian culture. I like the boutique hotels in Salzburg because I like the futuristic, and I am all about unique design and innovative ideas.
Let's take a closer look at each one!
artHotel Blaue Gans: Discover the Artful Charm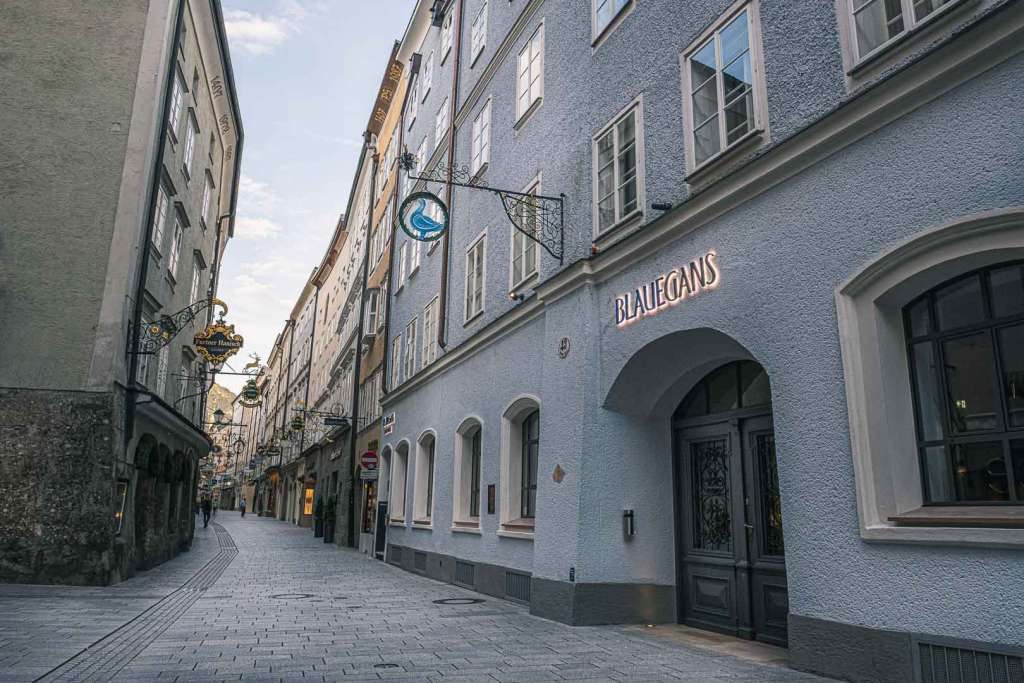 The first on my list of boutique hotels in Salzburg is the Blaue Gans. This iconic hotel is located in the heart of Salzburg's most famous shopping street, Getreidegasse. The building, dating back to the 14th century, is a beautiful blend of medieval exterior and modern interior, with artsy design elements that blend seamlessly with the light and friendly atmosphere. The hotel offers a comfortable environment, with more than 120 contemporary art pieces decorating the halls. Room options range from 20m², intended for a one-night stay, to a multi-floor maisonette suite. The hotel also offers a brasserie bar, a meeting room in a glass house in the garden, city bikes for rent, and wellness facilities. The restaurant at the Blaue Gans fits the concept perfectly, with the essence of traditional Austrian food but with modern elements brought into the kitchen. Whether you're just looking for a drink or a full meal, the brasserie and wine archive offers something for everyone, even if you are not staying at the hotel.
arte Hotel Salzburg: Modern Masterpiece with Stunning View
Another gem of boutique hotels in Salzburg is the arte hotel Salzburg, which opened in 2019 in the newly built Perron glass tower next to the train station. Perron is the french word for train tracks. The building is only 36 meters from the train station and is one of the highest buildings in town, with a glass facade providing stunning views from the upper floors. Naturally, the arte Hotel Salzburg is also on my list of hotels with a view in Salzburg. Non-guests can also enjoy that view for breakfast on the 15th floor. One of my favorite features of this boutique hotel is the train spotting lounge, which is perfect for train enthusiasts. Despite being part of a chain, the hotel is unique and offers an ideal location for those looking to take trains.
Villa Carlton: Stylish and Intimate
For adults looking for a more stylish and intimate experience, I recommend the Villa Carlton, a 4-star "adults-only" hotel just 300 meters from the beautiful Mirabell Garden. Opened in 2011, the hotel was designed by local architects who collected artworks and unique pieces of cloth from around the area. The hotel has a warm, individualistic feel, with a different theme on every floor, from Marilyn Monroe to Andy Warhol. The hotel is also located next to one of my favorite institutions in Salzburg, one that I frequent every week, the Paracelsusbad spa and pool, making it the perfect spot for relaxation and rejuvenation.
Hotel Stein: Adults-Only Boutique Hotel
Another adults-only hotel that I highly recommend is the Hotel Stein. This institution is located just 50 meters from the free walking tour meeting point and boasts a stunning rooftop bar that is also popular among locals. The hotel offers upscale accommodation, with hallways and the lobby decorated with valuable glass art, such as chandeliers, vases, and bowls, all themed in pearl blue. The hotel was renovated in 2018 after two years of work, and the rooms feature large-scale photography wallpaper and centuries-old stucco, making for a perfect blend of history and art, luxury, and elegance. The hotel staff is also incredibly helpful. They have sometimes contacted them about tours as the tour starts across the street.
Auersperg: Family-Run Boutique Hotel with City Garden
For a more personal hotel experience, I recommend the Hotel und Villa Auersperg. This family-run hotel is located on the border of the old town, at the end of Linzergasse, making it the perfect spot to start exploring the city. The hotel offers a city garden and spa area, making it an oasis in the heart of Salzburg. The hotel is family and pet-friendly, with massage and yoga courses available for guests to choose between sightseeing and relaxation. The hotel also offers a breakfast that aligns with its values, supplied personally by local suppliers. Many delicacies are homemade, making for a truly authentic experience. Unlike some of the other hotels on this list, this is a family/kids-friendly and pet-friendly place and even arranges for babysitters for guests with young children. This hotel is my favorite for family travel when it comes to boutique hotels in Salzburg, but it is also great for business or leisure and even a honeymoon.
Boutiquehotel am Dom: Stylish and Understated
For those looking for a more understated and modern style, I recommend the Boutiquehotel am Dom. This hotel is hidden in an alley, just two minutes from the Cathedral and two minutes from Getreidegasse shopping street and Mozart's birthplace. The hotel is in a centuries-old townhouse, converted into a boutique hotel, offering a high-end yet straightforward experience. The hotel is small, with only 15 rooms, but all rooms come with a courtyard view or Goldgasse view. The typical architecture for the medieval part of Salzburg is showcased in this hotel. There is not a restaurant but a great breakfast buffet, but there are many of the best restaurants around.
Cocoon: Unwind in Style
Another great boutique hotel in Salzburg is the Cocoon Hotel. This hotel opened in 2022 and is the first branch of a Munich chain outside of Munich. The hotel's concept is based on that of a butterfly, with a stylish and lively atmosphere at the reception and peaceful retreats in the rooms, much like a butterfly inside and outside the cocoon. I had the opportunity to visit the hotel on New Year's Eve 2022 and was impressed by the cheerful atmosphere at the reception.
The hotel's unique approach to recruitment is also noteworthy; they threw a construction site party to meet potential employees. The hotel's location is perfect, just a stone's throw from the station and 10 minutes from the Mirabell Garden. Room options range from family rooms to relax rooms with bathtubs and mountain cocoon rooms which I have yet to figure out why mountain. The hotel's concept of a peaceful retreat combined with a lively atmosphere and prime location makes it a great choice for travelers looking for a unique and comfortable stay in Salzburg.
Arte Vida Guesthouse: Find Your Zen
Finally, for a more spiritual and holistic experience, I recommend the Arte Vida Guesthouse. This hotel was my neighbor for a long time, and I have attended their charity dinner several times in the past. The hotel has a spiritual touch, with yoga classes and meditation sessions offered for guests. The hotel is also environmentally conscious, using organic and locally sourced products. The hotel also has a beautiful garden and terrace, making it the perfect spot for relaxation and rejuvenation.
Conclusion
In conclusion, the best boutique hotels in Salzburg offer a range of hotels that cater to every taste. From the Blaue Gans, with its blend of medieval and modern architecture, to the arte Hotel, with its train spotting lounge, and the Villa Carlton, with its themed rooms. Whether you're looking for a romantic getaway, a family holiday, or a business trip, Salzburg's boutique hotels have something to offer for everyone.