3 Beautiful Fairytale Castle Hotels in Salzburg
Explorer's note: Some links in this post are affiliate links. If you make a booking through them, we may earn a small commission at no extra cost to you. This helps us keep providing tours and top-notch travel advice.
Are you a lover of castles and majestic buildings? Do you want to create magical moments in an ornate palace fit for a king or queen? Then Salzburg might be the best place for you to stay. Salzburg has an old-fashioned romantic charm, making it the perfect place for honeymooners, weekend getaways, or even family vacations. And among the many attractions are some of the most stunning castle hotels in Europe.
What defines a Castle?
Before we dive into castle hotels in Salzburg, let's talk about what a castle is. There is common confusion about the term palace, castle, and fortress.
Fortresses are defensive structures for strategic purposes. Palaces are residences and often have limited defensive capabilities. Castles, on the other hand, have both defensive and residential purposes and were used as places of refuge in times of war.
Technically only some of the castle hotels in Salzburg included in this article are castles; two are rather palaces. But for the sake of this article, we use these terms interchangeably.
The Best Castle Hotels in Salzburg
Do you know the ABC of traveling Europe? In Europe, ABC could stand for "another bloody castle" or "another bloody church," but in Salzburg, we're not just talking about any other castle. One of the castle hotels in Salzburg was awarded the title of the "best castle hotel in the world". But there are, of course, more castles and castle hotels in Salzburg.
In this article, I'll share my three favorite castle hotels in Salzburg and why these are the ultimate places to stay. So follow me if you want to experience an unforgettable adventure!
Mönchstein
If you're looking for the perfect spot to enjoy the beauty and history of Salzburg, it's hard to do much better than Monchstein. But it's also hard to do much better than Mönchstein when it comes to castle hotels in general. After all, it was awarded the title of the best castle hotel in the world by the worlds leading hotels association twice in a row in 2017 and 2018 and again in 2020.
This site is one of the best castle hotels in Salzburg not only for the luxury but also because of its location – Monchsberg Mountain. Being so high above the city offers incredible views you can't get elsewhere. Yet it's not far from the action. As you're relaxing in the pool and watching the city bustle below you, you'll feel like you've entered a new dimension.
When you're ready to head into Salzburg, you can take the Monchsberg elevator, which transports you into town within 10 minutes. As with most European cities, it's easy to find your way around without resorting to renting a car. However, depending on the length of your stay, you may simply want to enjoy the castle grounds and lounge around the pool. When you're staying in a place this luxurious, it's hard to pull yourself away.
As far as amenities go, you can enjoy all the trappings of modern society, even though you're staying in a historic castle. Each room comes with a TV, mini bar, and air conditioning. The best rooms have balconies, so you can get an even better view of the city while sipping wine and enjoying snacks from the kitchen.
The hotel houses a Michelin-starred restaurant with 4 Gault Millau toques and a bar, and you can request room service 24 hours a day. Pets are even allowed (for a small fee) in case you need to bring your furry friend along for the journey. If you are traveling with a pet, you might also consider other options more affordable options from my list of pet-friendly hotels in Salzburg.
As a historic venue, Monchstein also has various meeting and event spaces. Whether you're looking to get married, host a company gathering, or have a party with friends and family, these spaces are just as luxurious and historic as the rest of the hotel. One example is the Gothic Chamber, furnished with German antiques and a vibe that takes you back to the olden days when the castle was serving its purpose.
The only downsides about this Salzburg castle hotel are the priciness of the rooms (even compared to other luxury hotels) and the fact that the A/C units can struggle during the summer. Otherwise, this resort is the pinnacle of class.
Schloss Leopoldskron
While staying on top of a mountain gives you a regal experience since you're looking out over the city, Schloss Leopoldskron offers a different aesthetic entirely. As a lakefront palace, you'll feel like royalty as you look out over the water and see pristine natural beauty unfold. Although this is a relatively large hotel tucked in the center of Salzburg, it still feels secluded and isolated. It's hard not to be in awe of your surroundings, particularly when strolling along the grounds.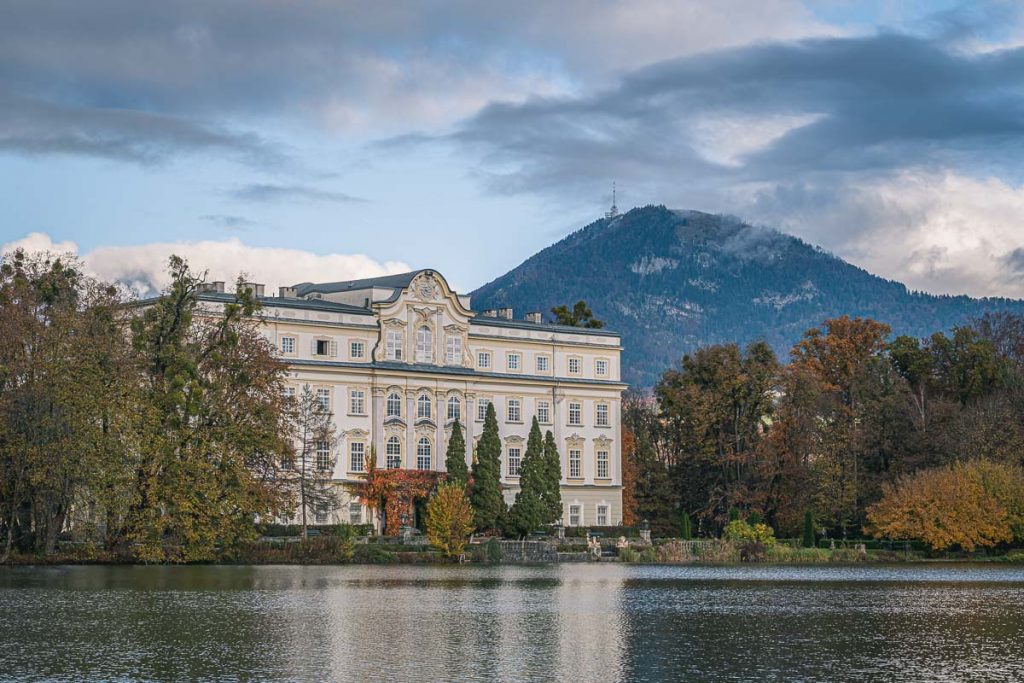 You may also get a sense of deja vu when visiting this palatial resort. If the grounds and interior look familiar, it's because the site was the primary shooting location for The Sound of Music. While you won't be able to see any of the Von Trapps during your stay, there are plenty of photo opportunities if you want to experience a small piece of cinema history.
Schloss Leopoldskron is nestled in a 17-acre park, so you have plenty of room to walk around and enjoy nature. Plus, the main gates are closed to the public, so you get all the privacy you need to enjoy your stay without interruptions, and accessing this Sound of Music location is genuinely exclusive. When I used to work as a Rikscha driver, the ground of this castle hotel was already closed to the public. I was not allowed to take my guests beyond the gate, but I always stopped and let them walk in since back in the day. Nonguests were still tolerated, but since too many started showing up, they are strict nowadays.
Then, when you're ready to head into the city, you can ask the front desk for recommendations about where to go and what to eat or explore more of our travel guide. The Salzburg Cathedral is 2,5 kilometers from Leopoldskron castle, a pleasant 30-minute walk, but you could also take a shortcut over Mönchsberg mountain, which is the only obstacle between you and the castle and makes for an even nicer walk.
Overall, what makes Schloss Leopoldskron one of the best castle hotels in Salzburg is its rich decadence and unique accommodation. As a palace estate, this site has hosted world leaders, monarchs, and celebrities alike. So, the staff is more than happy to make your stay as enjoyable as possible, no matter the circumstances. By booking a room, you're symbolically rubbing elbows with the global elite from both the past and present.
Schlosswirt zu Anif
If you want to feel like royalty, Salzburg castle hotels like Monchstein and Schloss Leopoldskron are perfect. However, if you want a more traditional and "quaint" Austrian experience, you must book a stay at Schlosswirt zu Anif. While this spot is less palatial than other castle hotels in Salzburg, it still has great charm and excellent amenities.
Because this hotel is located a few kilometers south of central Salzburg, you feel like you're in a private, secluded area. However, when you're ready to go into town, it only takes 20 minutes by bus or car to reach all of Salzburg's top destinations (like Mozart's Birthplace, the fortress, and the Cathedral).
Schlosswirt zu Anif is also next to a lake, although it's not technically a lakefront property. However, if you want to enjoy the water, it's only a few minutes to walk to the shoreline. In the middle of the lake at Schlosswirt zu Anif, there is another castle, but that one is private and only accessible to the public once a year. That castle was also in the Sound of Music, but most likely, it will not seem familiar since it was just shown for an instant in the intro.
The best time to visit this hotel is in the winter when the grounds are covered in snow. The resort's aesthetic can't be beaten, and you'll feel like you're staying in a pristine winter wonderland. Plus, if you're familiar with German and Austrian Christmases, you know that the entire city and the countryside where the hotel is located are decked out for the holiday, making the experience even more magical. Another nearby palace, Hellbrunn, and the town of Sankt Leonhard, only a kilometer away, are, for example, home to two of the most popular Christmas Markets in Salzburg.
As far as amenities are concerned, each room has a TV and coffee maker. This hotel has fewer modern luxuries, but the staff is more accommodating, and the onsite restaurant serves delicious Austrian cuisine.
Non-hotel castles worth visiting
If you are a true lover of castles and palaces, there are more to explore that are not castle hotels in Salzburg but are still historical sights you can visit. Here are a few more castles worth visiting:
Hohensalzburg Fortress: Salzburg's landmark is the most obvious choice to visit. Although primarily a defensive structure, it was also used as a residence in the 15th and 16th centuries and, therefore, houses staterooms.
Mirabell Palace: Located in the heart of the old town, Mirabell is a must-see for any visitor to Salzburg, but Mirabell is more about the garden than the palace since most of the palace is used for city government.
Hellbrunn Palace: Built by the successor of the archbishop who built Mirabell, this palace was the party palace of one of Salzburg's archbishops. Please read this article to learn more about Hellbrunn palace and the many reasons it's one of the best places to visit in the surroundings of Salzburg!
Schloss Kleßheim: This baroque palace now houses the Salzburg Casino. This is the place to go if you're looking for a unique gambling experience in a grand setting.