Where was Mozart born? – Mozart's Birthplace in Salzburg
Explorer's note: Some links in this post are affiliate links. If you make a booking through them, we may earn a small commission at no extra cost to you. This helps us keep providing tours and top-notch travel advice.
Mozart was born in Getreidegasse in Salzburg, Austria, in the year 1756. The Mozart family rented the third floor of house number 9 and lived there until Mozart was 17 years old.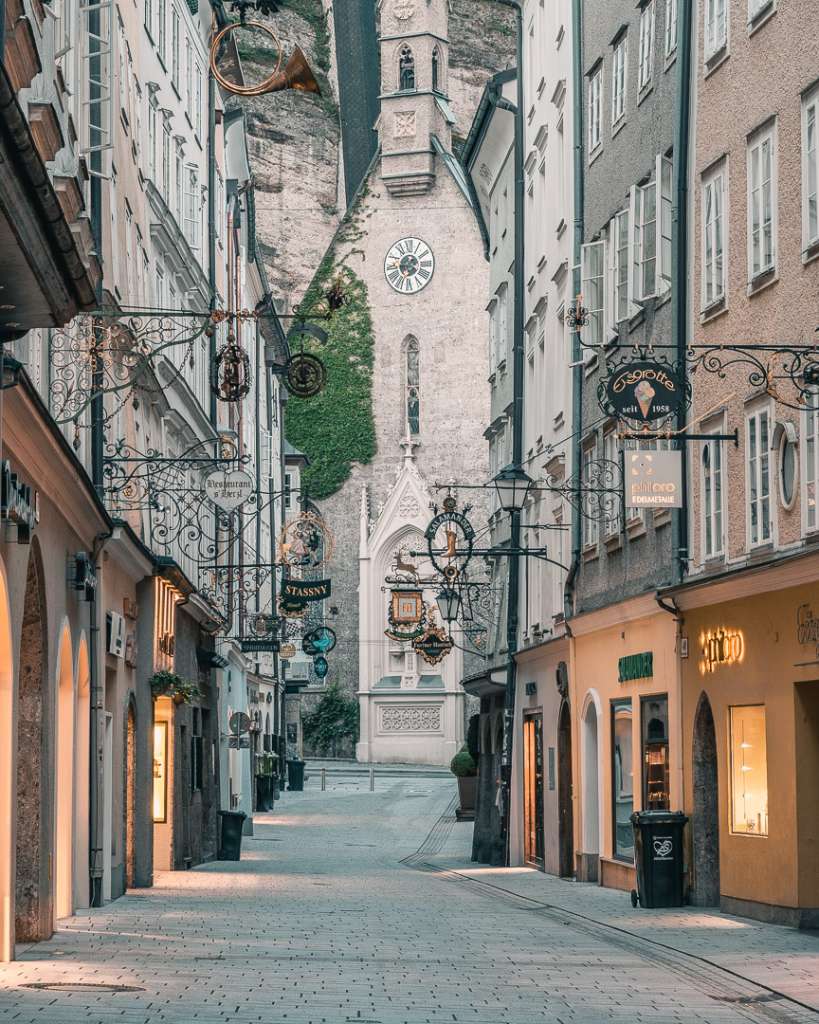 When Mozart was born, Salzburg was still an independent church-state, and Getreidegasse was the heart of bourgeois life in Salzburg. Most of the old town on the left side of the river, where Getreidegasse is located, was church property, and there was limited space for the citizens of Salzburg.
Therefore, Getreidegasse, just like today, was the busy part of town. Mozart's birthplace is the second most visited sight in Salzburg after the Hohensalzburg fortress.
When was Mozart born?
Mozart was born on the evening of the 27th of January, 1756. He was the last of seven children born to Leopold Mozart and Maria Anna Mozart. Except for Mozart and his five years older sister, however, all the children died in infancy.
Where was Mozart baptized?
Mozart was born at 8 pm on the 27th and baptized at the Salzburg Cathedral, the most essential church in Salzburg, at 10 am the day after he was born. Why so soon, you might ask.
Well, we already know that five of his six older siblings died before they were a year old.
Mozart was baptized as soon as possible, so in case he died as an infant, he was at least baptized.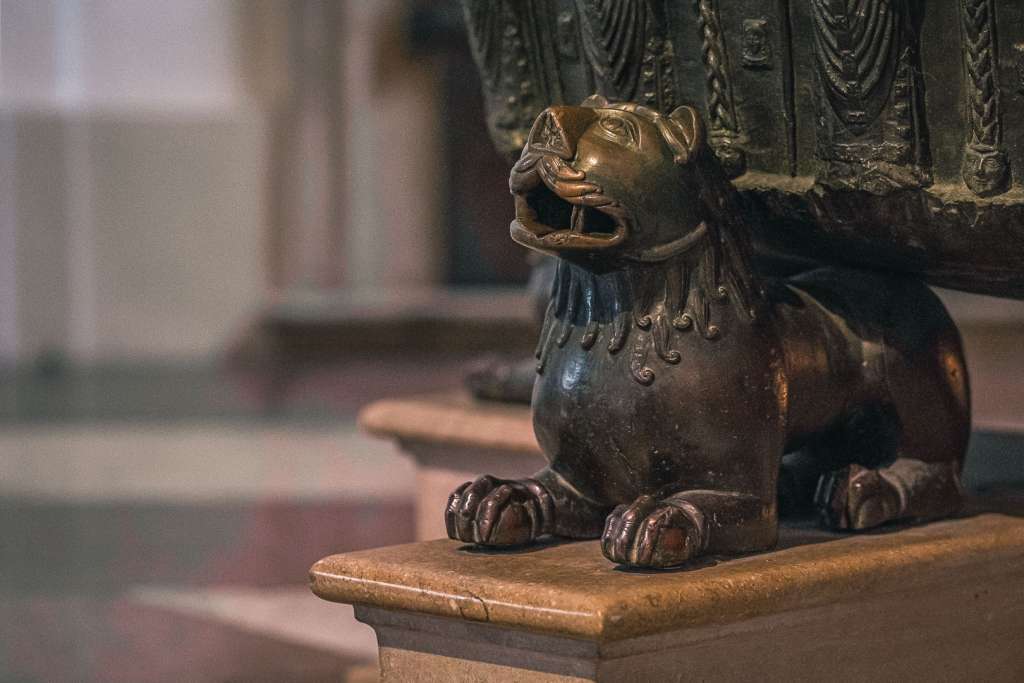 When you visit the Salzburg Cathedral, you can find the baptismal font.
What was Mozart's actual name?
Mozart was officially baptized by the name of Joannes Chrysostomus Wolfgangus Theophilus Mozart. That's right. He had four first names.
The names he was given were in Latin and Greek. Still, throughout his life, he used them in many different languages as he was multilingual and traveled a lot.
Let's have a closer look at each one of them.
Joannes Chrysostomus was the saint of the day Mozart was born. He didn't actually use these names in everyday life. It was a Catholic custom to name a child after the respective saint of the birthday.
Wolfgangus was the first name of Mozart's maternal grandfather, even if Mozart never met him. In German, it's Wolfgang, and that's the name his family used for him.
Theophilus he got from his godfather. It's the Greek equivalent to Amadeus, and Amadeus comes from Latin and in German would be Gottlieb. The translation of these names means "the love of God".
While Mozart's family called him Wolfgang or Wolferl, he first used to call himself Wolfgango Amadeo, which he later in his life changed to Wolfgang Amadé.
Not everyone took him seriously on that, that's why we today know him as Wolfgang Amadeus. But even more commonly, we call him by his family name and simply refer to him as Mozart.
What Nationality was Mozart?
Was Mozart Austrian? Or rather, German? His father was German. Salzburg was neither a part of Germany nor a part of Austria. But the Mozart family spoke German, right?
There is conflicting information about that topic because there is no simple answer. All things considered, let's try to answer the question about Mozart's nationality as simple as possible.
Salzburg was founded by Bishop Rupert, who came from Bavaria in 696. Therefore, it was a Bavarian foundation but became independent of Bavaria in the 14th century.
Salzburg lost its independence in 1803 because of Napoleon before it became a part of Austria in 1816, but that's not relevant here because by that time, Mozart was already dead.
So Salzburg was its own church country, similar to the Vatican. The people of Salzburg would have been called Salzburger just like we call ourselves Salzburger today.
Salzburg was part of the Holy Roman Empire when Mozart was born, but the Empire was a collective of Nations; therefore, it would not have determined Mozart's Nationality. Mozart's father Leopold was from Augsburg, which is Germany, but Germany didn't yet exist. Germany was rather a cultural identity than a country. Unified by a common language, customs, and traditions.
Mozart thought of himself as German but in that sense of cultural identity. And citizenship as we know it didn't yet exist. So Mozart was born in Salzburg, when it was a country that doesn't exist anymore, but short after Mozart's death became a part of Austria.
Where was Mozart educated?
Mozart never went to school. Considering that he traveled for more than three years at the age of six, he wouldn't have had time for formal education. But his father was a great pedagogue and didn't only train him in music. Mozart spoke several European languages. He was a diligent student and became highly educated.
When did the family move from Mozart's birthplace to Mozart's residence?
When Mozart and his sister grew up, the three-room apartment in Getreidegasse became too small. There was not enough space to work, and Mozart had to share a room with his sister until he was 17 years old. Until he was 17 because that's when the Mozart family moved to the other side of the river where they rented 300 square meters.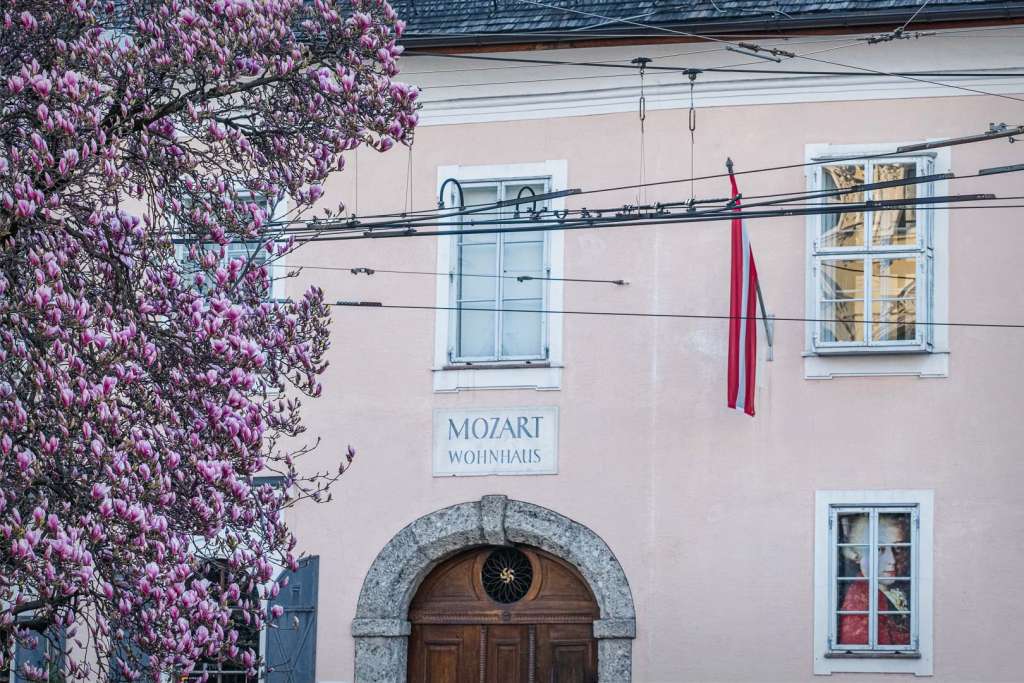 Can you visit Mozart's birthplace in Salzburg?
You can most certainly visit Mozart's birthplace in Salzburg. As I mentioned at the beginning, the birthplace of Mozart is the second most visited sight in Salzburg. It's probably also the most photographed building in town. During the tourist season, the square in front of the yellow tall building is packed even if the house is just like all the others in Getreidegasse.
Mozart's birthplace is a museum nowadays.
How we celebrate Mozart's Birthday?
If you think Austrians care more about Mozart than other people in the world, we don't. The Mozarteum Foundation that also runs the birthplace and the residence, organize a week of concerts around Mozart's birthday every year called the Mozart week. But same as with the Salzburg festival, people come from all over the world to attend those concerts.
I know many locals who have never been to inside the birthplace of Mozart before.
In 2016, I hosted a Couchsurfer from French Guyana, who came all the way for the Mozart week. With him I visited Mozart's birthplace on Mozart's birthday for the first time.
There was a huge cake in front of the birthplace and locals and tourists gathered because they realized there will be cake. The place got so crowded that we ended up leaving before the cake was cut.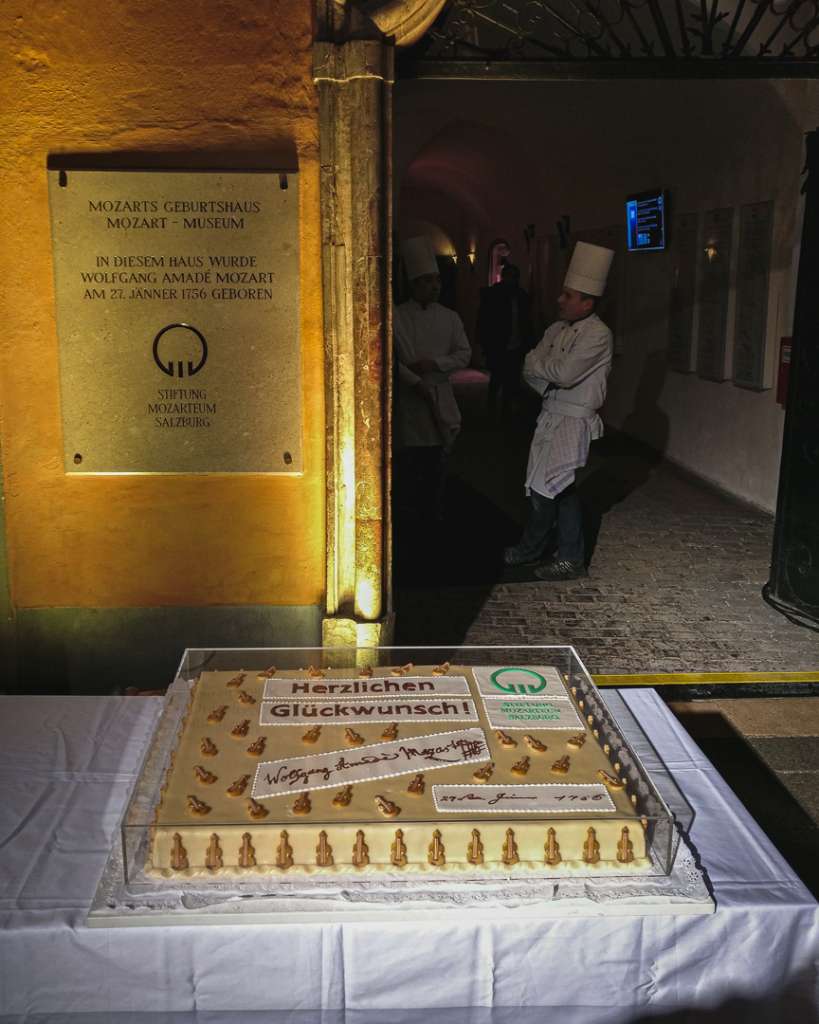 As far as I know there was no more cake for Mozart's birthday in 2020 but I heard there was free entrance in the evening and free guided tours inside the birthplace.
What's inside the Birthplace of Mozart?
When visiting Mozart's birthplace, you discover parts of his life on several floors. From his travels, which took him one-third of his life to the original Clavichord, he used to play and the portraits that have been preserved.
Where is the Birthplace of Mozart in Salzburg?
Getreidegasse, where the birthplace of Mozart is located, is in the most central part of the historic old town about 3 minutes from the cathedral and 5 minutes from Mirabell or the fortress. Getreidegasse itself is an attraction, even without the birthplace. It's the oldest shopping street in Salzburg and famous for the early wrought-iron signs in front of the shops.
How to get to Mozart's birthplace?
The best way to get to Mozart's birthplace is by walking. That's the best way to reach most of the attractions in the old town of Salzburg. From 90% of the hotels, it's between five and thirty minutes walking to the birthplace and any other tourist attraction in Salzburg.
If you want to get to Mozart's birthplace from the train station, it's 20 minutes walking. Walk through Mirabell garden to make the most of your walk! If you would like to take a bus you could, for example, take bus number 1 in front of the station and get off at Ferdinand Hanusch Platz. From there it's another two minutes walking.
How much is the Entrance Fee to Mozart's Birthplace in Salzburg?
The ticket for Mozart's birthplace costs €12,- per person and €18,50 if you get the combined ticket for the birthplace and the residence. Students up to 27 years pay €10,- for the birthplace and €15,50 for the combined ticket.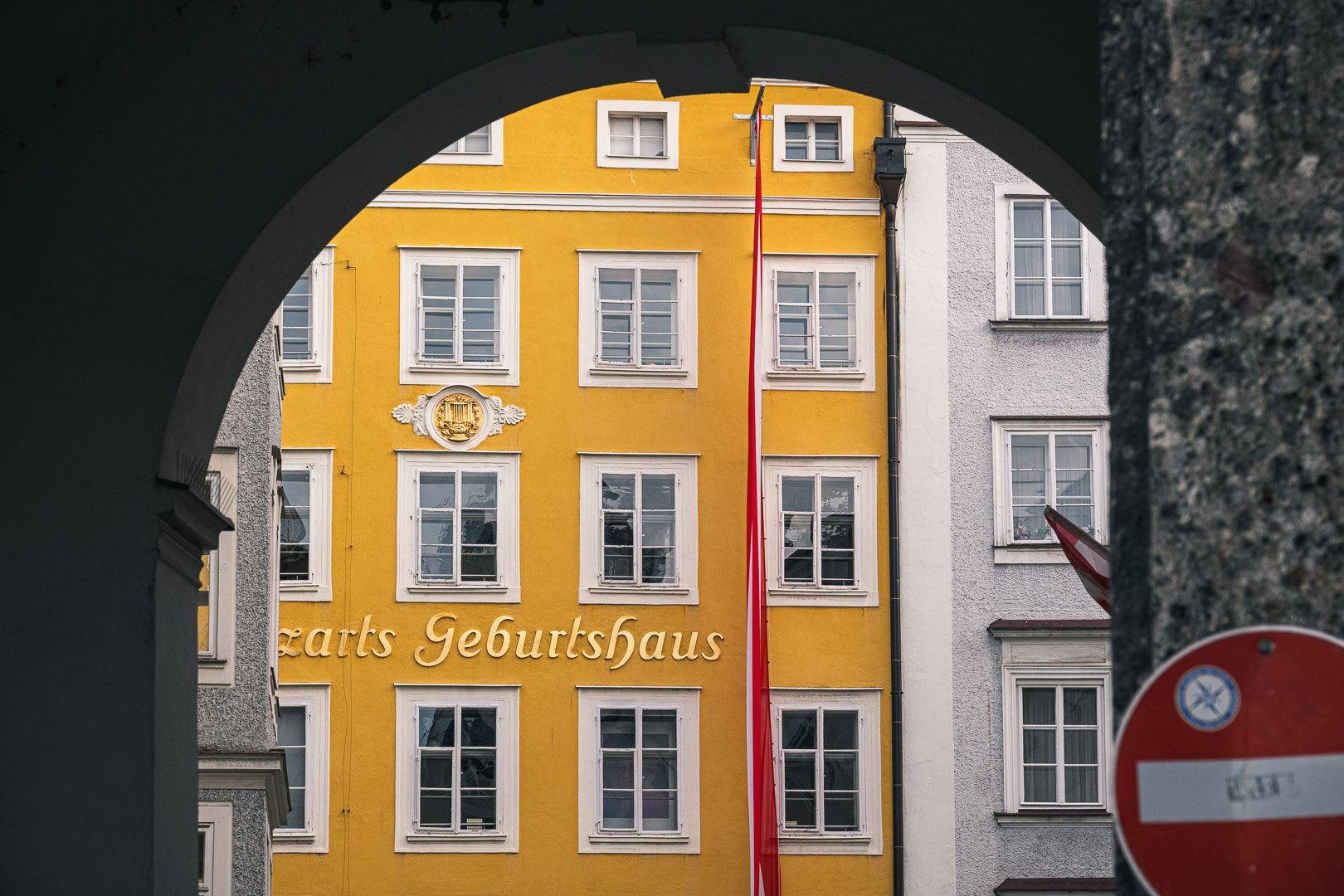 As with all paid sights in Salzburg, it's worth considering a Salzburg card. The Salzburg Card allows you to visit all the attractions in Salzburg for a one time fee. It's the best deal if you would like to go all-in on sightseeing.
Is the Birthplace of Mozart worth visiting?
The Mozart Birthplace and the Residence are worth visiting if you are a real fan of Mozart and genuinely interested. It's not a must to see these places from the inside. There are some original paintings, other souvenirs, and replicated living conditions.
The information you get is well-prepared, but for the price, you could also buy a book like the 111 questions about Mozart. A fantastic read published by those who run the museum and available at the birthplace.
Conclusion?
Mozart was born as a citizen of independent Salzburg in 1756 in Getreidegasse. Until he was 17 years old, the family lived in the birthplace of Mozart. His birthplace is the most famous attraction in Salzburg and the second most visited after the Hohensalzburg fortress.