I recently read on a popular travel blog, focused on local culture, that Mozart chocolate balls are one of the Salzburg population's favorite foods. You will find Mozart chocolate at every corner of the old town when visiting Salzburg. But who is eating all that chocolate?
Mozart chocolate comprises Marzipan, Nougat, and pistachio, covered in chocolate. As the name Mozartkugeln (Kugeln means balls) suggests, they are round. The popular Mozart balls are wrapped into red and gold foil, and you will not only find them in the old town of Salzburg but in every supermarket in Austria. Red and gold, however, is not the Original.
In this article, I will shed some light on the topic and set you up for your visit to Salzburg.
Mozart and the Mozart Chocolate
Salzburg rediscovered Mozart in the middle of the 19th century, 50 years after his death. They erected the Mozart statue in 1842, and the people of Salzburg didn't only remember him but realized that money could be made from Mozart. A downright Mozart cult began. Products were named after Mozart, and still today, many products are named after Mozart. The most famous of which is the Mozart chocolate balls.
The Mozart chocolate was invented 100 years after Mozart's death and named after him. There is no actual connection between Mozart and the chocolate.
Who invented the Mozart chocolate?
Paul Fürst, a master confectioner, invented the Mozart chocolate balls for the upcoming 100th anniversary of the death of Mozart in 1891. The Mozart candy became famous because Fürst introduced his invention in Paris at the world trade fair and won a gold medal.
What he forgot was to register the patent. And guess what. Already before Paul Fürsts return to Salzburg, other confectioners copied his invention and still copy them today.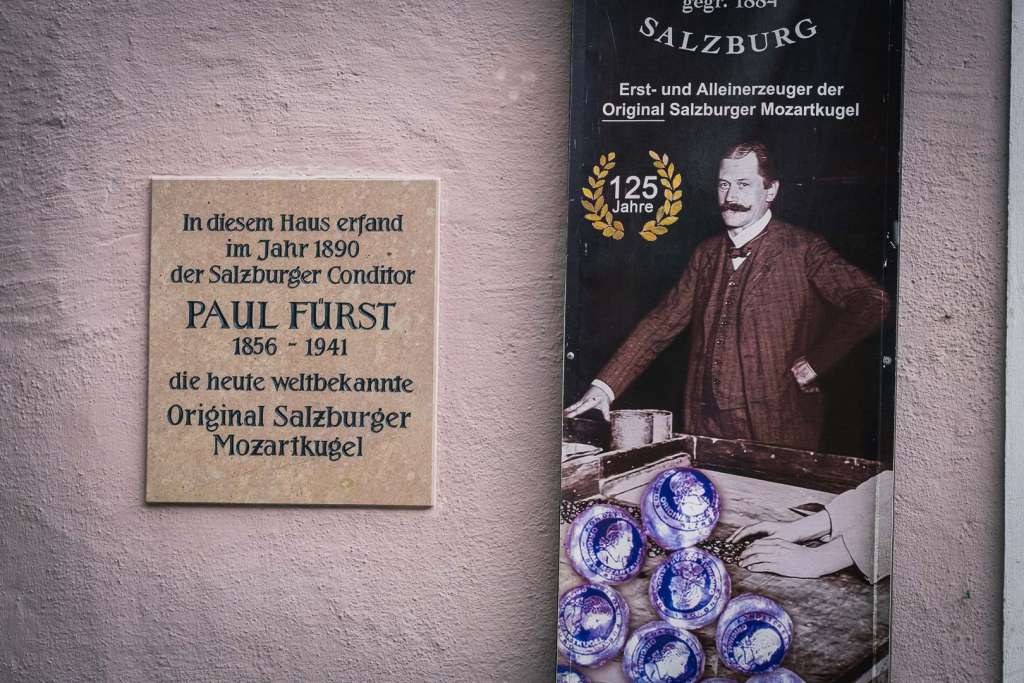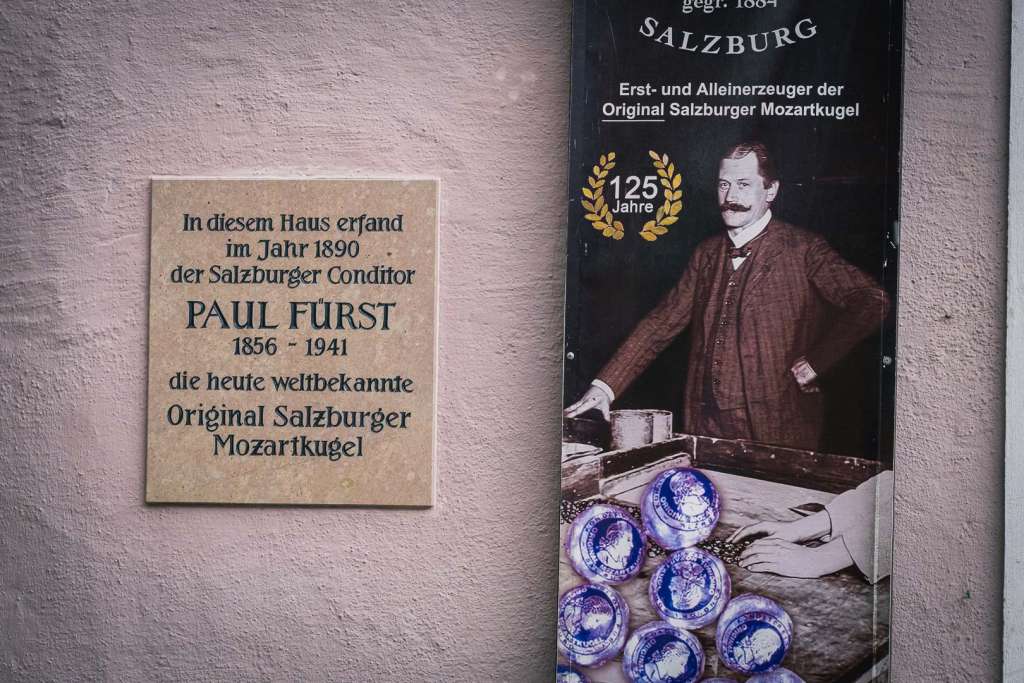 The "Original" Mozart Chocolate in Salzburg
Konditorei Fürst still hand makes the original chocolate today. Fürst Mozart chocolate is wrapped into blue and silver tinfoil. In fact, Fürst is since 1996 the only company allowed to call their Mozart chocolate "Original Salzburger Mozartkugeln". They fought several lawsuits, including one against Nestle, to claim that right.
Mirabell, the Austrian mass producer, has to call their Mozart chocolate "Echte Salzburger Mozartkugeln", meaning "real Salzburg Mozart chocolate". Mirabell is not allowed to use the word "original" while the German company Reber even may not use the word Salzburg and has to call their Mozart chocolate "Echte Reber Mozartkugeln", "Real Reber Mozart chocolate".
Where to find the Original Mozart Chocolate?
You find the Fürst Mozart chocolate at the Fürst cafe, at the old market. That's where the original Mozart chocolate was invented and is produced to this day.
Furthermore, you find the "original" Mozart chocolate in another Fürst cafe at Mirabell square and two small shops (Getreidegasse and Ritzerbogen) in the old town. Fürst doesn't sell the original Mozart chocolate to any other shops. Therefore, if your chocolate doesn't say "Fürst", it's not Fürst and not original, and Fürst Mozart chocolate is only available in Salzburg. There are no branches of the Fürst candy shop in other cities.
Fürst Mozart chocolate is handmade and only available at their shops in Salzburg.
How to recognize the Original Mozart chocolate?
Now we learned that the original Mozart chocolate is only available at Fürst shops and that Fürst is the only one allowed to call their Mozart balls "original". There is one more attribute to recognize the "original" Mozart chocolate. Fürst Mozart chocolate is wrapped into blue and silver tinfoil.
Fürst wraps the original Mozart chocolate in blue and silver tinfoil.
Mirabell, Reber, and other supermarket Mozart chocolate is wrapped into the red and golden tinfoil. Be careful, however! Many other pastry and souvenir shops produce their own Mozart chocolate and wrap it in blue and silver tinfoil to make you believe it's original.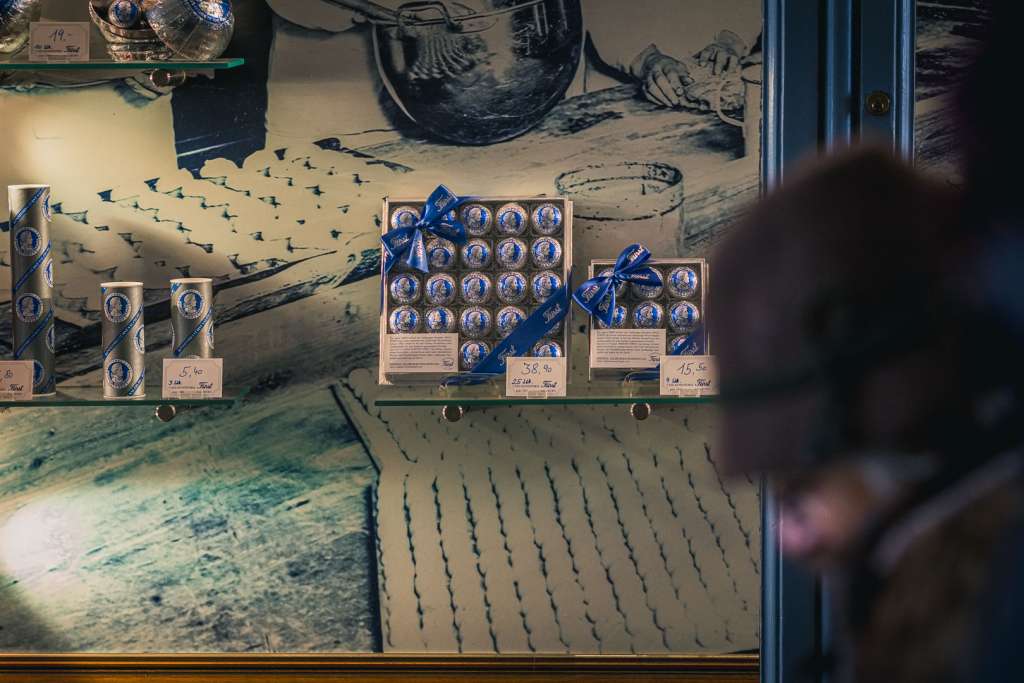 Who produces most Mozart chocolate?
Reber, the number one producer of Mozart chocolate balls, is a German company. Reber produces half a million Mozart chocolate balls a day. In the 1980s, Austria even tried to prevent Germany from producing Mozart chocolate but without success.
The streets of Salzburg are flooded with Mozart chocolate produced by a German company. Reber, however, may not call their chocolate "Salzburg Mozart chocolate" anymore. Other than the Austrian company Mirabell (actually part of a US corporation), that call their chocolate "real Salzburg Mozart chocolate", Reber now calls their Mozart chocolate the "real Reber Mozart chocolate".
The Mozart Chocolate as a Locals favorite Food
Now the question that led me to write this article. Who are all these chocolate balls for? Do locals in Salzburg consume chocolate balls regularly? Of course not. I don't know anyone from Salzburg who eats Mozart chocolate regularly or would tell you Mozart chocolate is his/her favorite food and part of their diet.
So who eats all the chocolate?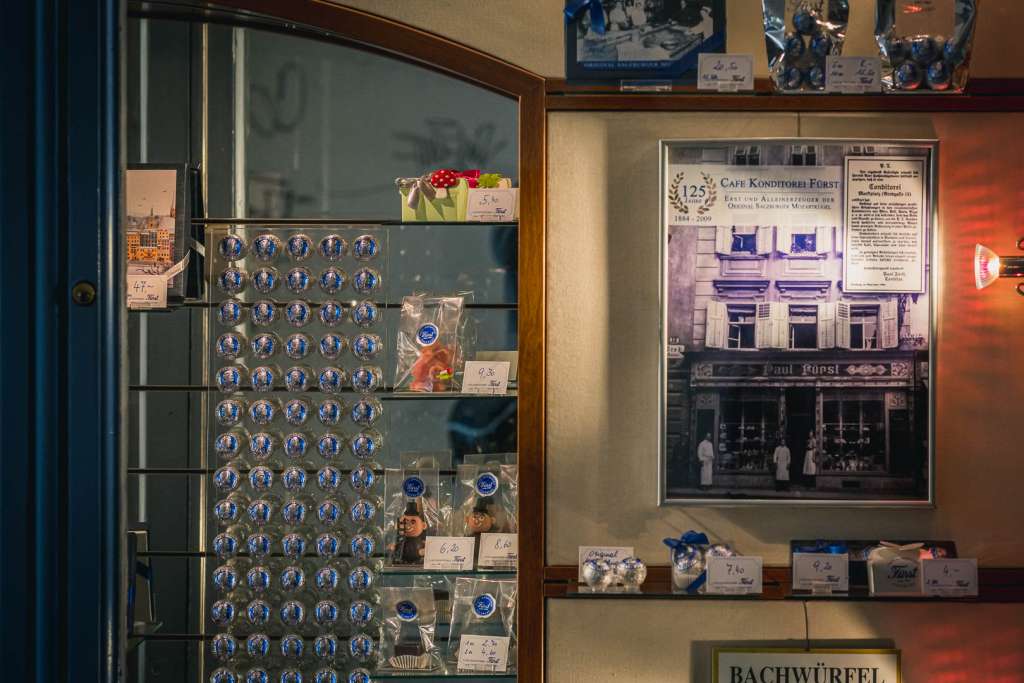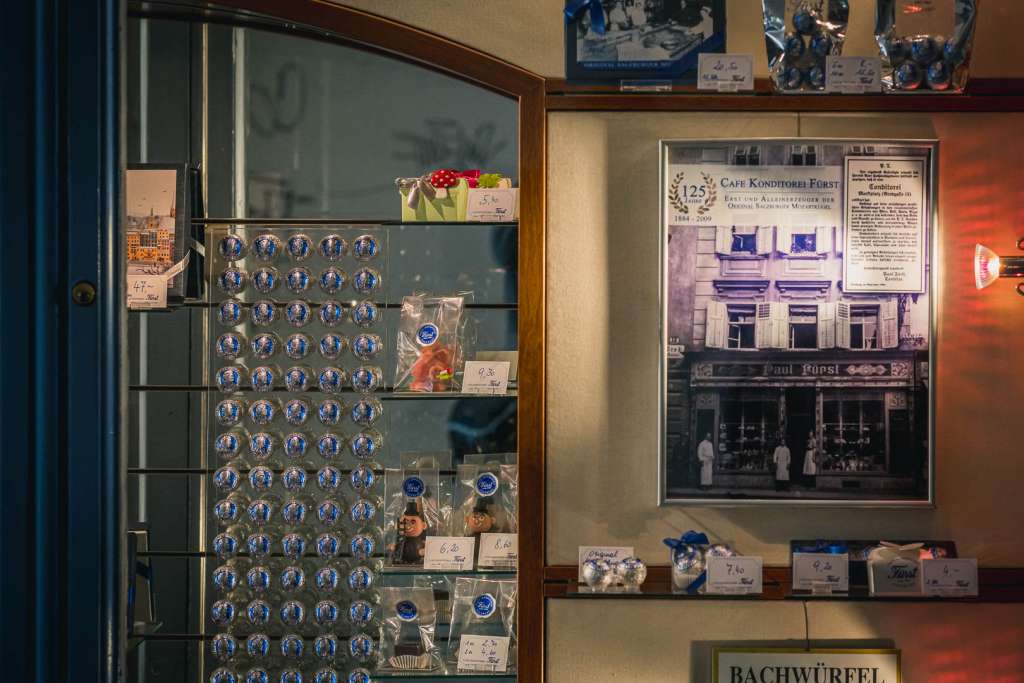 Who eats all the Chocolate?
Reber, the biggest producer of Mozart chocolate in the world, is a German company. Reber produces 80 million Mozart chocolate balls. 80% of these Mozart chocolate balls are sold and consumed in Germany, which means that Germans eat the most Mozart chocolate in the world.
Furthermore, Reber, as well as the Austrian company Mirabell export Mozart chocolate to more than 30 countries. You see, Mozart chocolate is big. Even if Salzburg locals don't consume more Mozart chocolate than the rest of the world, you should take the chance and go for the original while you are in Salzburg. You only get the original in Salzburg.
How is the original Fürst Mozart chocolate produced?
Fürst produces the chocolate balls the same way they did in the 1890s. A ball of pistachio and green marzipan surrounded by nougat is put on a stick and dipped in chocolate.
Because of the stick on which the chocolate balls get dipped in chocolate, there remains a whole on each of them. That hole gets filled with chocolate, and a dot of chocolate remains. Also, the original chocolate balls are not perfectly round.
What's the price of a piece of Mozart chocolate?
The red and golden supermarket Mozart chocolate is between €0,40 and €0,80, depending on the shop and the amount of chocolate you buy. The original Mozart chocolate is €1,40 (in 2019). Fürst increases the price almost every year by €0,10. You, however, would anyway not eat more than a piece or two, and because the ingredients are natural, they wouldn't be suitable to take home as a present. They can't withstand the heat.
Recommendation
The Original Mozart chocolate is from Fürst and wrapped in blue and silver. Others also wrap their Mozart balls in blue and silver. The original, however, is only available at Fürst shops (Old market, Ritzerbogen, Mirabell square, and Getreidegasse)
I would recommend trying the Mozart chocolate at the Ritzerbogen branch of Fürst. At the old market cafe, I several times witnessed rude behavior (which I am allergic to) from the waiters. At the same time, the Ritzerbogen ladies are always friendly, despite tons of people besieging them.
I consider Konditorei Schatz a great alternative to Fürst Mozart chocolate. Schatz is a cake shop I recommend for the best cakes in Salzburg. They are a family run business, just as old as Fürst, also started the chocolate ball production more than 100 years ago and still hand-craft them.
Conclusion
You should try a piece of Mozart chocolate while you are in Salzburg. Buy one loose piece of chocolate at €1,40 (in 2019) from Konditorei Fürst. Fürst invented Mozart chocolate, and they are still hand-making chocolate balls and selling them at the cafe and in three more locations around the old town.
Questions? I would love to answer!