The aim of this article is to present traditional restaurants with a variety of recommended dishes.
These restaurant recommendations are in different areas of the old town, for different times of the day, and with a distinct character to enable you to taste a variety of Austrian food while experiencing the particularities of each of these places.
The Experience I want you to Have
This is not a guide on the best food in Salzburg. This guide doesn't respond to special dietary habits and ignores foreign cuisine that's not part of the Austrian menu.
Instead, this restaurant guide focuses on where to eat in Salzburg and what to eat to get the most authentic Austrian experience. It guides you to my favorite Austrian restaurants.
My Relationship with Austrian Food
Before we get started, I would like you to understand where this is coming from.
I have always preferred international cuisine.
I've found Austrian food to be boring and it is true that it is repetitive. We eat meat, prepared in different ways and compared to Asian food, which I love, Austrian food is less diverse in flavor.
However, the more I got into Austrian cuisine, initially because of my intention to tell you about it, the more I developed curiosity and love for Austrian dishes and the places that serve them, and I am still on that journey.
Once or twice a week, I eat at a restaurant to try different dishes. With this article, I share these experiences and want to enable you to fall in love with Austrian food just as I have.
The Best Restaurants in Salzburg
Each of the restaurants I introduce serves a different purpose and for each restaurant, I recommend an Austrian dish that I think you will enjoy.
Johanneskeller
Johanneskeller is the perfect fusion between a quaint traditional Austrian restaurant and a place, young and full of energy. I remember when it opened. It was a year after my favorite restaurant in Salzburg closed and most of their staff shifted to Johanneskeller. They are a fun and friendly bunch. Don't expect to be treated like in a luxury restaurant but rather like a friend.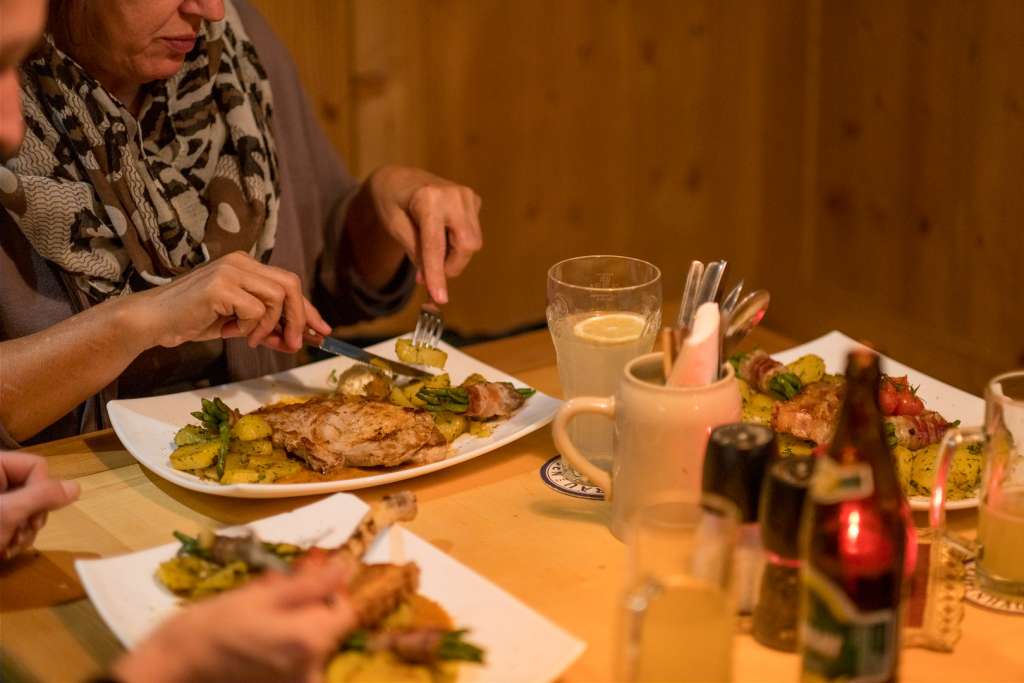 The entrance to the restaurant is on the side of the trinity church which the building belongs to. Upon entering you see the bar but then you have to go downstairs. Keller in German means basement and that's what it is. In summer there is also the option to sit in the yard which is great because, despite the central location, the yard is quiet.
The restaurant is only open in the evening and you can only pay cash.
What to eat at Johanneskeller
My favorite dish would be Schweinsbraten. Schweinsbraten is one of the most typical Austrian meals. It's a Sunday dinner-style dish. A slice of tender roasted pork topped with gravy and served with light and wondrous potato dumpings along with Sauerkraut.
And should you feel like something outside the zone of Austrian cuisine, the Mediterranean gyros (spit-roasted meat) with tzatziki is an ideal solution. The prices at Johanneskeller are reasonable while the portions are really big.
Features: dinner – big portions – casual – closed on sunday and monday – kind staff – cash only
Website: https://www.johanneskeller.at/
Andreas Hofer Weinstube
If you recall history, perhaps the name Andreas Hofer rings a bell. He was a Tyrolean innkeeper that in 1809, became the leader of the Tyrolean Rebellion against Napoleon. Unfortunately, he was captured and executed, but he's still hailed as a hero today, especially in Tyrol.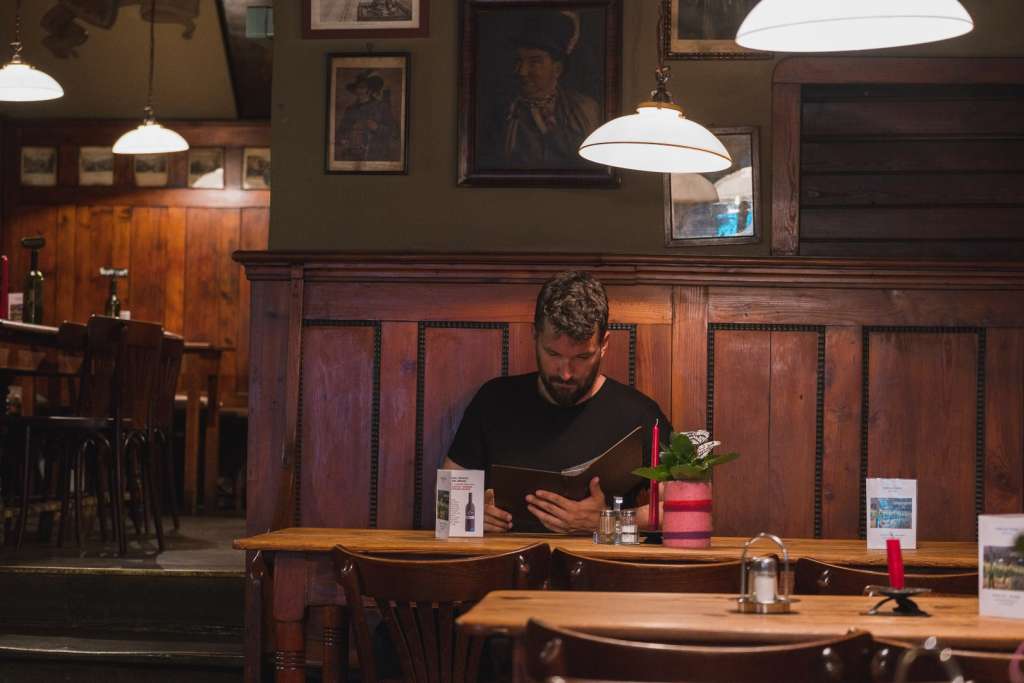 Just as the name suggests, Andreas Hofer offers Austrian food with a focus on Tyrolean cuisine in a historic environment. Steingasse, where the restaurant is located, is one of the oldest streets of Salzburg. It's a narrow street, the restaurant's windows are small and with the dark rustic wooden furniture, candlelight helps to light up the room.
Andreas Hofer does not only offer excellent Austrian food but is one of the most traditional restaurants in Salzburg. It opened more than 100 years ago and that's how it feels like.
This restaurant is also only open in the evening but they accept credit cards.
My favorite Dishes at Andreas Hofer
At this restaurant, I recommend trying Kaspressknödel and a Schnitzel variation. Kaspressknödel are a specialty in Salzburg and the West of Austria. They are tasty bread and cheese dumpling often served in a soup as a starter, but here they can also be a main course. If you are hungry, I would recommend them as a starter and Mailänder (Milano) Schnitzel as a main dish to really fill you up.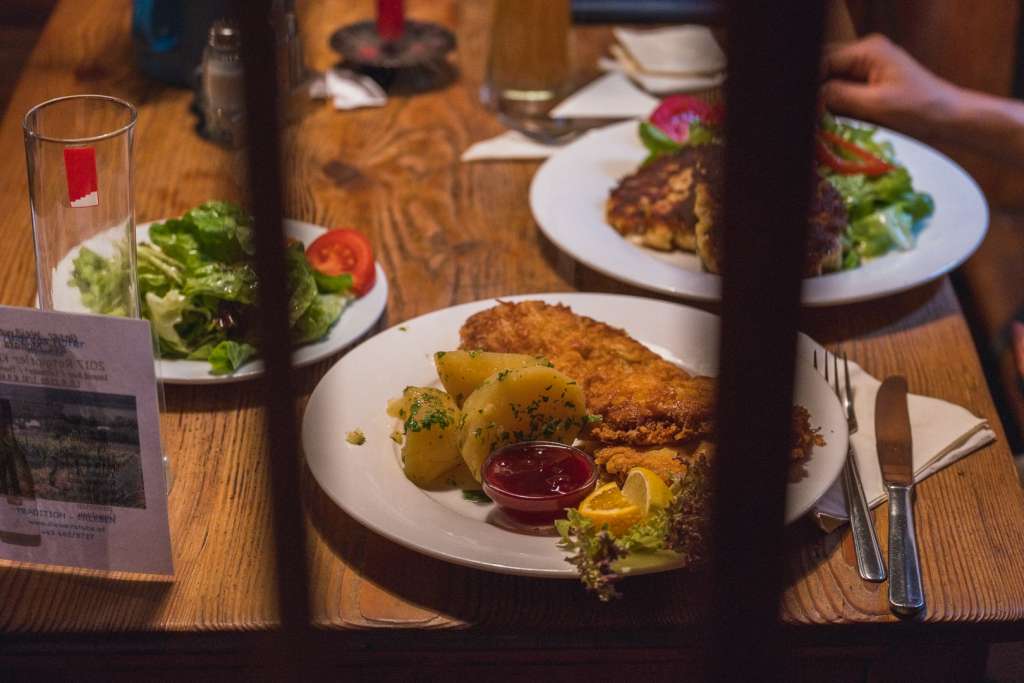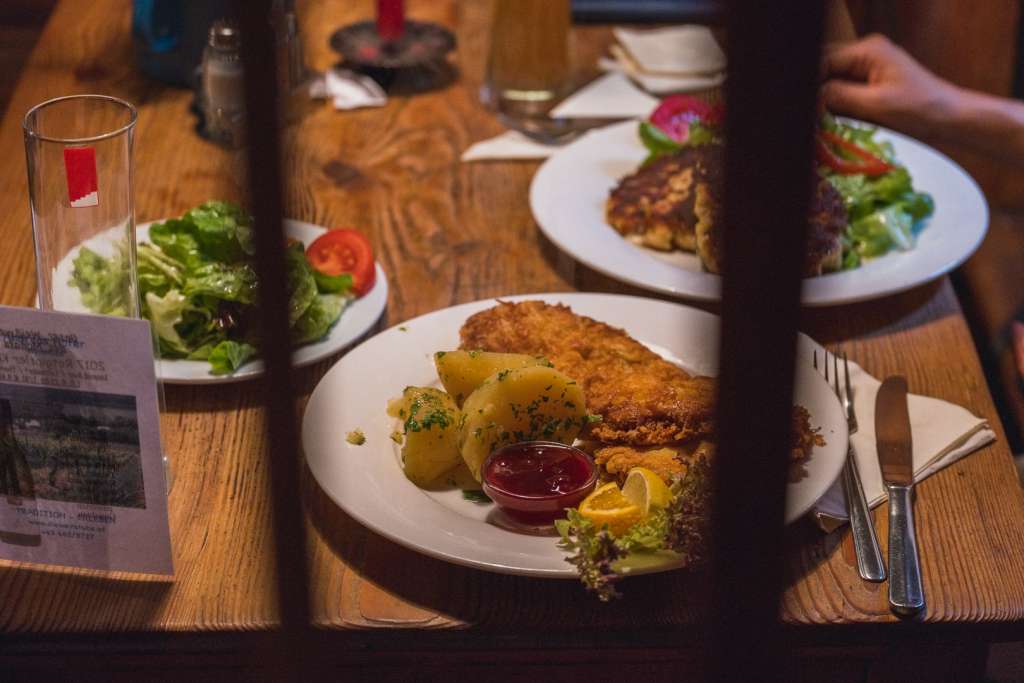 You have probably heard about Wiener (Vienna) Schnitzel since it's the most famous Austrian dish. But you can try Schnitzel at every Austrian restaurant, therefore I recommend Mailänder Schnitzel, a rare Schnitzel variation at Andreas Hofer. One that highlights the Italian influence in Tyrol. Mailänder Schnitzel is coated in parmesan cheese instead of breadcrumbs. A sensation, especially for cheese lovers.
If you are a vegetarian, you choose Kaspressknödel, the cheese dumplings as a main course. If you are not too hungry, order either the Mailänder Schnitzel or the Kaspressknödel as a main course and not as a starter. Also, when dining just the two of you, you might take both dishes and share so each of you gets to try both. We are always about trying as much as possible.
In case you fancy dessert, take the baked apple rings!
Features: dinner – quaint – traditional – closed on sunday
Website: https://www.dieweinstube.at/
Gasthaus Zwettler's
If you ask me for a lunch recommendation after the tour, I would always point you to Zwettler's. That's not because they are open at noon and located around the corner from Mozart Square but because they care about hospitality and therefore about you.
The history of the restaurant already began 150 years ago but the building was destroyed by bombs during the second world war. The interior of the house remained the last bomb ruin in Salzburg until the 1980s when it was renovated and reopened. In 2011 the current owners took over.
Zwettler's is a fun place to be with the waiters always paying close attention to their guests. In summer when chairs and tables are outside, their presence brightens up the whole street. Many locals go there just to have a beer at the bar. Speaking of beer, they don't serve the usual Stiegl you find in most restaurants in Salzburg.
Their beer is branded by the name of Emporer Karl (Charlemagne) who, according to the legend, resides inside the nearby Untersberg mountain for the last 1200 years and awakens at the end of time. The beer was invented by an innkeeper who had his hut at the Untersberg and was not satisfied with the conventional beer.
When you visit Zwettlers at noon, they offer an inexpensive lunch menu. As far as I know, they are the only Austrian restaurant in Salzburg with such an offer. They are also the only Austrian restaurant that has more than just one or two vegetarian options on the menu.
What to eat at Zwettlers?
For meat-eaters, I recommend the Zwiebelrostbraten, savory roast beef with onions. The beef (Rostbraten) comes from a tender roasted standing rib roast that is topped with a stunning gravy of roasted onions and served with the croquettes.
For vegetarians, on the other hand, I would recommend the Tiroler Schlutzkrapfen. These are quite similar to Italian ravioli and at Zwettlers, they are filled with pumpkin and mountain cheese. Here you can also taste the Italian influence in Austrian dishes, a most sublime pairing.
Features: lunch – dinner – vegetarian options – closed on monday – casual
Website: https://www.zwettlers.com/
Pauli Stubm
Hidden in a back alley just below the fortress, Pauli Stubm is the ultimate insider tip. The building in Herrengasse is hundreds of years old and very modest. Herrengasse in history was the most notorious street in Salzburg because that's where the executioner ran the brothels.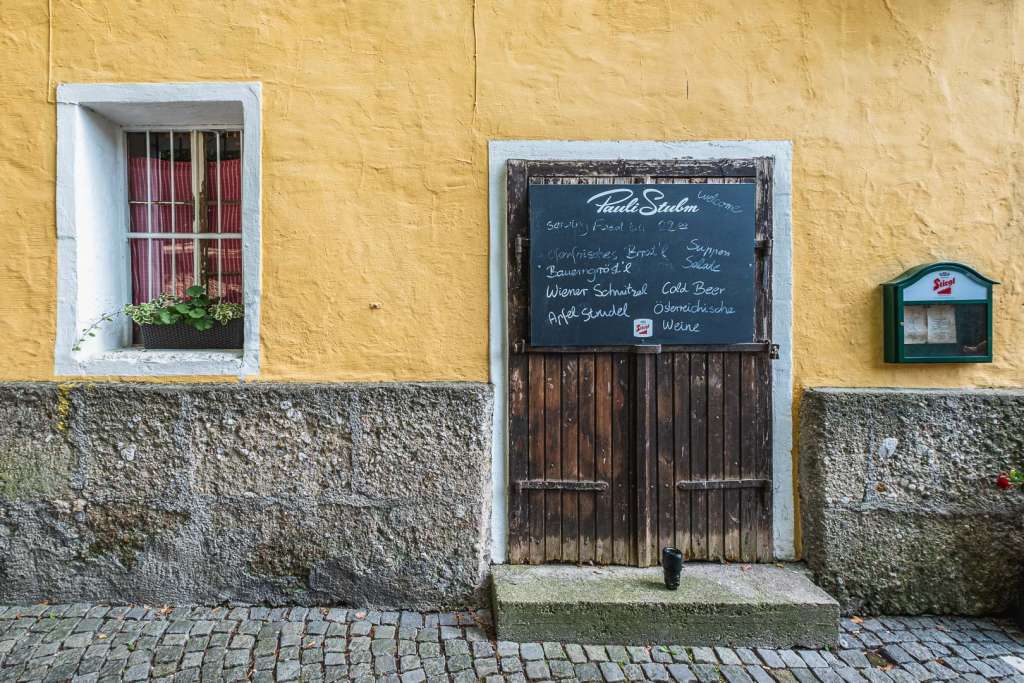 The oldest brothel from 1501 is still the neighbor of Pauli Stubm. But don't be alarmed. The alley is off the beaten path but in no way shady.
The restaurant as it is today opened in the 1930s. The current chef and owner of the Pauli Stubm cooked all over the world before he took over in 2018. He personally makes sure your meal is of the highest quality while the waiters are always kind and attentive.
When you get to Pauli Stubm, you enter and take the stairs to the first floor. The Stubm (parlors), as well as the beer garden, are there. If the weather is nice, you definitely want to sit in the beer garden or otherwise enjoy the charming, rustic interior!
It's a cozy place with a comfortable ambiance.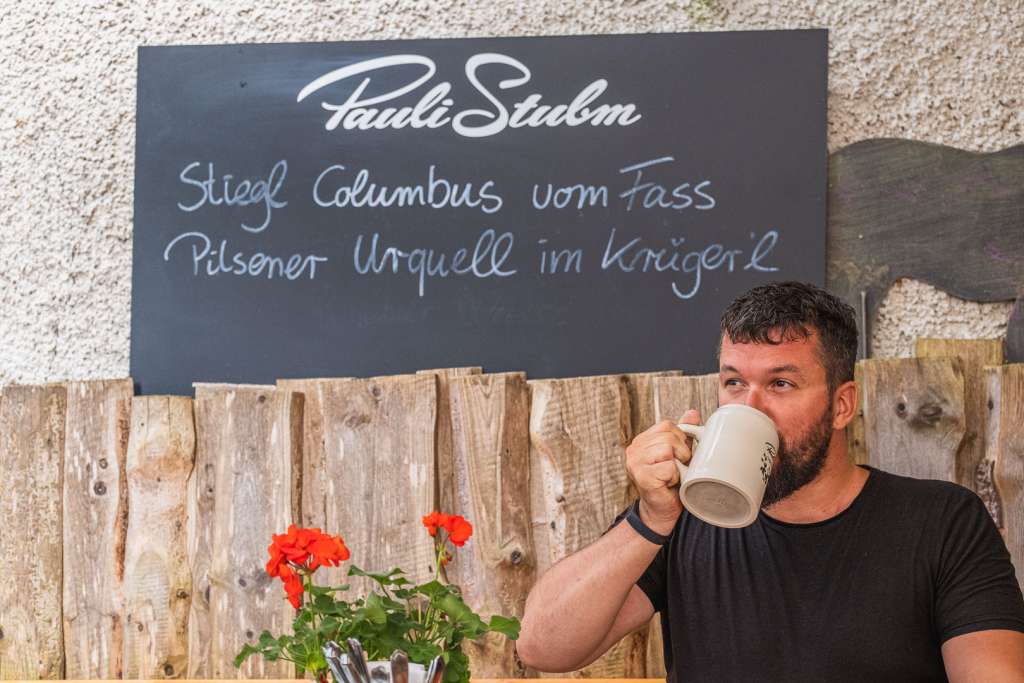 The Best Kasnocken in Salzburg
Pauli Stubm is known among locals for the best Pinzgauer Kasnocken in Salzburg. Kasnocken are a vegetarian pasta dumpling dish with cheese and onions and I agree with my fellow locals, that there is no better place to try them in Salzburg.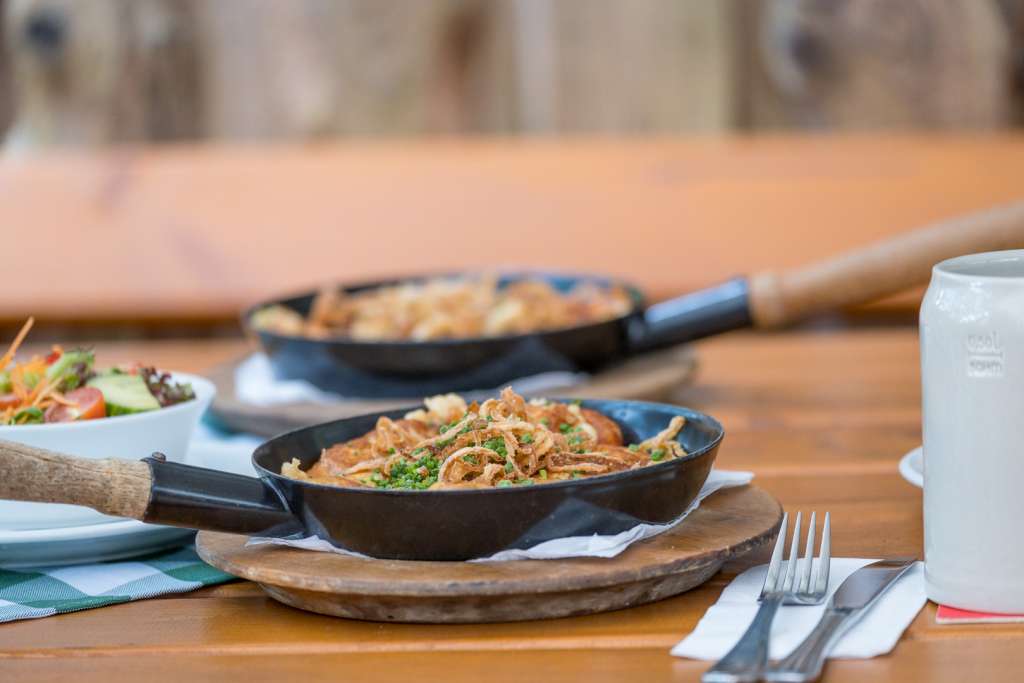 Kasnocken are the most popular vegetarian Austrian recipe. In fact, they are the only traditional vegetarian meal you find in most restaurants.
Features: dinner – traditional – closed on sunday – cozy
Website: https://www.paul-stube.at/
S'Nockerl
Named after a famous dessert from Salzburg, this was one of the most surprising places I visited on my food journey through Salzburg. For years, I thought S'Nockerl is expensive and only for tourists. I hesitated to recommend it even if I had no idea about the place.
When I first went there though, I was surprised about the moderate prices, the way the food was served, the size of the portions, and the kind service.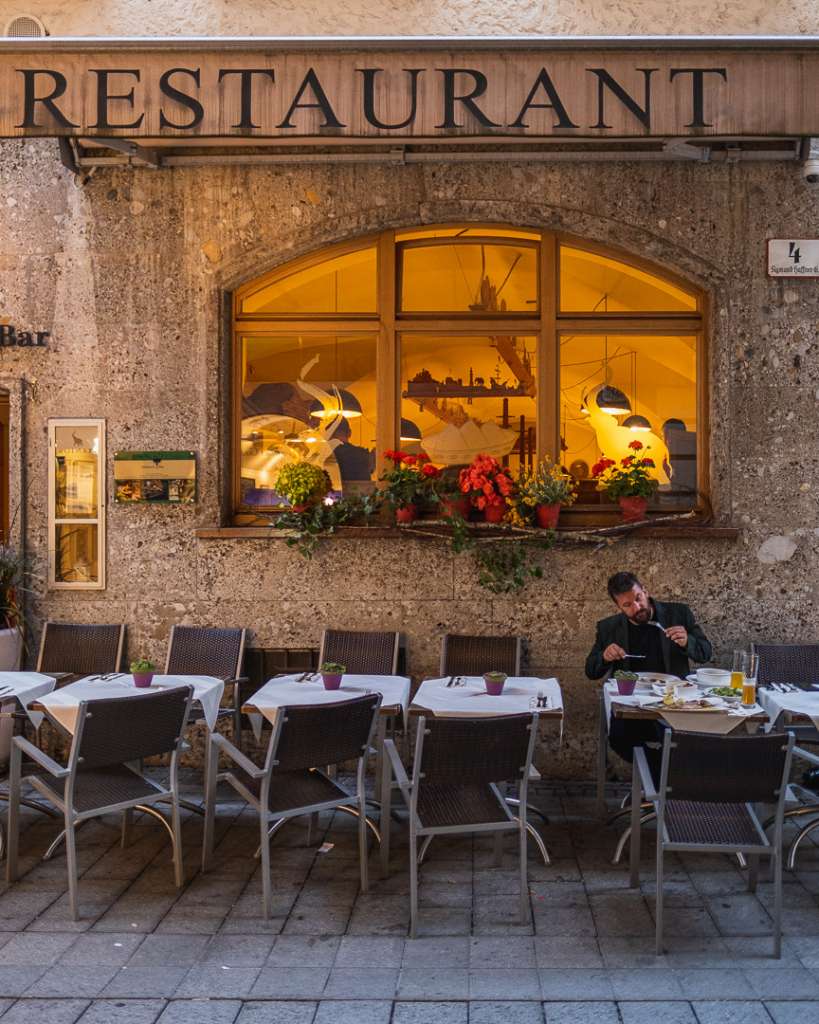 The waiters were effortlessly courteous, and we felt welcome and that the place is somewhat luxurious while the prices are in the mid-range of Austrian restaurants. Furthermore, I never went to an Austrian restaurant where I felt like I couldn't eat more because of the size of the portions. We ate Salzburger Nockerl as a dessert, but shared them and were hardly able to finish.
All in all, this became one of my favorite food experiences in Salzburg.
S'Nockerl is open seven days a week and all day long. I can recommend it for lunch or dinner but my personal preference for nice restaurants is always the evening.
Recommended Austrian Food at S'Nockerl
The most recommended dish to order would be Salzburger Schmankerl. 'Schmankerl' means 'tidbits'. The Salzburger tidbits are a wonderful beef soup with liver dumplings as a starter and Tafelspitz with potatoes as the main course.
'Tafelspitz' means 'tip of the meat' and is meat boiled in soup. More precisely, it is the part of the cattle where the tail originates. The meat is usually from a young ox and served with the broth it was boiled in, minced apples, and horseradish.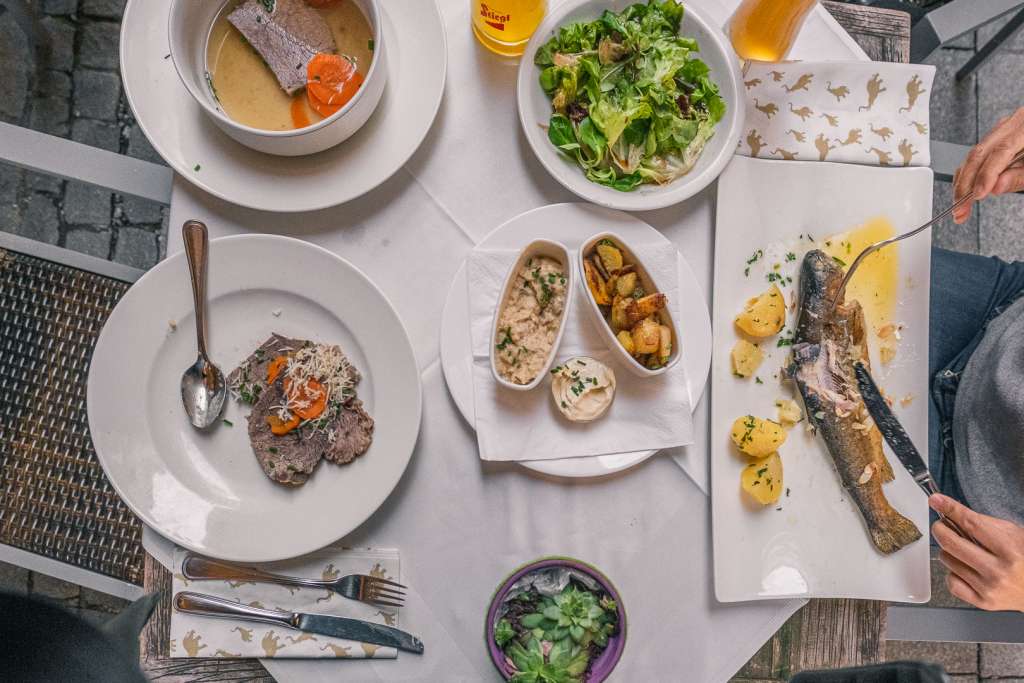 The Restaurant S'Nockerl is named after Salzburger Nockerl. One of the few dishes that are specific to Salzburg, Salzburger Nockerl, other than Nockerl for Kasnocken, is a sweet dessert. It's almost like a souffle. A souffle in the form of three hills that stand for the three city mountains here in Salzburg. It consists of egg and sugar. Heavenly, sweet, and with a texture that is light and fluffy, it is interesting to try when visiting Salzburg, and the perfect way to finish your meal at S'Nockerl.