5 Ways to get from Vienna to Salzburg
Explorer's note: Some links in this post are affiliate links. If you make a booking through them, we may earn a small commission at no extra cost to you. This helps us keep providing tours and top-notch travel advice.
The best way to get from Vienna to Salzburg is the train. The train is fast, practical and affordable. In this article, however, I would like to offer alternatives that are either more convenient, cheaper or more exciting.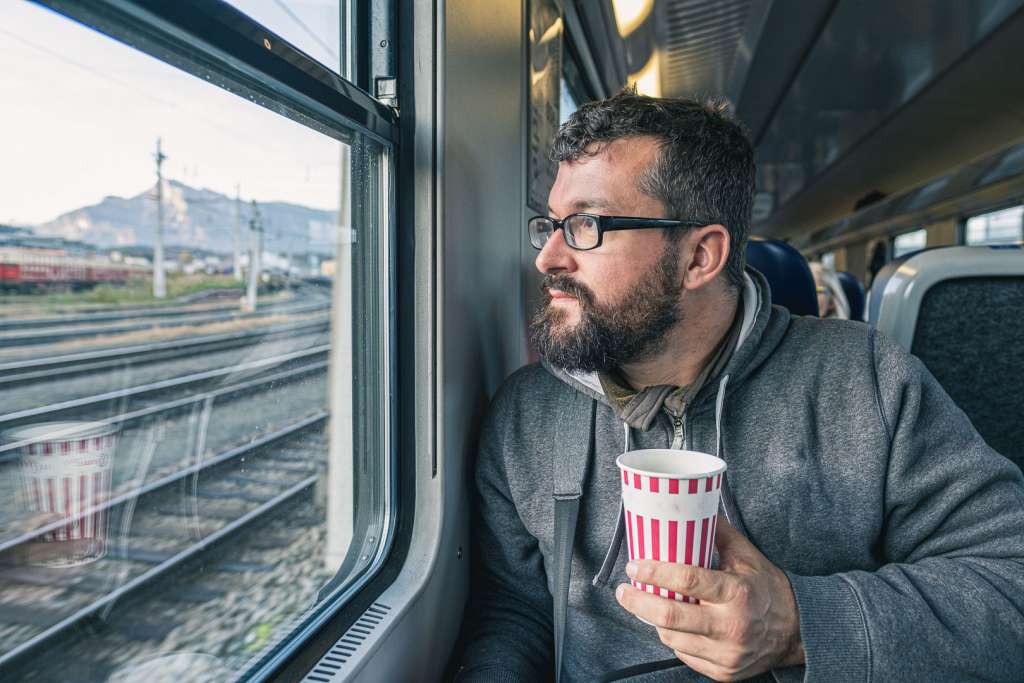 If you just want to travel from Vienna to Salzburg without sightseeing, saving money or extra comfort, you can instead read this article on how to go from Vienna to Salzburg by train.
The Train from Vienna to Salzburg
The best and most popular option to travel from Vienna to Salzburg is the train. The journey takes only 2 hours and 30 minutes. Trains run at least every half an hour and tickets start at around € 24 (in 2020).
Unlike the rest of Austria, there are two train companies on the Vienna – Salzburg route. ÖBB is the Austrian Federal Railways that have existed since the 19th century. Westbahn, on the other hand, is a company founded in 2012, and only operates trains on the route from Vienna to Salzburg.
For most travelers, the Westbahn is more practical and cheaper. You can buy the Westbahn tickets directly on the train, the trains run every half an hour and the tickets cost almost half of the price of the ÖBB tickets.
To get ÖBB tickets for the price of the Westbahn tickets, you have to reserve a few days in advance, travel on a less busy day or have a discount card (Vorteilscard).
Austrian trains are never fully booked. Seats are not even allocated if you don't reserve a seat. If the train is overcrowded, you just have to stand. If you want to make sure you don't have to stand, you can reserve a seat, but in most cases, this is unnecessary.
To travel by train from Vienna to Salzburg you have two options.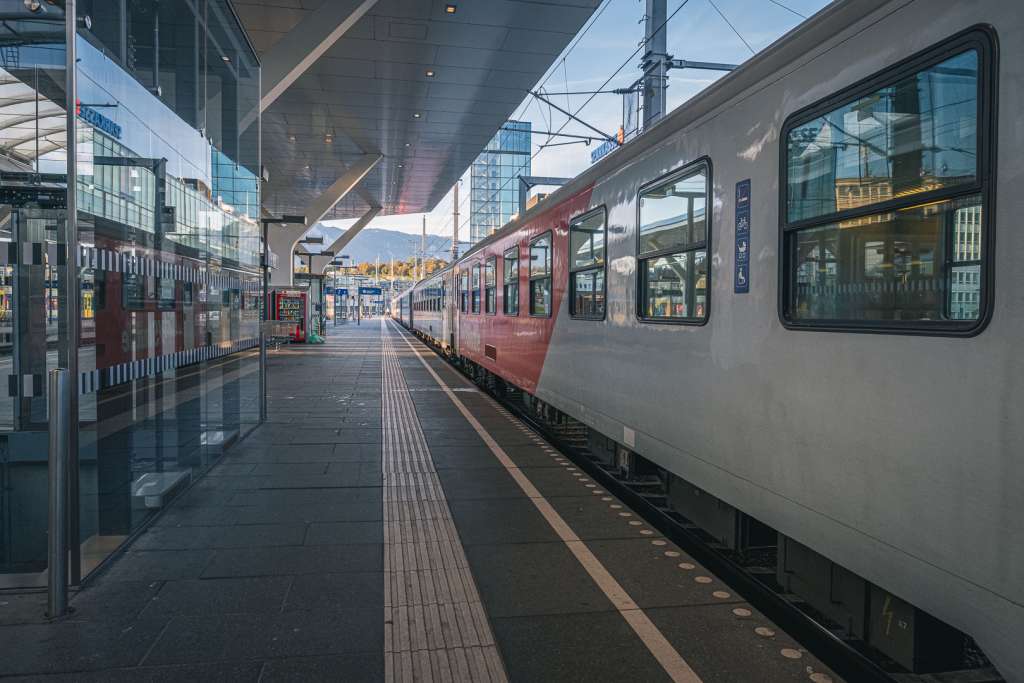 Book online on the Westbahn website, the ÖBB ticket website or even better on Trainline. Trainline has Westbahn and ÖBB tickets and you can see immediately which are cheaper. Trainline also finds international long-distance connections and prices which ÖBB doesn't.
Or you can just go to Westbahnhof and get on one of the blue-green Westbahn trains. As mentioned before, you can buy tickets for the Western Railway on the train at a regular price (without a discount). Just get in and the conductor comes to collect.
By the way, there are no buses from Vienna to Salzburg.
The journey from Vienna to Salzburg is nice and takes you through the green hilly landscape of Upper Austria, but the landscape is not spectacular. The closer you get to Salzburg, the more you can see the Alps in the direction of travel on the left, but you can still see enough of the Alps in Salzburg.
Here you can find detailed information about the train journey from Vienna to Salzburg.
On an expedition from Vienna to Salzburg with a rental car
If you have a whole day to spend, are several people, want to see interesting places along the way or all three criteria apply to you, it is maybe time to rent a car.
Prices for rental cars start at around € 70, which for a group of four or five would be even cheaper than traveling by train. The car can be picked up in Vienna and returned in Salzburg. It should be noted that there is not much space for luggage in case you are five travelers.
The main reason to drive from Vienna to Salzburg is the sightseeing along the way. Therefore, this type of transportation is also worthwhile if you are traveling in pairs or alone.
We call the route between Vienna and Salzburg the "Romantic Road" because of the many places worth seeing. That name is actually a marketing term used by some of the communities on this route. For one day there would be too many interesting stops along the 350 km drive and if you want to see more of Austria along the way you can take a few days to arrive in Salzburg.
If you want to make the trip in one day, I would stop at Melk Abbey and then drive to Lake Traunsee and the Salzkammergut. The most famous place in the Salzkammergut is Hallstatt, but there are many more places such as Gmunden, Sankt Wolfgang, and Sankt Gilgen. They are just as worth seeing that are less touristy.
If you spend more than a day or want to squeeze in more sights in one day on the route, you should read our detailed guide to driving from Vienna to Salzburg.
Private shuttle from Vienna to Salzburg
If money doesn't matter or you are a larger group, a private shuttle would be an option. These shuttle services cost a small fortune, but most of them also include Hallstatt. Therefore you can save a day if Hallstatt is on your travel plan anyway.
I once received a request from a group from Thailand. They asked how best to get from Vienna to Salzburg. I recommended the train but they ended up choosing a private shuttle. I knew the private shuttles would cost hundreds of euros, so I never looked at them.
On this request, I did the calculations and figured out that € 700 divided by eight becomes affordable. If you then consider that the transfer takes the whole day, you visit Hallstatt on the way and drive through the Salzkammergut, the price is quite okay. Added to this is the convenience of an individual pickup at the accommodation in Vienna and an equally individual dropoff in Salzburg.
The alternative to this would be the rental car mentioned above. With the rental car, you can also save a day, visit sights on the way from Vienna and pay much less.
Should you choose this luxury, here is our choice for a private shuttle from Vienna to Salzburg.
Recently there are also more companies with non-private shuttle offers for individual travelers. They cost between €100,- and €200,- but we don't know any of them. If you go for such a non-private shuttle service, please share your experiences with us. We will update this post once we know more.
Car sharing from Vienna to Salzburg
The most famous car-sharing platform is Blablacar. On the route from Vienna to Salzburg or from Salzburg to Vienna you will find countless car-sharing offers on Blablacar every day. Never heard of Blablacar? On Blablacar, drivers offer the remaining seats in their car to other travelers. In the past, there were several platforms like Blablacar but they merged into one.
There would be two main reasons for using Blablacar on a trip from Vienna to Salzburg.
A trip with Blablacar from Vienna to Salzburg is cheaper than the train. On average, the trip with Blablacar costs € 15, while the standard fare for the Westbahn is € 33.50 and the discounted tickets start at € 24 (in 2020).
For most travelers, the price is the main reason to choose car sharing.
Another reason is to get to know fellow travelers and have someone to talk to. Blablacar can be an exciting opportunity to make new contacts, especially for adventurous individuals and solo travelers. You never know who you will meet and what will result from it. And don't worry about safety too much. Blablacar is safe as drivers can be rated and verified.
Another advantage could be the fact that you can agree with your driver on a pickup and dropoff point. However, in the case of the Vienna – Salzburg route, everything is easy to reach from the train station anyway. In addition, you first have to find a driver and then discuss the details. That's sometimes more, sometimes less complicated.
I used to use Blablacar a lot. For me personally it became too much of an effort. At my advanced age, I no longer try to save every euro and travel less than before, so it doesn't really matter. I also enjoy being alone and doing nothing on the train.
However, if you are on a long journey, have to budget your money and like to get to know people while traveling, car sharing is an excellent way to get from Vienna to Salzburg.
Hitchhiking from Vienna to Salzburg
For real adventurers and those who travel with very little money, hitchhiking is another option. Austrians don't like to take hitchhikers with them but there are about 100,000 cars a day on the A1 motorway, the Westautobahn. This increases the chance of being picked up and if you succeed, chances are that someone will drive further than just the next village.
I have to confess, I never hitchhiked from Vienna to Salzburg or from Salzburg to Vienna and therefore I can't tell you anything else about it. If you plan to hitchhike from Vienna to Salzburg, I would recommend consolidating the hitchwiki page on Vienna.
If you are still wondering what to do in Salzburg, here are the 15 most important sights in Salzburg and a plan on how to best spend a day in Salzburg. You can also check the tour calendar of the free walking tours to see if there is one of my tours in Salzburg during your stay.
I wish you a great journey from Vienna to Salzburg and if there are any questions I will be happy to answer them by email or on Whatsapp.