What Souvenirs to buy in Salzburg (According to a Local Guide)
Explorer's note: Some links in this post are affiliate links. If you make a booking through them, we may earn a small commission at no extra cost to you. This helps us keep providing tours and top-notch travel advice.
I have to preface this article by telling you that I am a minimalist. For many people, purchasing souvenirs is a part of traveling. I am not one of them. I instead collect memories and photographs than fridge magnets and t-shirts. That's why we will explore the topic of Souvenirs in Salzburg in a conscious way. Instead of listing many overpriced things that only tourists would ever buy, I will give you ideas and insights on what's available and what the locals would buy.
Listen to the Episode on the Free Walking Tour Podcast instead:
Mozart Chocolate Balls
Salzburg is a popular tourist destination, and the souvenirs for sale are countless. The most popular Souvenir to buy in Salzburg is Mozartkugeln. Mozartkugeln are chocolate balls filled with Marzipan that were invented for the 100th year of Mozart's death.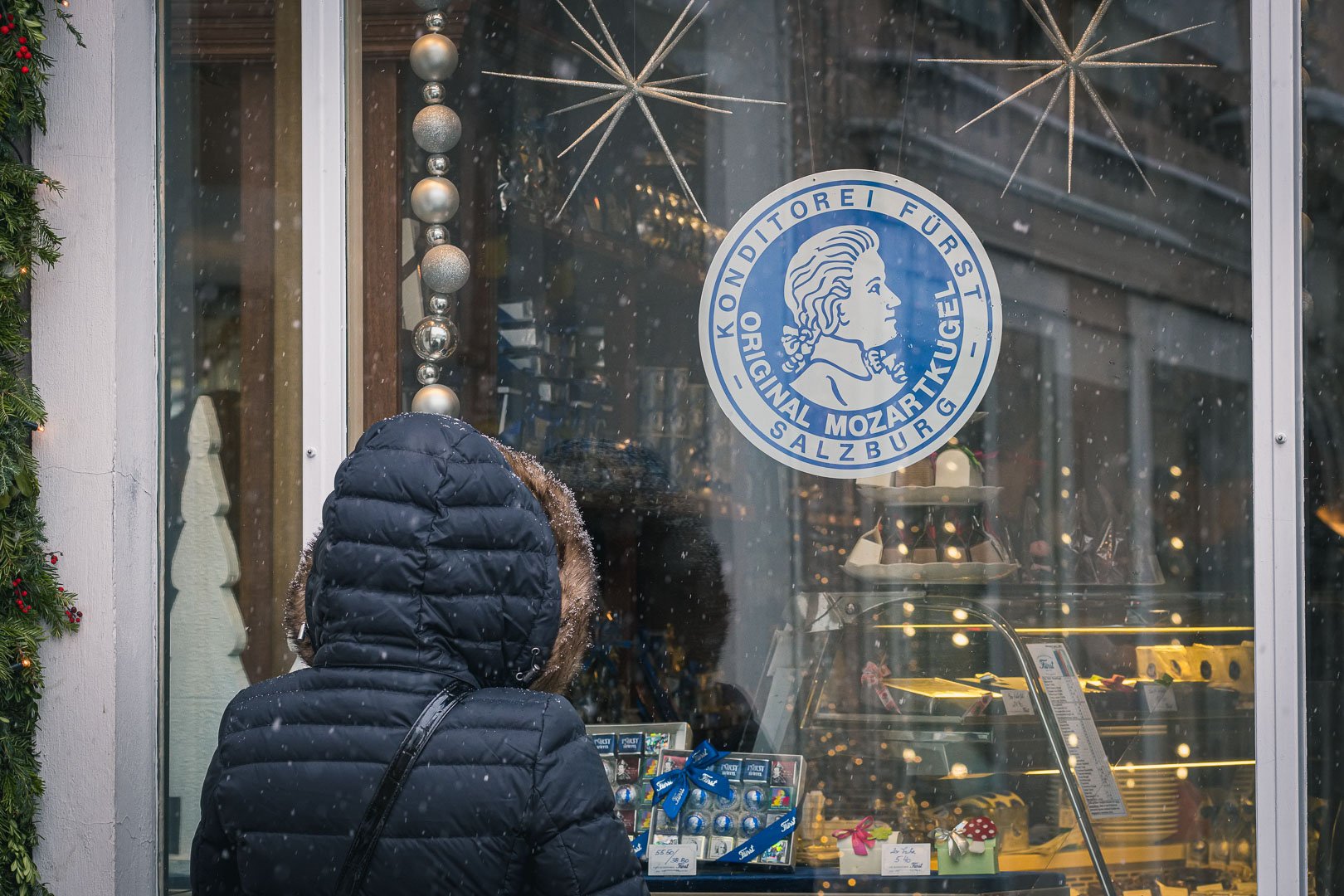 When he became famous only 50 years after he passed away and tourism kicked in, business people recognized the potential the composer's name had for making money. Paul Fürst invented the original chocolate. Fürst presented his invention at an exposition in Paris, where he won a prize.
However, Fürst didn't get a patent, and even before his return from Paris, copies appeared. While the Fürst family owns the word "original", others call their product "real" Salzburg Mozart Chocolate. In the case of the largest producer, they are not even allowed to use the word Salzburg because they are a German company.
So how about the Chocolate balls as a Souvenir from Salzburg? The Mozart Chocolate from Fürst is still handmade and only available in Salzburg. Their chocolate is wrapped in blue and silver foil instead of the red and gold you find in every supermarket. While many small shops handmake Mozart chocolate and wrap it into blue and silver so tourists think their chocolate is original, Fürst only sells at their shops in Salzburg. While I would highly recommend trying one of their creations, the Fürst Mozart Chocolate is not the ideal gift to bring from Salzburg.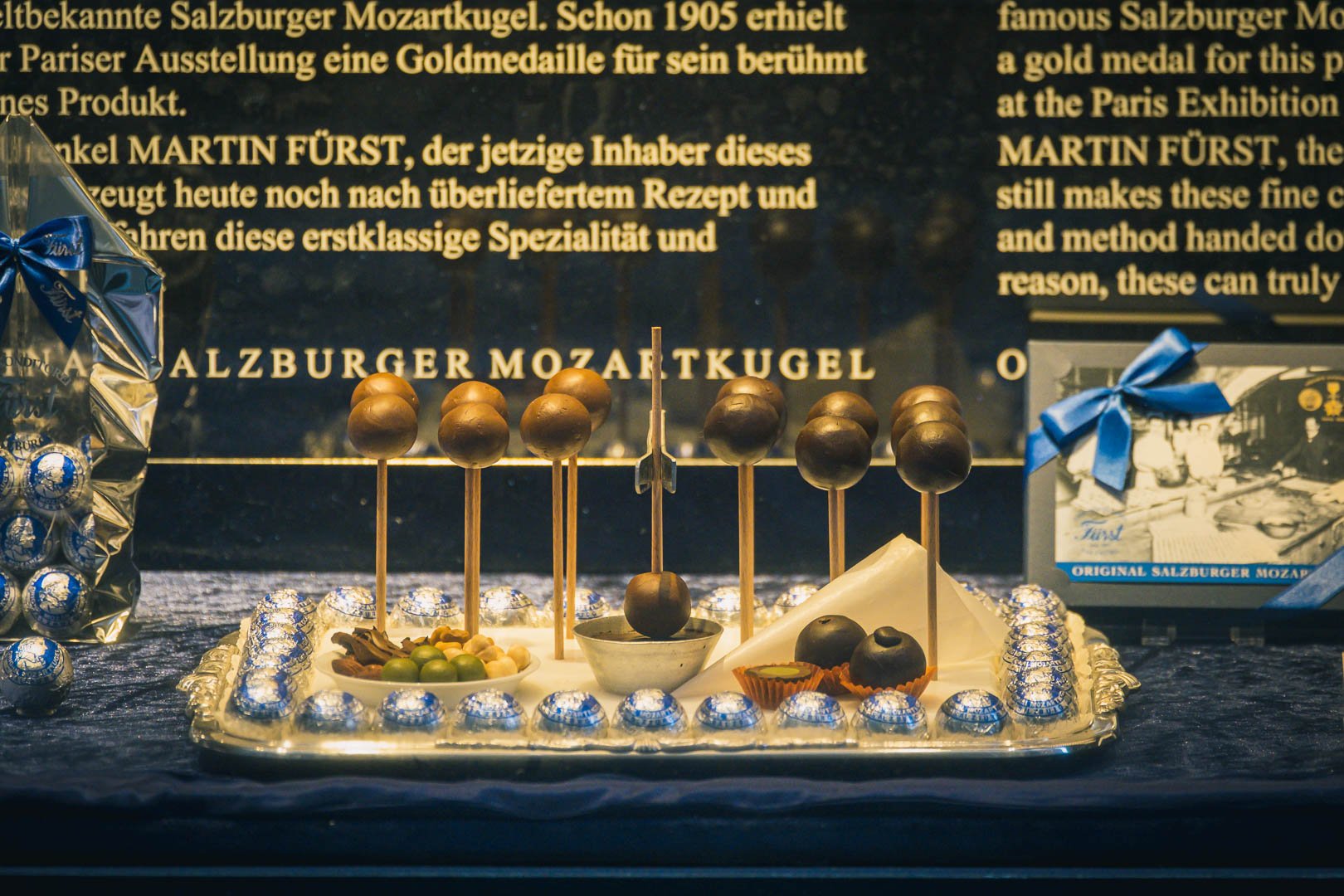 Why is that? That's because they use natural ingredients, which makes their chocolate short shelf life only. If you buy Fürst Mozartkugeln, you can also buy a cool bag, but you should consume them within a few days, even with the bag. Supermarket Mozart Chocolate, on the other hand, lasts longer and is also much cheaper. And what do the locals think about the Mozart Chocolate? Here I have written an article about Mozartkugeln in which you learn the whole truth.
Anything Related to The Sound Of Music
Travel blogs claim that Austrians hate the Sound of Music. That's a lie. Austrians don't care about the movie because they have never seen it. They have only heard about it in the last few years since Sound of Music Tour buses have been driving around town day in and day out.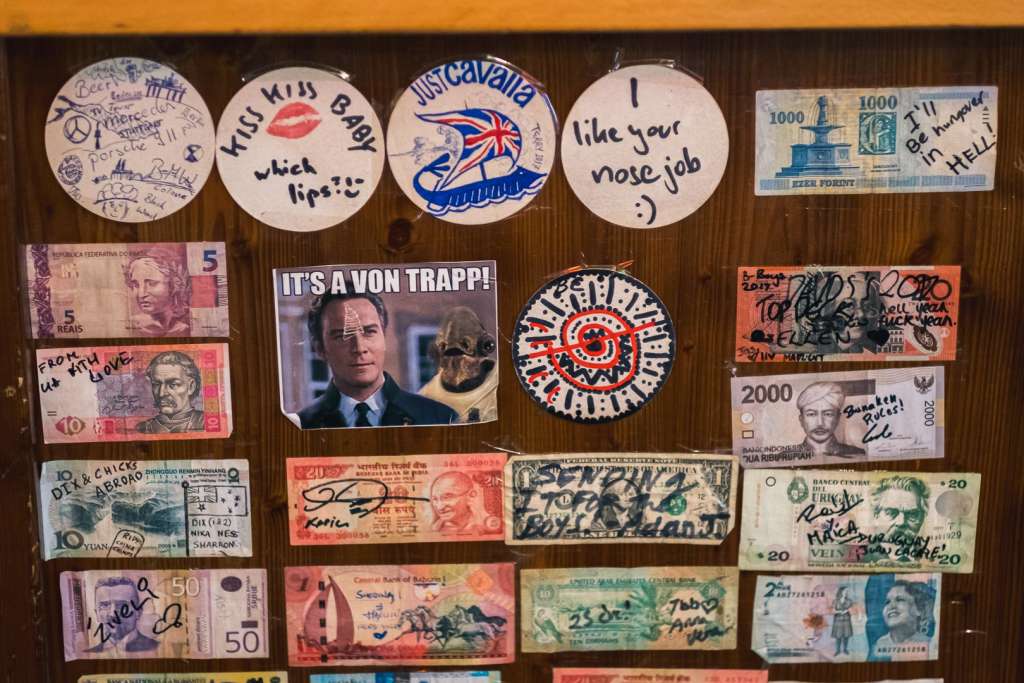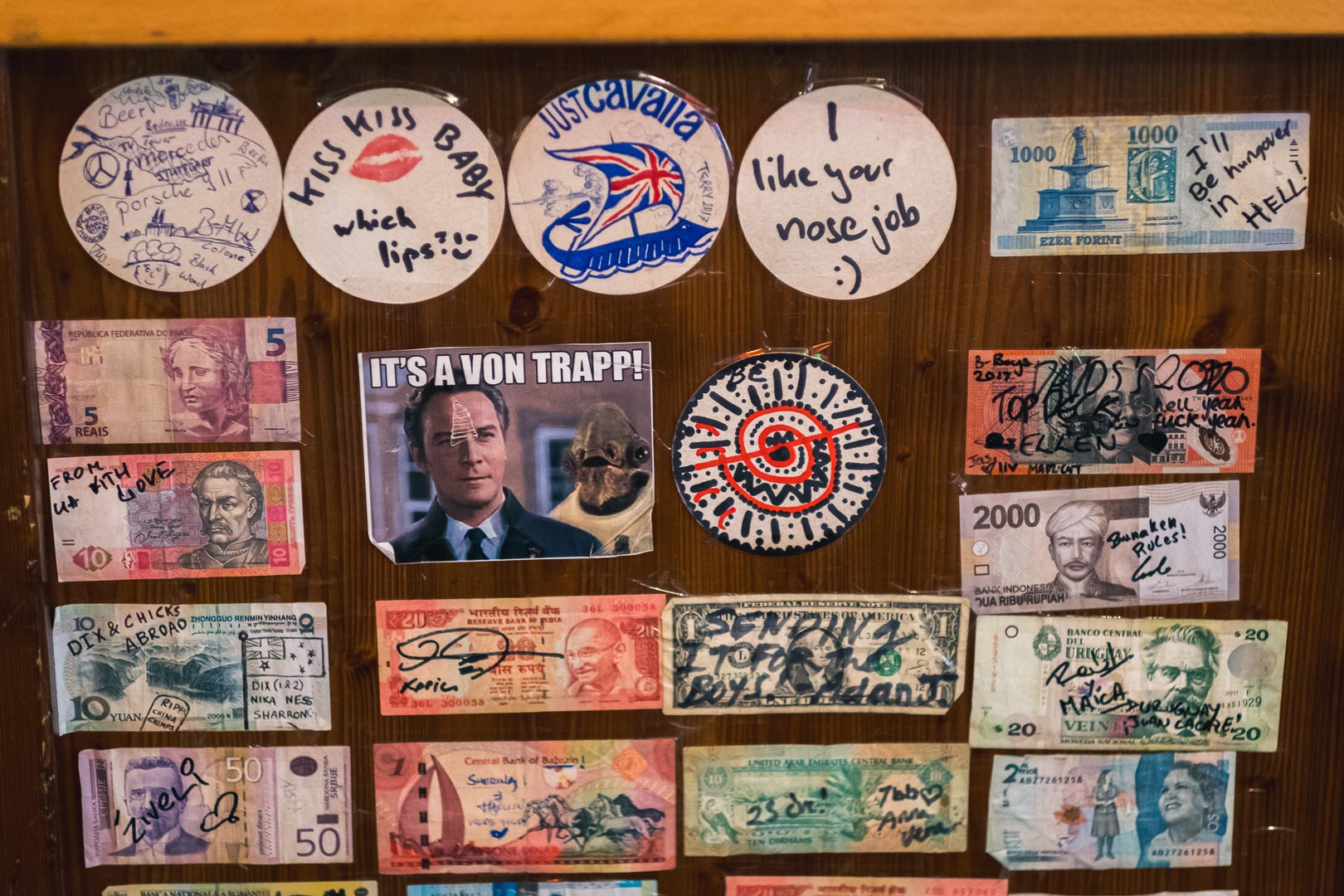 The same blogs also claim that Sound of Music-related souvenirs in Salzburg are what you should get when visiting. That's just as wrong. How could that be wrong, you ask? After all, Salzburg is all about the Sound of Music. True, but none of the souvenir shops sell Sound of Music related stuff.
I have not searched every corner of every souvenir shop in Salzburg. Still, I have been a tour guide for ten years and do not recall having ever seen a Sound of Music souvenir. I assume that it's not allowed to use the movie's name, print it on a shirt, and make money.
Getreidegasse, the most famous street in the old town, is where most souvenir shops are. Most of them sell similar things (because many of them are owned by the same person). If you feel like buying something Sound of Music related, you should check all of these shops. It doesn't take long since they are all in the same area.
If you feel like watching the movie when visiting Salzburg, there is a way. I worked for the Yoho Hostel for many years. The yoho shows the movie 365 days a year in the evening. Even if you don't stay there, you are welcome to join the daily 8 pm screening with an enthusiastic crowd of independent travelers. Read this article to find out more about the Yoho hostel and the daily screening!
By far, the most popular activity related to the Sound of Music is the Original Sound of Music Tours by Panorama Tours. Click here if you are interested in booking the Tour.
Schnapps
While Austria and, in particular, Salzburg is most famous for beer, Schnaps also has a long tradition which reflects in the German word Schnapps being a part of the English language. We make Schnapps from everything. There is Schnapps from all kinds of fruits, nuts, and herbs. A rare but popular variety of Schnappsis made from stone pine trees. While Schnapps is also a thing in Germany, pine Schnapps is distilled in Austria because the stone pine trees grow well in the Alps above 1500 meters of altitude.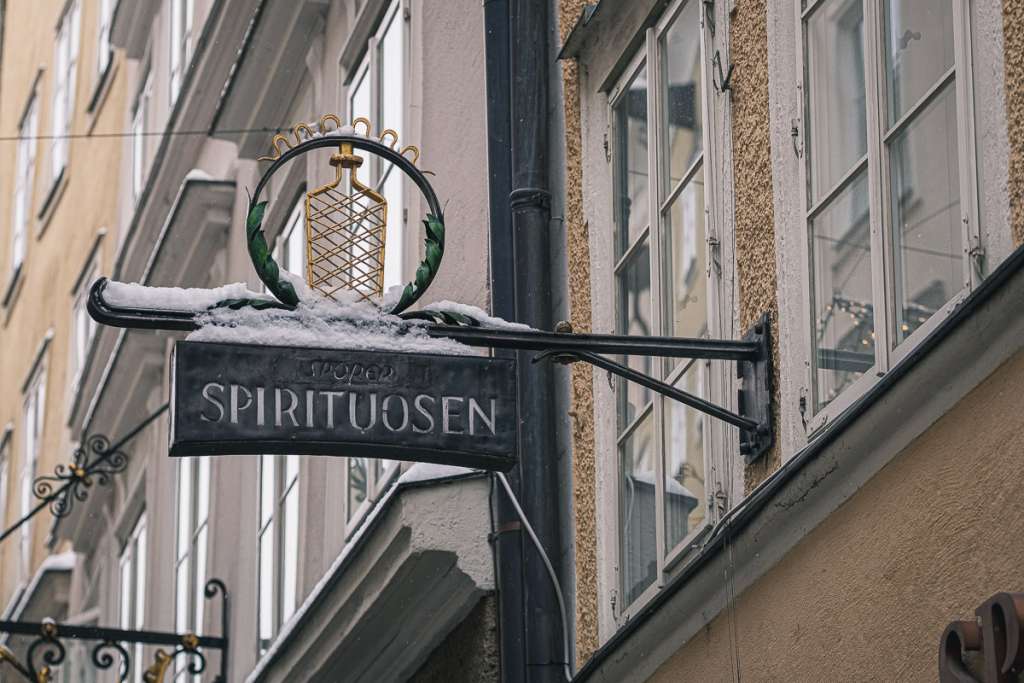 Pine Schnapps is painstakingly handmade because there is no other way to pick the pine trees than by hand in season in June and July. Another rare type of schnapps is gentian schnapps. The most famous and oldest gentian distillery is located just over the German border to Berchtesgaden. If you are interested, you could hop off the bus to visit the distillery Grassl on the way to the Königssee or the Eagles Nest.
To buy Schnapps as a souvenir in Salzburg, I have two recommendations. Either visit the Grünmarkt at University Square, which happens daily except for Sundays or visit the Schranne at Mirbellsquare on Thursdays. There is a guy only selling various kinds of Schnapps at the markets. Another option is the Sporrer punch and liqueur shop in Getreidegasse, a family-run business that has been around for more than 100 years and where you find everything when it comes to spirits.
I like about Schnapps as a souvenir that it's a local product, that it's not useless, and that one can preserve it forever. After all, Schnapps itself is used to preserve things. Suppose you buy a bottle of Schnapps from one of the places mentioned above. In that case, they are usually also pretty enough to serve as decoration if you are not going to drink it. That's how I would do it because I'm not too fond of the burning taste of Schnapps.
Christmas Decorations
There are many things in tourism in Salzburg that I changed my mind about over the years. The Christmas stores in Getreidegasse are one of them. I pass by Christmas stores every day. Two of them are on the way from Mozart Square, where I end my Tour, to my place. For years I was wondering who buys Christmas and Easter decorations in the middle of summer. Even though I still can't fully comprehend, I understand it a little better since I talked to the owner.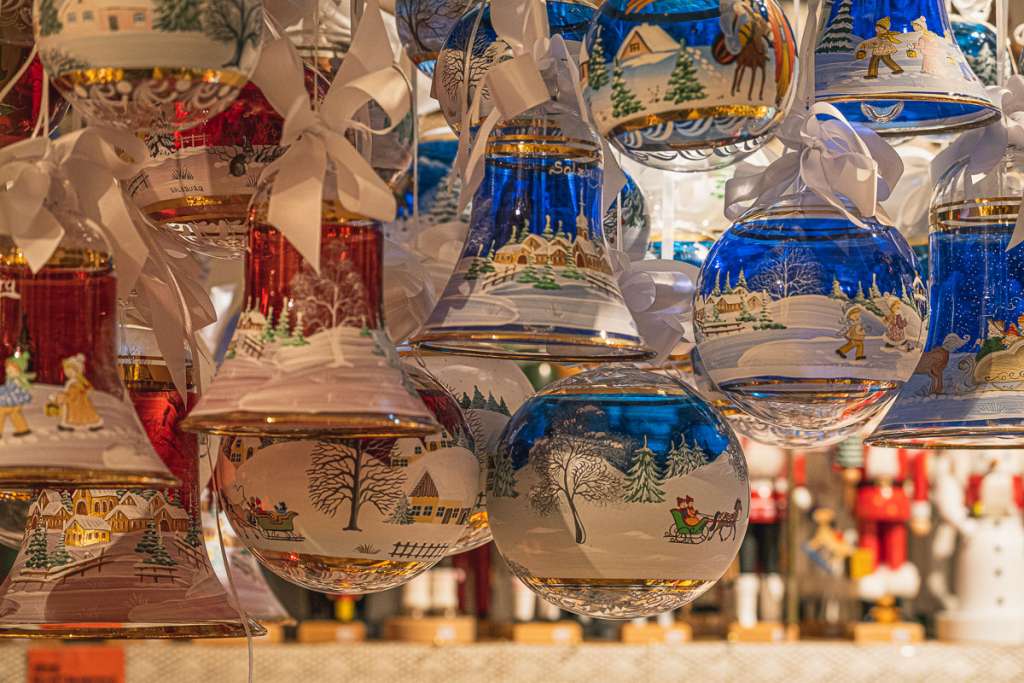 There are people everywhere in the world to whom Christmas is much more than a holiday. There are collectors, and there are people who love Christmas more than anything else. But not everywhere in the world there are these handmade Christmas decorations, and not every place has the magic that surrounds Salzburg when it comes to Christmas.
Part of the decoration is shipped to places worldwide, but another part is bought by people even if they are on a summer holiday. If Christmas matters to you and your travel matters to you too, it kind of makes sense. You buy Christmas decorations in summer, and when you decorate your tree many months later, you fondly remember your trip and dream about Salzburg in December. Christmas stores enable people to experience Christmas no matter the season and Salzburg during Christmas, even if they spend the holidays at home.
In fact, the biggest and oldest Christmas store in Judengasse did so well that one of their employees opened another store right across the street. In the beginning, I always thought the two stores belong together since they look alike, but the original is in Judengasse 11 on the right side when coming from Mozartplatz, from the Free Walking Tour.
Furthermore, a small store called Candela in one of the passages that we take on the Tour doesn't only sell Christmas decorations but also Hummel figures and other high-quality items. I was also surprised when talking to the owner of that store. They are also rather passionate about high-quality souvenirs, Christmas decorations, and collector items than merely running a souvenir shop.
The Candela store doesn't have a website anymore but you can find them on Google Maps.
Fridge Magnet
Refrigerator magnets are collectible items for many travelers. These magnets are practical because they don't take up much space, and they aren't expensive. Also, kitchens are often not ornate, so these magnets with pictures or even reliefs can be a great embellishment. There is not much to say about the magnets in Salzburg. Most of them are the same and can be found in Getreidegasse and Judengasse, in Salzburg's main axis of tourism. Prices are fair and less than €10,- per magnet.
Mozart Rubber Duck
Have you seen the Mozart rubber ducks that are all over the old town of Salzburg? Rubber ducks with a Mozart wig or the Austro Hungarian Emporer as a rubber duck? These ducks are of personal importance to me. How do you ask? Well, because the self-proclaimed father of the ducks is my neighbor. And while he invented them around 2010 and sold them to souvenir shops around town, these shops soon copied his idea. I didn't notice before, but the difference in quality is mind-blowing.
Most of the ducks you find in souvenir shops are cheap plastic produced in factories in some faraway country. In contrast, the original ducks are beautifully handcrafted and painted rubber. The original company is called Austro ducks. While Mozart is the most popular motif, new ducklings like Beethoven or Siegmund Freud are added every year.
Here are the addresses where you find original Mozart rubber ducks if you wish to buy them. The Austro ducks are also available online.
Lederhosen and Dirndl
Lederhosen and Dirndl are often attributed to the stereotypical Austrian. Especially during Oktoberfest, when these costumes are in their seasonal prime, people visit Salzburg on their way from or to Munich. That's when many are looking out to buy their pair of leather pants or their Dirndl dress.
Let me be honest. Most Austrians, especially my generation, do not own these kinds of clothes. I had them when I was six years old but never owned or wore any during my adult life and most likely never will even if I am a tour guide. When you are in Salzburg, you can often see people in traditional costumes, and my guests often ask me if we dress like that in everyday life.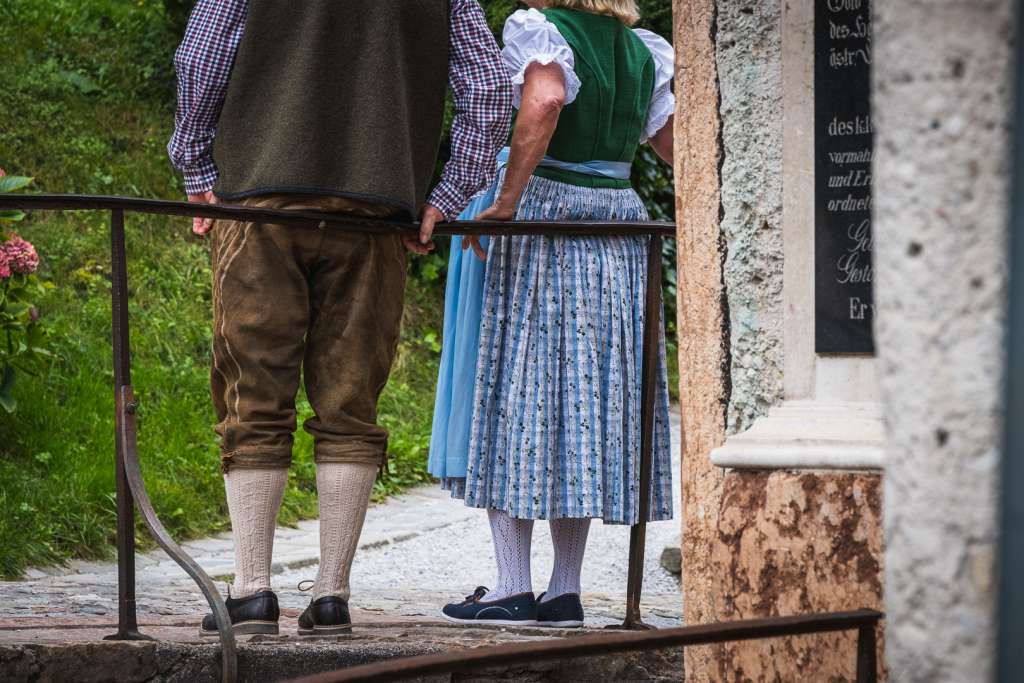 The answer is no. People dress like this for holidays, for the beer tent and a few other occasions like the Salzburg Festival, but not without reason. From this, it is already clear that a certain kind of people wears these clothes. If you do not participate in any of these events, you will typically not wear traditional costumes. Just to give you an idea.
But should you bring Austrian costumes as a souvenir from Salzburg? It is, of course, a possibility and especially appropriate if you plan to go to the Oktoberfest in Munich. However, be aware that no matter what you tell yourself, it's likely that you will never wear these clothes again unless you fall in love with Oktoberfest and return every year.
If that doesn't happen, the costume will probably take up space in your closet and be even less visible than a refrigerator magnet. Besides, lederhosen aren't exactly cheap, and depending on how long you'll be traveling; you'll have to carry them around for a while.
However, if you have thought about it carefully and a choice of souvenirs from Salzburg falls on traditional Austrian clothing, here are a few addresses you might want to visit.
Hanna Moden is a small but excellent fashion business in two locations in the old town.
The Gwandhaus by Gössl is an internationally acclaimed local brand with a tailor store and catering business in a baroque palace on the outskirts of Salzburg selling high-end clothes. Ideal to stop by when biking or walking to Hellbrunn Palace.
Jahn Markl is the oldest most traditional shop for Trachten in Salzburg.
Swarovski
Especially Asian tourists like to buy glass crystals when they visit Salzburg. Swarovski is available everywhere in the world, but since the glass crystals come from Austria, they are much cheaper here than in the rest of the world. Swarovski is a family business in the fifth generation with headquarters in Wattens in Tyrol. If you are interested in the crystals, you could visit the crystal world Wattens in Tyrol, but only if you are genuinely interested.
There are several Swarovski jewelry stores in Salzburg. The most prominent of these is located in Getreidegasse, Salzburg's most famous shopping street. The store in Getreidegasse is not a reseller like most others but an original store by Swarovski.
Antique Group Photo
While that's not something typical to Austria but can be found worldwide, the photo booths in Salzburg are reasonably priced and of good quality. The one I would recommend is opposite the entrance to the fortress funicular. That's again because the owner of the place is a friend of my mother's. That's not the reason I recommend it, but that's the reason I know they are good people, and that's what matters most to me.
Post Cards of Salzburg
Here is the good news. If none of these things sounds appealing to you, you might as well join my Free Walking Tour and receive unlimited, free postcards to send to your loved ones. Receiving postcards makes people feel appreciated and, therefore, happy. I am a passionate photographer and proud of my art. Consequently, it also makes me happy to hand out free postcards. There is a small remark on the back of the postcard that I made the picture and that I am the Free Tour, but these postcards, despite being free, don't look like an advertisement. They look like legit postcards.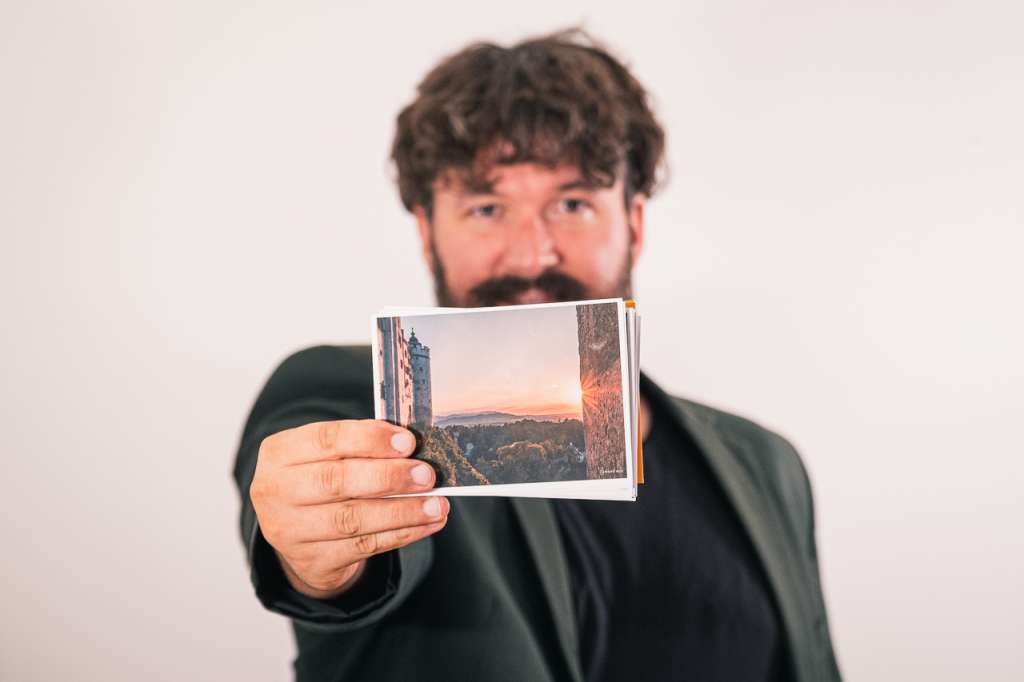 Books from the oldest Bookstore in Austria
Salzburg is home to Austria's oldest book store, which dates back to 1594. That's amazing since the printing press was invented not long ago. But the Höllriegl bookstore in Ritzerbogen doesn't only sell old books but everything you can think of, including English books. While you could get the same books in any other book store, you might pick up a book to read on the train or in the evening at your accommodation. Get inspired and when you go home, gift the book to your loved ones, let them get inspired as well, and add to their bookshelf instead of adding to their collection of random things from abroad.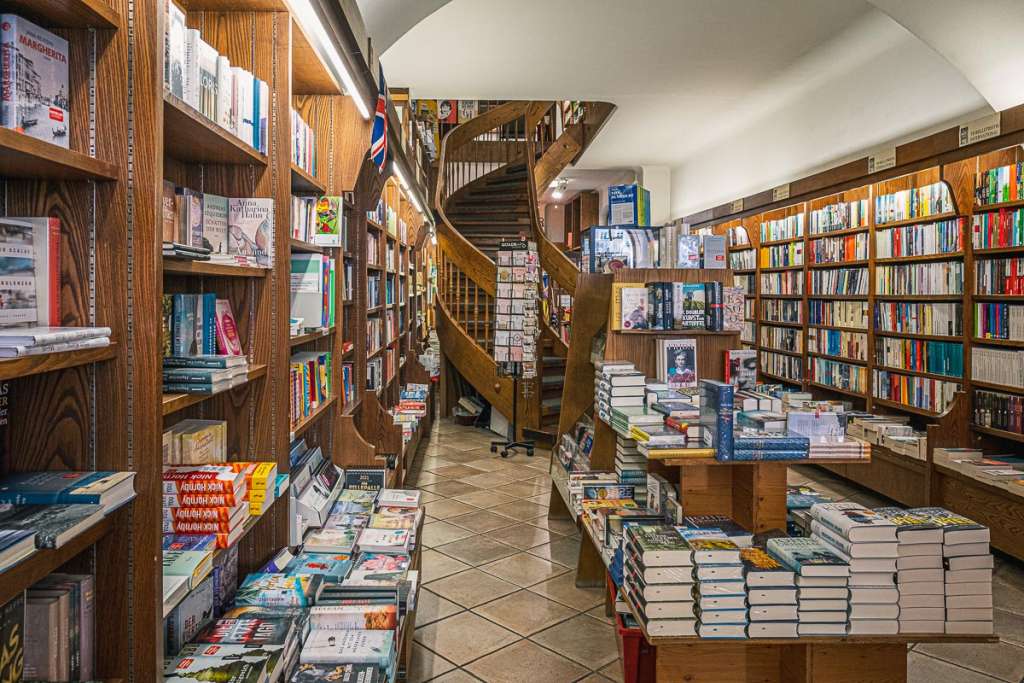 Designer Clothes and Jewelry
Salzburg is the most expensive city in Austria. When wandering the streets of Salzburg, you often wonder who buys certain things. A scarf or a handbag for a few hundred euros. These shops mainly emerged from the rich crowd visiting Salzburg in summer during the Salzburger Festspiele Classical Music Festival. In recent years, however, many more international brands like Prada and Louis Vuitton settled as well. These are popular with festival guests and tourists from Asian countries, where these products often cost even more than in Austria.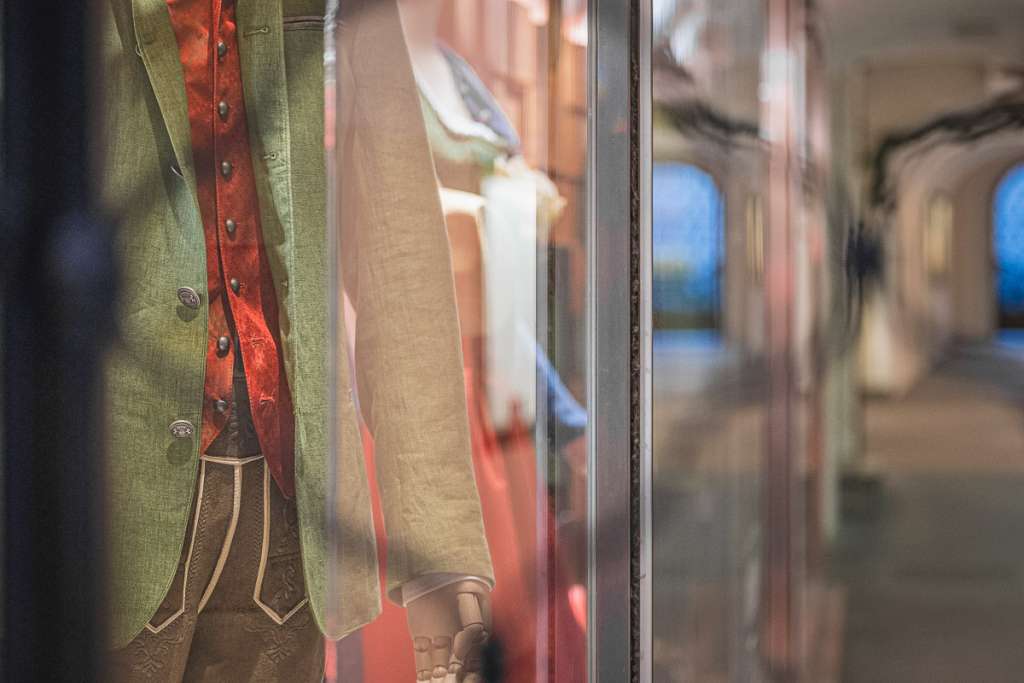 If you are hunting for those high-end accessories and clothes, Getreidegasse, the most famous shopping street in Salzburg, is your first contact point. Getreidegasse extends into Judengasse and Alter Markt square, but most of the shops are in Getreidegasse itself. Explore not only the street but all the small passages as well! To go a step further, you would either visit the designer outlet at the airport or Europark, the most modern and one of Austria's biggest shopping centers.
Final Thoughts
In this article, we looked at some of the popular souvenirs to buy in Salzburg, some local recommendations, and my thoughts on each of them. Your opinions and purpose of buying souvenirs may differ from mine. If you have any questions or anything to add to my list of souvenirs, please feel free to leave a comment below, and I would be more than happy to answer. Please also notice that his list is not complete. When wandering the streets of Salzburg, you will run into countless independently run shops, artisans, and craftsmen. By all means, explore! Don't let this list hold you back from discovering as much as possible!