Public transport in Salzburg – How to get around Salzburg?
Explorer's note: Some links in this post are affiliate links. If you make a booking through them, we may earn a small commission at no extra cost to you. This helps us keep providing tours and top-notch travel advice.
In this article, you will learn everything about public transport in Salzburg and how to use it most effectively. Because Salzburg is small and walkable, you may not need any public transportation. Therefore, the transportation options in this article are listed from the most recommended to the least recommended according to necessity.
Getting to Salzburg – What's the Best Way to reach Salzburg?
Most travelers visit Salzburg as part of their European trip. Most likely you will stop in Salzburg on the way from Munich to Vienna or Prague. These cities are connected by train.
Reaching Salzburg by Train
Therefore, the most common way to reach Salzburg is by train. Trains between Salzburg and Vienna, for example, run every half an hour and you wouldn't even have to buy the ticket in advance if you choose the right train company.
Munich is the second most popular destination from which to reach Salzburg. Trains run just as often and for the slow trains, there is a group ticket for up to five people available.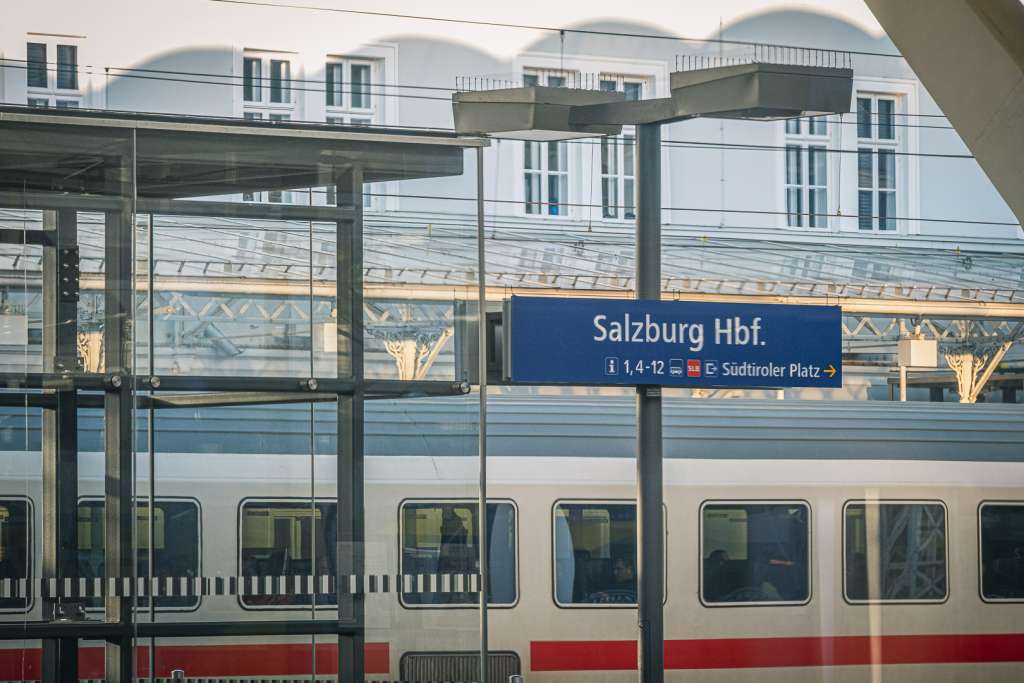 Reaching the train station in Salzburg, you reach the right place for all kinds of public transport in the city center. Every bus starts at or passes through the train station. The bus stop is right in front of the main entrance and there is also a taxi stand.
Yet as long as your luggage is not too heavy or you have problems walking, however, I would recommend walking. Most hotels, hostels, and sights are within walking distance from the train station.
Reaching Salzburg by Bus
Since Flixbus took over and expanded its bus network all across Europe, it became one of the cheapest ways of travel in Europe. Flixbuses to Salzburg, however, became slightly less convenient in the last years. In the beginning, all the Flixbuses stopped at the train station but we moved their bus stop to the south of Salzburg to decrease traffic in the city.
From the Flixbus stop in the south of Salzburg at the P+R south, you cross the street! There you find buses number 3 and number 8. Number 3 would take you to the station with the option to get off in the old town at Makartplatz. If you take bus number 8 you want to get off at Hanuschplatz in the old town. Number 8 doesn't go to the train station. During the day these buses run every 10 minutes.
It's still convenient to arrive in Salzburg by bus but slightly annoying to pay €3,- extra if you are coming on a €7,- Flixbus from Munich.
Reaching Salzburg by Plane
If you are flying into Salzburg, take a bus to the city center! Bus number 2 takes you straight from the airport to the city center for about €2,50 (March 2020). It runs every 10 to 20 minutes depending on the day and the time and stops right in front of the airport.
The ticket is best purchased from the machine at the bus stop in front of the airport but could also be bought from the bus driver. More on that later in the section about bus travel in the city.
Depending on the location of your accommodation and your plan you might want to get off at Mirabellplatz instead of the train station to be closer to the old town. From Mirabellplatz you could right away start exploring, and maybe you would also be closer to your accommodation.
Is Salzburg a walkable City?
Salzburg could be the most walkable city you have ever been to. From the Free Walking Tour meeting point, for example, none of the must-see sights is over 10 minutes on foot. Mirabell garden, where the old town begins, is 10 minutes walking from the train station and in another 10 to 15 minutes you reach the fortress of Salzburg on the other end of the old town.
The old town is even a pedestrian area. They allow only residents with a special permit and taxis to drive into the old town. Bollards, that can only be lowered with a remote control, block the entrances after 11 am. Before 11 am they are down for deliveries.
In 2012, an old town bus service started. A minibus travels between one end of the old town and the other. Not sure if it's still operating, but you would only need it if you have problems walking.
A short story to make you understand how walkable Salzburg is. When I was younger, I always saved money to travel. Therefore, I didn't get my driver's license when I was 18. When I moved to the center and fell in love with the city, I stopped intense traveling. I had more money, however, no more need for a driver's license, and I have not taken the bus more than ten times in my life. I either walk or cycle.
Is Salzburg a bike-friendly City?
Salzburg is the most bike-friendly city in Austria. That's not only my opinion, but what everyone agrees on. There are bike paths everywhere. You can use any road, and cycling is fairly safe because drivers are aware of cyclists. As long as you respect pedestrians, you can cycle most of the old town and there are plenty of scenic bike trails around the city.
However. I only recommend hiring a bike for the latter purpose. I would only recommend renting a bike if you want to ride along one of the scenic bike trails around the city to explore the surroundings of Salzburg. Why is that? Well, again. Because the city is walkable. Sights are close together and locking and unlocking the bike every time is more of an obstacle than an advantage.
For the scenic bike trails and for everything you need to know about bike rental in Salzburg.
In the old town of Salzburg, bicycles are mainly a means of transportation for the locals. When I take my bike to work, it takes 2 minutes instead of 10 minutes, but it might be better for you to just walk and maybe you will even discover some interesting details along the way. They are everywhere.
Taking the Bus in Salzburg
If you take public transport while you visit the city of Salzburg, you will most likely take the bus. There is no tram or metro. But by bus, you reach every hotel, hostel and every place of interest in the surroundings and the buses run every 10 to 20 minutes.
One curious fact. You notice that most of the buses in the center of Salzburg rely on electricity. Before these buses, Salzburg had a tram. The tram was replaced with those buses from 1940 on. Today, Salzburg is one of the ten cities with the most electric buses in the world.
How much is the Bus fare in Salzburg?
If you take a single ride in the center of Salzburg, it's expensive because distances are short and there is a minimum charge. If you take a 2-minute ride, for example, you would pay €2,90 (2020) while you pay the same for the 20-minute bus ride to the airport.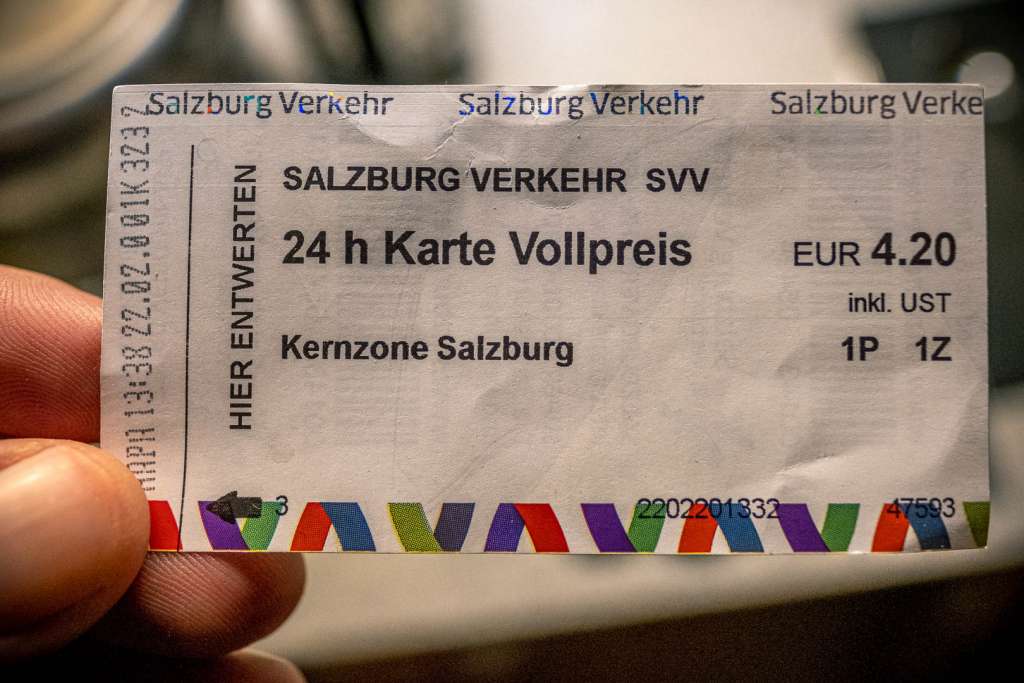 The 24-hour ticket, when bought directly from the bus driver, is €6,40 (2020) so you will have to take 3 rides to make it worth it. Both the 24-hour ticket, the single ticket and a 1-hour ticket (only available at the machines or in the app) are much cheaper when pre-purchased.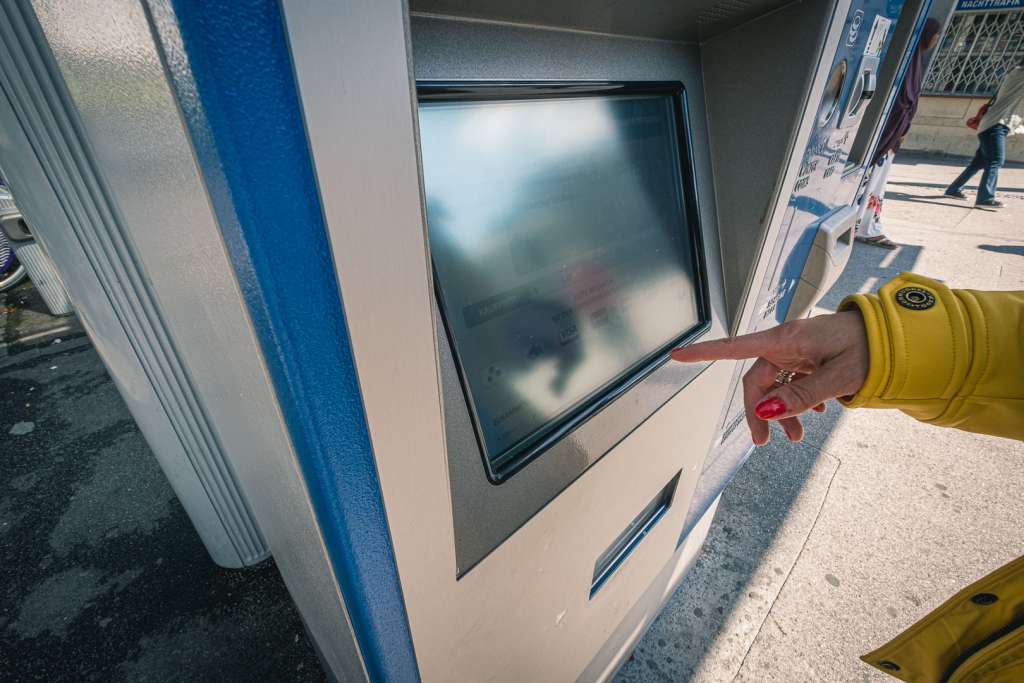 If you stay in Salzburg for several days and are planning to take the bus, you could also get a weekly pass from the ticket vending machine or the service center for €19,-.
So there are three different prices. The prepaid price, the price you pay on the bus and the price you pay for 1 hour. Let's see where to buy your ticket and how to pay.
How do you pay for the Bus in Salzburg?
Here are the ways of purchasing a bus ticket in the city center of Salzburg:
The easiest but most expensive way to buy a ticket is to walk up to the bus driver and ask for a single ride or a 24-hour ticket That's about 30% more expensive than the following.
Buying the ticket from a ticket vending machine would be almost as convenient as buying it from the bus driver. However, not every bus stop has a vending machine. At the machine you don't buy single tickets, but hourly tickets, 24-hour tickets, and the weekly pass.
Tobacco shops are another way to pre-buy bus passes. Here you either get discounted 24-hour tickets or packs of 5 tickets.
Another option is to download the Salzburg Verkehr App which has all the available tickets and the reduced prices but you will have to download and register.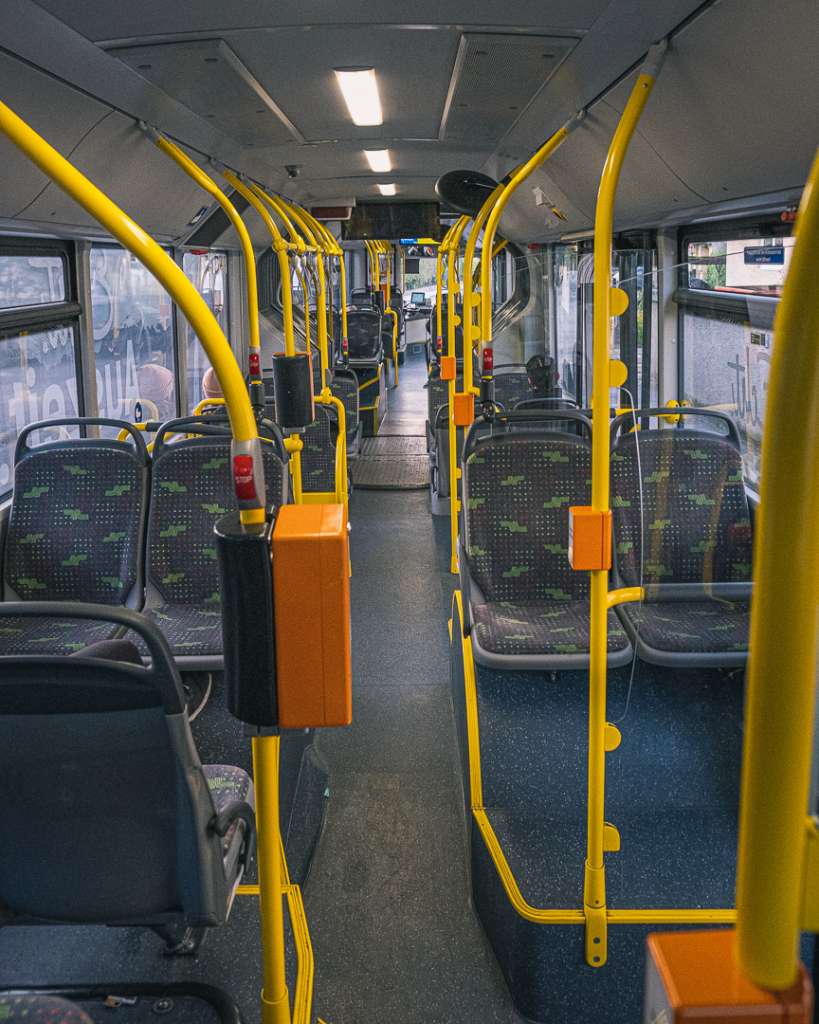 In case you buy your ticket from the machine or from the tobacco shop, you need to validate the ticket by putting it into a box after entering the bus.
Don't buy a Bus Ticket, if you have a Salzburg Card!
If you purchased a Salzburg Card, it includes all the buses in the city center and bus number 25 to the Untersberg Cable Car. The Salzburg Card is the best solution in case you would like to visit more than one paid tourist attraction.
If your plan is to visit more than one attraction and you have not heard about the Salzburg card, don't buy your 24-hour bus ticket upon arrival!
Check out this Complete Guide to Salzburg Cards!
Should you take the bus without paying?
No, you shouldn't. I am not a moralizer, but you would get in trouble in case of an inspection. The inspectors are merciless. The likelihood of a check is low but without a ticket, you would pay €60,- and you couldn't talk yourself out of the situation. Therefore, buy and validate your ticket before or when getting on the bus!
Taking Taxis in Salzburg
Taxis are reliable, safe, and the prices are fair. Considering that most distances in Salzburg are short, however, I would only recommend taking a cab, if your luggage is too heavy, your flight is too early or if you want the extra comfort and don't care about money. Just like buses, taxis also have a minimum fee. Therefore, short distances can be comparatively expensive.
Salzburg Taxi Hotline: +436628111
If there isn't anything special happening, taxis take about 5 minutes to get to you.
Conclusion – What's the Best Way to get around Salzburg?
Salzburg is one of the most walkable cities you can visit. It's also bicycle-friendly, but walkable enough to not even consider a bike to get around the old town.
In case you need public transport in Salzburg, there are buses. If your accommodation is central (like most accommodations are), however, you probably won't need a bus. Even from the train station to the old town you can walk provided your luggage is not too heavy.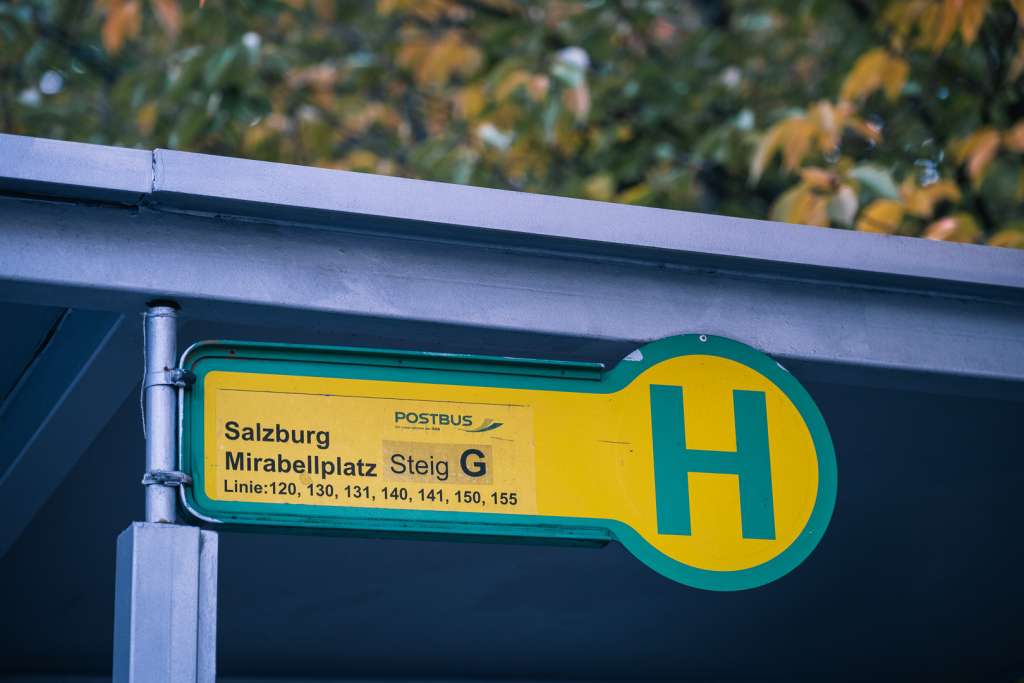 When you will need public transport is when you want to go on an excursion to the surroundings of Salzburg or on a day trip into nature. Here are the main destinations and means of transport. All buses leave from Mirabellplatz. Most of them would also depart from the train station, and for the Ice Caves, you take a train.
Surroundings of Salzburg
Bus 25: Number 25 takes you to the Untersberg cable car and to Hellbrunn castle. Both of these places as well as the bus are included in the Salzburg Card. Therefore, if you buy a Salzburg card, a ride on bus number 25 is obligatory. The Untersberg cable car is one of the best things you can do around Salzburg. In 2020 the introduced another bus number 5 now also takes you to Untersberg but doesn't stop in Hellbrunn.
Bus 151: This bus is special. It's not included in the 24 tickets or the Salzburg card. Bus number 151 takes you to the top of mount Gaisberg at 1300 meters above sea level. It starts at Mirabell square next to the Mozarteum University. Bus 151 is the easiest and cheapest form of public transport to reach the peak of a mountain.
Bus 22: Number 22 takes you to Leopoldskron. Leopoldskron is famous for the Sound of Music. It's where they filmed the backside of the house with the lake. If you join a Sound of Music tour, you will visit Leopoldskron. Bus number 22 is a cheaper alternative to the tour. If you are up for a walk, you could also reach Leopoldskron on foot in less than an hour and Leopoldskron is also predestined for a bike ride.
Bus 2: This bus takes not only you to and from the airport but also stops at Hangar 7. Hangar 7 is the private airplane, helicopter, and cabinet of curiosities of Dietrich Mateschitz, the owner of Red Bull. The entrance to the Hangar is free, and it sure is interesting to see the airplanes and the architecture.
Bus 1: Bus number 1 takes you to the Stiegl brewery. Stiegl is the biggest private brewery in Austria and the most famous beer in a beer-loving country. The Stiegl brewery offers a tour and a beer tasting included in the Salzburg Card.
Day-trips from Salzburg
Bus 840: Takes you to Berchtesgaden. It's in Germany, but we like it. Just kidding. Berchtesgaden is one of my favorite day-trips. Berchtesgaden is the picture-perfect Bavarian village and the base to either visit the Eagle's nest or Kingslake. Read this article for more information on how to get to Berchtesgaden and beyond.
Bus 150: Bus 150 is the bus that takes you to the infamous town of Hallstatt. Hallstatt is the most visited out of all the day-trips from Salzburg and therefore full of people. Especially in high season. It's still worth visiting but there would be many other places in the lake district which can be reached on bus number 150 like Sankt Wolfgang, Sankt Gilgen, and Bad Ischl.
Train S3: By taking this train you can reach the Ice Caves in Werfen, the largest Ice Caves in the world. Not only are the Ice Caves worth a visit, but the surrounding area is beautiful and a very authentic part of Austria. Read this article to find out how to travel to the Ice Caves in Werfen and this to find out what a visit to the Ice Caves is like.
Frequently Asked Questions about the Public Transport in Salzburg
Is there Uber in Salzburg?
There is no Uber in Salzburg. It's not forbidden, but taxi drivers need a license and 99% of the time there is no licensed taxi driver offering Uber rides. You can check the App but I did that sometimes and usually, you won't find a car. Plus distances are short and we only recommend taxis in exceptional situations like an early morning flight.
Do you need a car in Salzburg?
Getting around Salzburg without a car is not a problem. In fact, a car would be more of a burden than a benefit. The only reason to rent a car would be if you want to take a day trip and be more flexible. But it depends where you want to go and how many travelers you are. Public transport to some of the day trip destinations is convenient and cheap.
Is it safe to walk in Salzburg at night?
Salzburg is one of the safest places you can visit. In 33 years of living in the area, I didn't have a single bad experience and I don't know anyone who had serious problems with other humans while walking around at night. Use common sense and the usual precautions and you will be safe no matter what time of the day. Read this if you want to know more about safety in Salzburg.