Salzburg's Surroundings: Top 7 Places to Visit Nearby Salzburg
Explorer's note: Some links in this post are affiliate links. If you make a booking through them, we may earn a small commission at no extra cost to you. This helps us keep providing tours and top-notch travel advice.
With the stunning Alpine scenery, Salzburg is the perfect base for various day trips. But, let's be real, sometimes our travel plans don't allow for a full-day excursion. You may be left with just a stopover for the night and have limited time to explore but still want to venture out into the surrounding areas.
Don't worry; I've got you covered! In this article, I will give you ideas for what to do near Salzburg. I will introduce you to the seven best places near Salzburg you can visit in half a day or less.
If you're looking to fit a day trip into half a day, take an organized tour! I recommend taking an afternoon excursion on a paid tour to the Salzkammergut Lake District, Berchtesgaden, and the Eagles Nest, as well as the Ice Caves in Werfen. They are some of the best day trips from Salzburg. They require an entire day unless visited with an organized tour.
But if you're looking for something a little more low-key, there are places near Salzburg that can be reached in just 15-30 minutes from the old town. From beautiful nature hikes to the airplane collection of the Red Bull founder and even the largest beer brewery in Austria. So pack your bags, grab your camera, and join me as we explore the lesser-known gems of Salzburg's surroundings.
1. Hellbrunn: The Palace and the Trick Fountains
Hellbrunn Palace is one of the most popular places near Salzburg. There's a lot to explore–from discovering the Gazebo from the Sound of Music to exploring the Salzburg Zoo to the palace museum and the trick fountains and a secret stone theater; Hellbrunn is full of attractions!
Read this article to learn everything there is to do in Hellbrunn.
If you visit Hellbrunn in summer, the Trick Fountains are a must-see. The mechanical water jets from the 17th century turn on periodically. Once they are triggered, the whole area turns into an entertaining fountain show.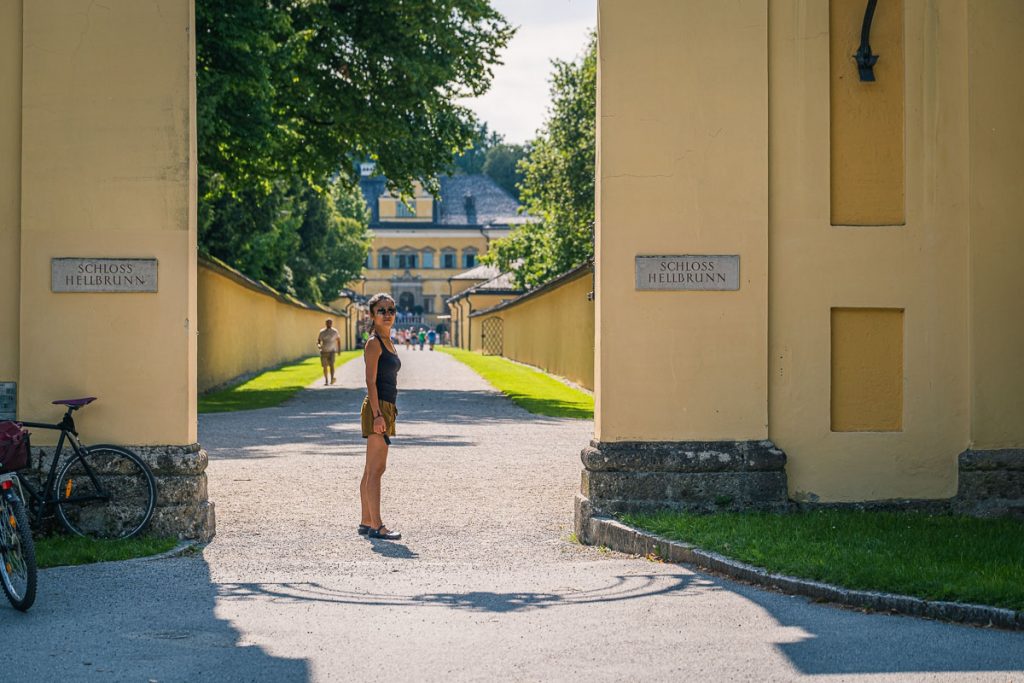 Getting to Hellbrunn couldn't be easier, either! If you have a Salzburg Card, then bus 25 will get you there from the train station, Mirabell square, or Rathausplatz.
Alternatively, you could take the original Sound of Music Tour or a Sound of Music bicycle tour from Salzburg, which includes a visit to Hellbrunn, but on these half-day tours, you won't have time to see and do everything there is to do in Hellbrunn.
You can even take the Salzach River Cruise and include a stop at Hellbrunn Palace & its Trick Fountains as part of the package, but the cruise itself could be more interesting since there is little to see along the river.
In short, if you're looking for something fun yet educational in Salzburg that will stay within your budget, then Hellbrunn Palace and its Trick Fountains can be added to your list!
You could also rent a bike and cycle down Hellbrunner Allee on your own, but to make the most of your visit, I recommend getting your hands on a Salzburg Card! The Salzburg Card includes bus number 25 and all the attractions in Hellbrunn for a fixed price. It will save you money.
2. Leopoldskron: Get a Glimpse of Hollywood
Leopoldskron Palace is a stunning spot located in the Salzburg Surroundings. It's one of the filming locations for The Sound of Music and offers visitors a peaceful atmosphere. In fact, Hollywood used the palace and its lake as the backdrop for the Trapp family house in the movie!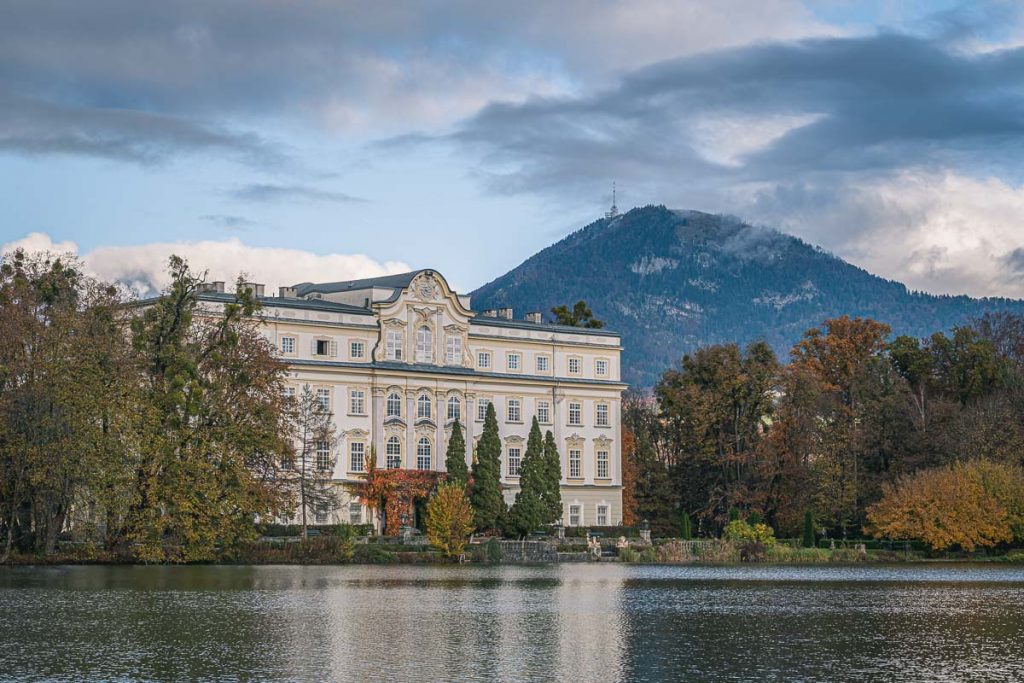 It's privately owned by the "Salzburg Global Seminar," an American Association that hosts events there. It's off-limits to tourists, but you can look at it from the opposite side of the beautiful artificial lake Leopoldskron. If you join a guided tour, like The Original Sound of Music Tour or any other bike tour, Leopoldskron is also included. Alternatively, you can visit by staying at Hotel Schloss Leopoldskron. That's the only way you would be able to take advantage of the beautiful grounds and reenact the Sound of Music scenes.
Take a look at this article to learn about the best castle hotels in Salzburg, including Leopoldskron Castle.
If you'd rather walk, you can get to Leopoldskron from Salzburg within half an hour, and by taking public transport, you get there by bus numbers 21 or 22. If you are up for a longer walk, you could do a big circle to Hellbrunn and back via Leopoldskron or vice versa. Hellbrunnerallee is my favorite walking path in the surroundings of Salzburg. However, you choose to get there, make sure to take in all its beauty while strolling around the lake!
3. Hangar 7: Collection of Helicopters, Airplanes, and Cars
Hangar 7 is an architectural achievement located near Salzburg Airport. It was created by Red Bull founder Dietrich Mateschitz to house his collection of helicopters, airplanes, and cars! And the best part? There's no entrance fee to visit Hangar 7 and view the exhibition.
But if you're feeling fancy, why not treat yourself to a meal at Ikarus Restaurant inside Hangar 7? I am just kidding. You would have to reserve the two-Michelin-starred restaurant well in advance, and it would cost a fortune. Each month features world-renowned chefs who offer exclusive dining experiences. But you want to see this modern architecture and tech first hand if that's what you are interested in! Even if you have kids, they'll love exploring Hangar 7—it's sure to be one of their favorite attractions in Salzburg.
To reach Hangar 7 from Salzburg's old town, jump on bus number 2 or 10 at Karolingerstraße or Pressezentrum, respectively. You'll be there in around 20-30 minutes. Plus, Stiegl Brewery is only 1 kilometer away, too—so why not make it an outing and combine both attractions while exploring the area near Salzburg?
4. Stiegl Brewery: Austria's Largest Brewery
The Stiegl Brewery in the suburbs of Salzburg is Austria's largest and oldest private brewery, with a rich history dating back to 1492. The date seems familiar? That's because the brewery dates back to the discovery of America. The brewery museum is a great place to visit if you're looking for an enjoyable cultural experience.
With the Salzburg Card, you can access the museum for free, but it's an additional €6 or €12.90 if you don't have the card. Onsite, there's also a restaurant and beer tasting that comes with a tour of the production facilities and a cinema movie screening. And if it's just Stiegl beer you're after, visit the Stieglkeller beneath Fortress Hohensalzburg in the old town – no need to go out into the suburbs!
Getting to Stiegl Brauwelt is convenient, too; take bus number 1 from Mirabellplatz, Makartplatz, or Hanuschplatz, which is included in your Salzburg Card. The brewery is close to Hangar 7, so make sure to check them out together as well!
5. Untersberg: Take the Cable Car to New Heights
The Untersberg Cable Car is a fantastic attraction near Salzburg, located around half an hour's journey by bus from the city. It offers spectacular views of the region from its 1800-meter peak and makes for an unforgettable experience. Even better is that it's included in the Salzburg Card, so you don't have to pay extra to ride it!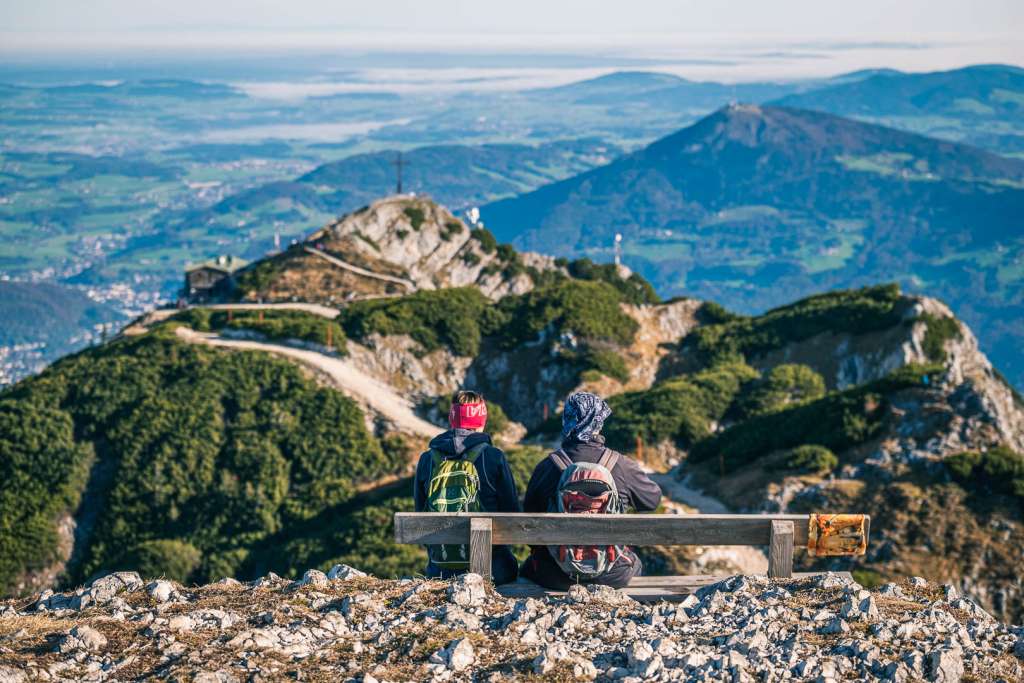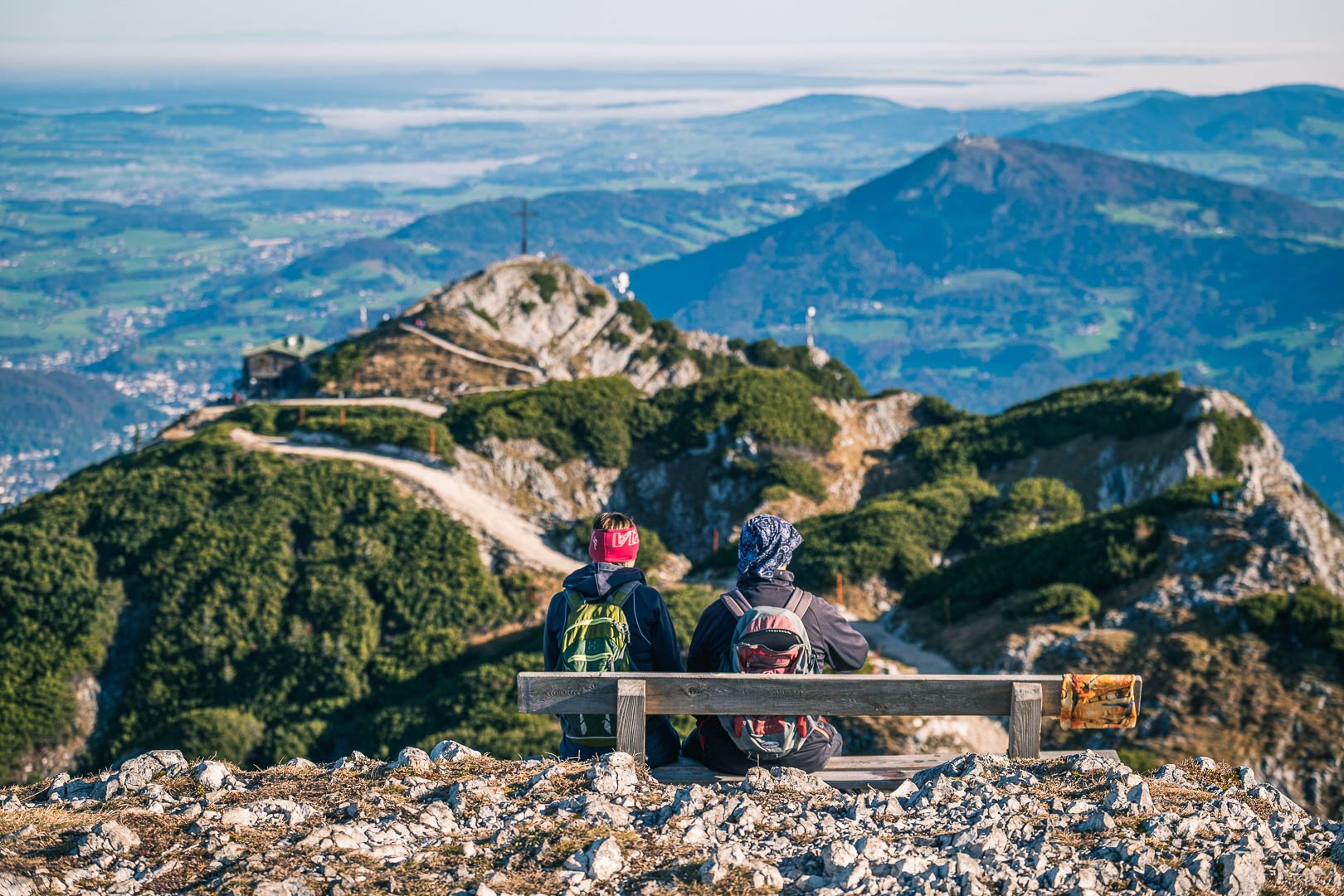 The Cable Car and the bus to get there will already make a Salzburg Card worth it since the Cable Car is expensive otherwise.
Getting to the Untersberg Cable Car from Salzburg is easy – just take bus number 25. This same bus will also take you to Hellbrunn Palace, the first place on this list of places near Salzburg, making for a great day out with all of your favorite attractions nearby Salzburg. As I mentioned before, to get the best value, make sure you invest in the Salzburg Card first, which will cover all costs relating to getting on and off the cable car as well as accessing any additional attractions available in Hellbrunn.
No matter your plans for visiting Salzburg, if you have time, make sure you include the Untersberg Cable Car because it is truly worth it!
6. Gaisberg: For a City Center to Summit Hike
Gaisberg Mountain is a popular destination for hikers and car riders alike in the Salzburg area. Located at the height of 1300 meters, Gaisberg offers breathtaking views of the Austrian alps just outside of the city center.
There are three ways to reach the peak of Gaisberg:
Hike your way to the top. You can hike Gaisberg from the city center via Jägersteig in Gnigl. The hike starts in Eichstrasse 66, about 45 minutes walking from the old town. You can reach the top from there in about 2 hours.
If you would like to start halfway up the mountain or not hike at all and are not traveling by car, you can also take bus 151 from Mirabell Square to Zistelalm and only hike the last 45 minutes or take the bus all the way to the top. The Gaisbergbus number 151 is also the least expensive of all the mountain peaks to reach near Salzburg since it's a regular public bus.
If you are traveling by car, you can ride your car all the way to the top. You could also park at Zistelalm and hike for the remaining 45 minutes or take the circular hiking trail around the mountain. The restaurants on top of Gaisberg are great, by the way.
If you are interested in two more city hikes, two that are even more convenient to reach and easier to hike, have a look at this article on hiking the city mountains in Salzburg.
7. Maria Plain: Place of Pilgrimage and Reflection
Maria Plain is a beautiful destination just outside of Salzburg that many locals and visitors love to visit. It is home to a stunning baroque church and an incredible linden tree that offers breathtaking views of the area. For those who feel like taking a journey there, it only takes about an hour to reach Maria Plain by walking along the river and up the hill. I won't offer other options since the church at Maria Plain has long been a place of pilgrimage, known for its spiritual power and peace; however, this religious aspect has decreased in importance over time. Despite this, Maria Plain remains one of the most powerful sites near Salzburg. One of the highlights is the linden tree surrounded by benches – perfect for contemplation and reflection.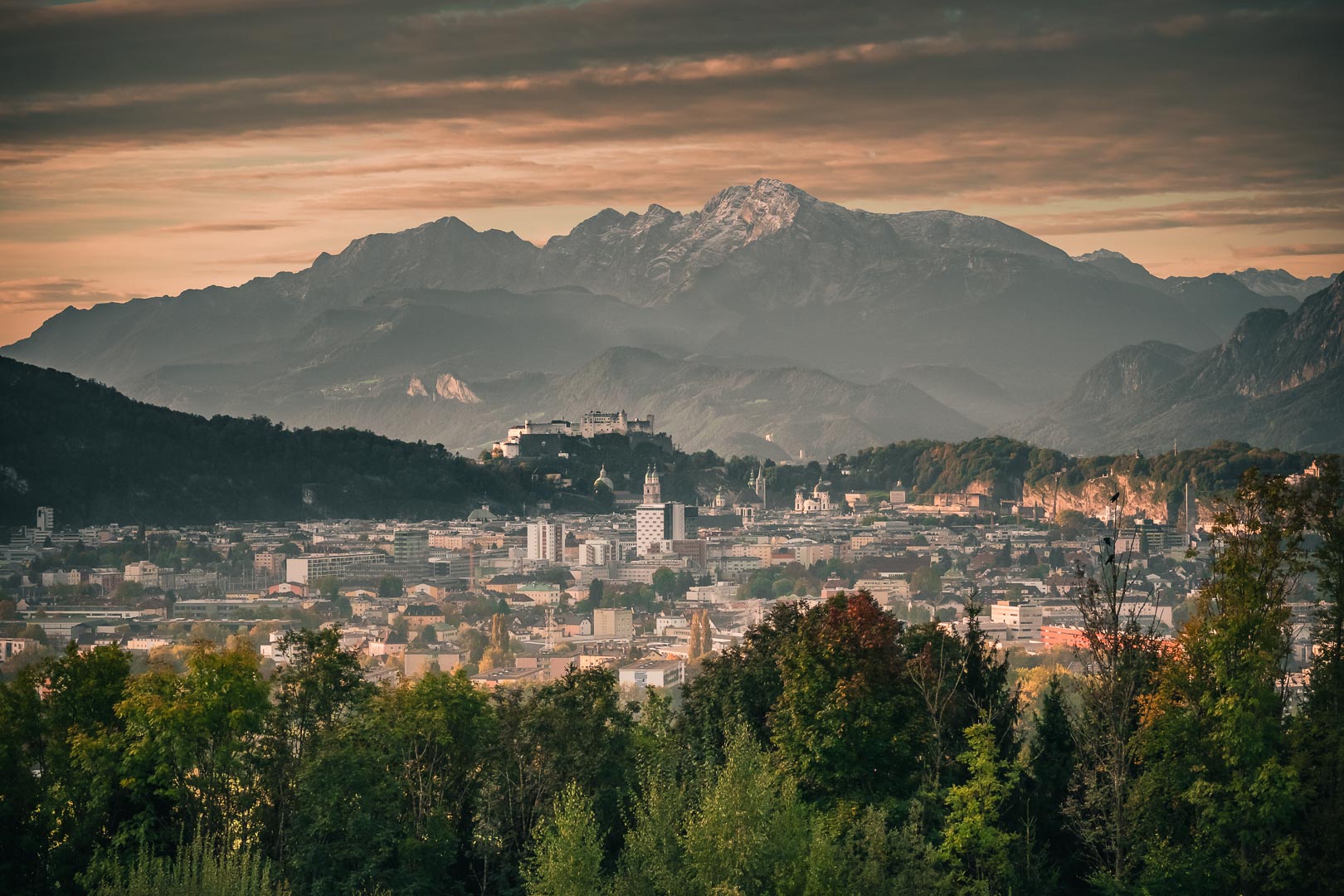 So if you're looking for somewhere special and inspiring to visit near Salzburg, consider Maria Plain! Maria Plain is also the most off-the-beaten-path place of all the places near Salzburg I included in this list.