When is the best time to visit Salzburg, Austria?
Explorer's note: Some links in this post are affiliate links. If you make a booking through them, we may earn a small commission at no extra cost to you. This helps us keep providing tours and top-notch travel advice.
Salzburg is beautiful all year round, but the best time to visit Salzburg depends on what you're looking for. If you're looking for perfect weather and lots of tourists, high season (June–August and December) is your best bet. The low season (January–March) is great for seeing Salzburg like a local, and for budget prices. The shoulder seasons combine the best of both worlds.
From the second week of January, Salzburg is quiet, while February sees tourists stick to the ski slopes, and Salzburg remains quiet. March brings a hint of spring, but March is still low season. The Easter Weekend in April starts the event and tourist season. June brings the crowds, July sees high temperatures and even more crowds from when the Salzburg Festival kicks off in the middle of July. The beginning of September marks a sudden drop in visitors as the Salzburg Festival finishes. October is a quieter month, and depending on the weather, it might be my all-time favorite month in Salzburg. November is the calm before the storm because December is all about Christmas markets. So depending on what you're looking for, there's a perfect time to visit Salzburg.
In this article, you are gonna find out what the best time to visit Salzburg is for you.
THE SHORT ANSWER: The Best Time to visit Salzburg is the shoulder season in autumn (September and October). During the shoulder season in spring, many of the top day trip destinations are still closed due to unstable weather conditions. The weather in March and April is notoriously bad, while the weather is more stable in autumn.
Tourist Seasons: The Travel Seasons in Salzburg
There are two main seasons to consider when planning a trip to Salzburg: high season and low season. The high season is the busiest time of the year, while the low season is quieter. Shoulder season falls in between these two extremes and provides the best of both worlds.
But, in the ten year I have been in the tourism game, Salzburg has really evolved. Salzburg increases in popularity, and so does the amount of people visiting. January to Easter still is a bit of a ghost town, but some September and October weekends nowadays are as packed as the peak summer months of July and August. Back in the day, November was considered low season but can now be considered shoulder season.
High Season: This is the peak travel season in Salzburg, which typically runs from June to August and restarts for brief few weeks around Christmas and New Year's in December. During the high season in summer, the weather is warm and sunny, and the city is bustling with tourists. If you're looking for a lively atmosphere and plenty of outdoor activities, this is the time to visit. Just be prepared for crowded streets and high prices.
Low Season: The low season in Salzburg is from November to March, with a break around the December holidays. During this time, the weather is cold, and from January on, at times snowy, the city is less crowded from the middle of January on and can be less crowded in November. If you're looking for a more laid-back, more authentic trip, this is a great time to visit. You'll have more space to explore and fewer crowds to deal with, but remember that someday trip destinations are closed in winter.
Shoulder Season: The shoulder season in Salzburg is from April to May and September to October. During this time, the weather is mild and pleasant, and the city is less crowded than during the high season. If you're looking for a balance between the hustle and bustle of the high season and the peace and quiet of the low season, the shoulder season is a great choice. You'll have the best of both worlds, with pleasant weather and fewer crowds. As I mentioned before, September and especially October are my all-time favorite months in Salzburg.
Seasons in Salzburg: When to visit Salzburg for the Best Weather?
Salzburg is located in the northern hemisphere, and its weather is influenced by its location in the Alpine region of central Europe. The city experiences a temperate climate with four distinct seasons, and temperatures can vary greatly depending on the time of year and the weather conditions. Summer and winter in Salzburg are like night and day.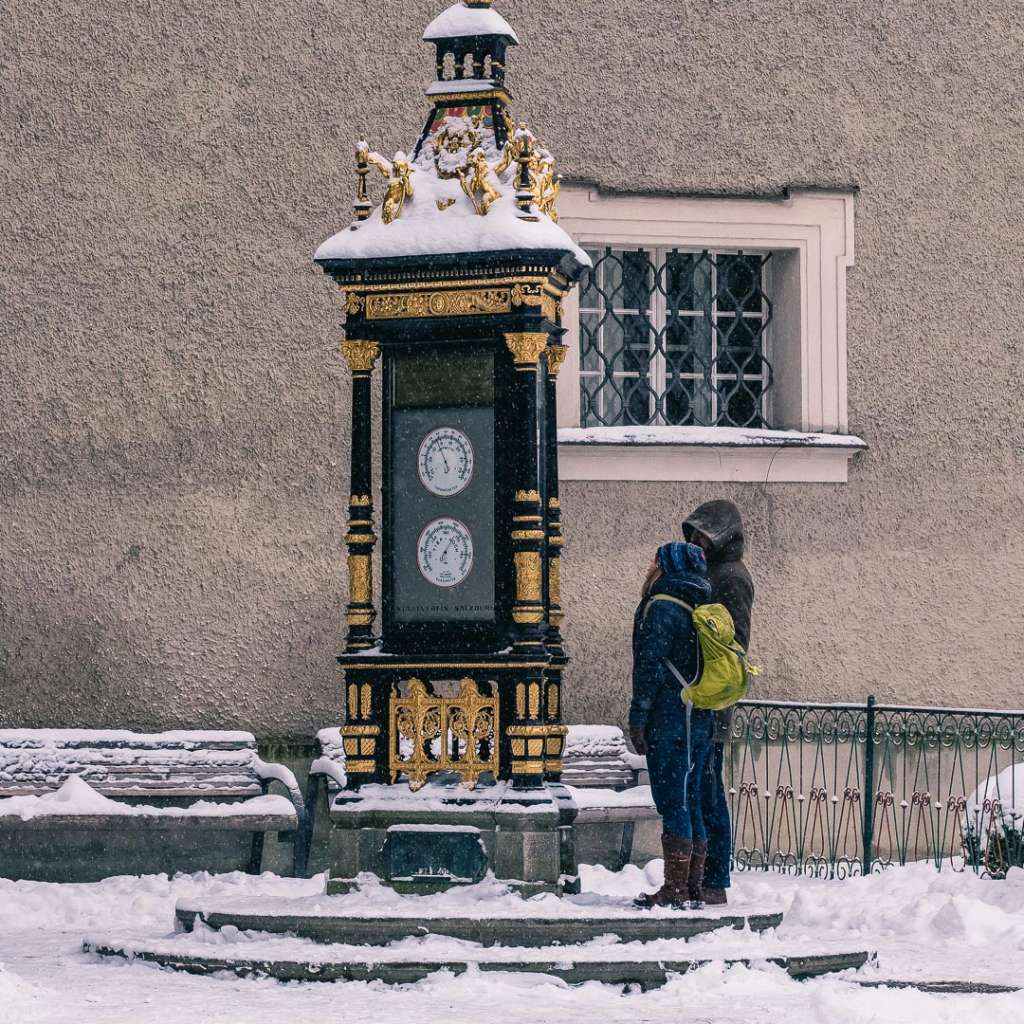 THE SHORT ANSWER: The best time to visit Salzburg for good weather is from early autumn to late spring, from late May to September, with almost guaranteed good, hot weather in July and August. This period is also characterized by long daylight hours, allowing you to enjoy the city's outdoor attractions and views for as long as possible.
Spring in Salzburg usually starts in late March or early April and lasts until late May. During this time, temperatures are mild and can range on average from 5°C to 15°C. The spring weather is often changeable, with sunny days mixed with cloudy and rainy days, so it's a good idea to bring a range of clothing. This is also a beautiful time to visit, as the city's parks and gardens come to life with blooming flowers and green foliage. Especially noteworthy and Instagramable are the Magnolia trees on Makartplatz square.
Summer in Salzburg is from June to August. That's the warmest time of year, with average daily temperatures ranging from the high 20°C to 25°C. This is the peak tourist season, and the city is bustling with visitors and activities. Summer is the ideal time to enjoy outdoor activities such as hiking, biking, and river rafting, as well as concerts, festivals, and other cultural events. However, it's also the most crowded and expensive time to visit, so visitors should book accommodations and activities in advance.
NOTE: The temperatures are averages meaning 20°C to 25°C in summer can mean that it's actually 35°C most days during the day in July and August. While most travelers are not surprised about how cold Salzburg can get in winter, many are surprised about how hot it gets in July and August. Many are not only surprised that we don't have aircon at home but also upset that many hotels don't have aircon, but that's because the heatwave season is rather short.
Fall in Salzburg starts in September and lasts until November. During this time, temperatures cool down and can range from the high 10 to 15°C. The fall weather is often wet and cloudy, so visitors should bring rain gear and warm clothing. Fall is my favorite time in Salzburg, with the city's parks and gardens ablaze with autumn colors and the surrounding hills and mountains blanketed in red, yellow, and orange foliage. The fall weather in Salzburg can be pleasant during the day, but temperatures can drop significantly in the evenings, making it important to pack warm clothing. In the months of July and August, the heat can be intense, and nighttime temperatures are usually not low enough to require more than a t-shirt. However, as the fall months progress, such as in September and October, the temperatures can become cooler, and a t-shirt may not be enough during the evenings. It is recommended to bring a light jacket or sweater for these cooler nights.
Winter in Salzburg is from December to February and is the coldest and driest time of year. Average daily temperatures range from the low 30s to the low 40s °F (-5 to 5°C), and there is often snow and ice on the ground. While some outdoor activities may be limited, this is a great time to enjoy indoor attractions such as museums, galleries, and historical sites, as well as Christmas markets in December. Smaller mountains like the Salzburg City Mountains of Kapuzinerberg and Mönchsberg are still hikeable and I, for example, ride my bike all year round except for maybe a handful of nasty cold and icy days.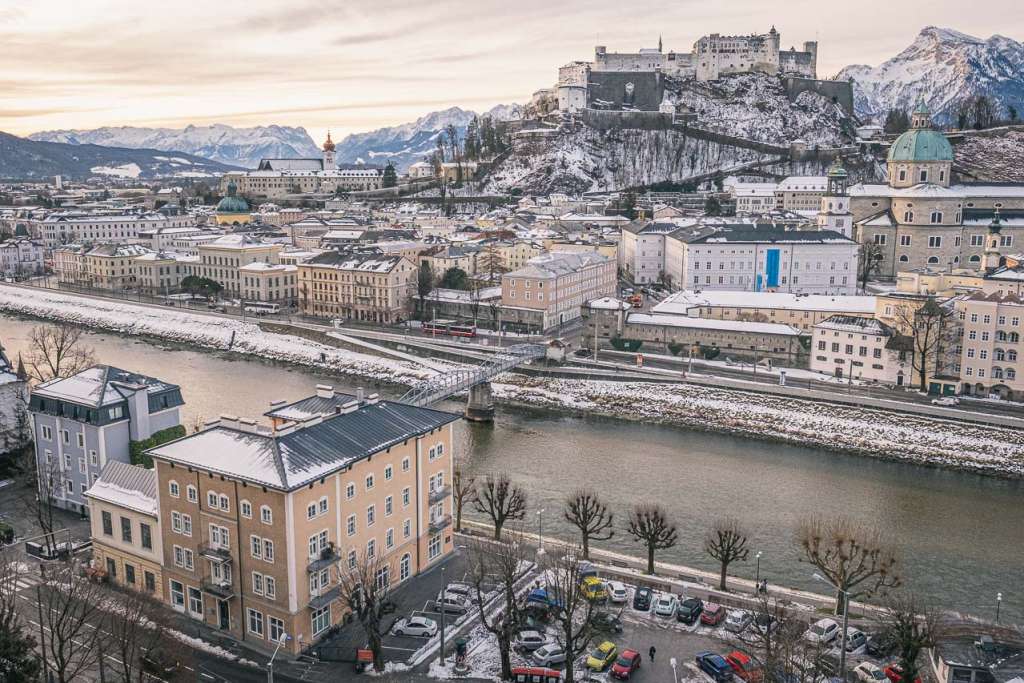 Regardless of when you visit, be sure to check the local weather forecast to plan your activities accordingly. Beware that the forecast is often wrong, but that's the page I personally check daily for my tours. And remember, the weather in the mountains can be quite different from the city, so be prepared for sudden changes if you're planning to do any outdoor activities.
The Best Month to Visit Salzburg
If you're planning a trip to Salzburg and wondering which month is the best time to visit, you've come to the right place! Our Salzburg guides by month will provide you with all the information you need to make the most of your trip, no matter what time of year you visit.
Salzburg in January: Winter has arrived in Salzburg, bringing with it crisp air and a magical blanket of snow. Warm up with a cup of hot cocoa at one of the city's cozy cafes. Be sure to pack a coat, gloves, and a hat to enjoy all the outdoor activities.
Salzburg in February: February is the quietest and coldest month of them all. There is nothing happening in Salzburg in February, but I would recommend February if you want to have the city for yourself.
Salzburg in March: As the weather begins to warm up, the city comes alive with the Sound of Music. Okay, not yet with the Sound of Music, there is still nothing happening in March, but march is the first hint of Spring.
Salzburg in April: Spring has arrived, and with it, the city's stunning gardens come to life. Take a stroll through Mirabell Gardens, home to over 100 different species of plants and flowers, or head out to Hellbrunn Palace.
Salzburg in May: The city is in full bloom, making it the perfect time for a scenic bike ride or a leisurely walk through the park. Don't miss the Maypole festivals if you want an authentic, traditional Austrian experience.
Salzburg in June: Summer has arrived, and with it, the city's outdoor cafes and restaurants come to life. Enjoy a delicious meal al fresco while soaking up the sun and taking in the stunning views of the city.
Salzburg in July: The middle of July is when the Salzburg Festival starts. That's the time to find beautiful street music and attend one of the free open-air streams on the Screen at Kapitelplatz. Pack a picnic basket and enjoy a night under the stars surrounded by music, good company, and a magical atmosphere.
Salzburg in August: As summer heat settles in while the Salzburg Festival continues, take a refreshing dip in one of the lakes, Hike through the beautiful Salzburg Alps or one of the city mountains, or relax on a bench and soak up the sun.
Salzburg in September: As the summer crowds begin to dissipate, the city returns to its peaceful state, but that return is interrupted by the Rupertikirtag Festival at the end of September before the winter slumber finally sets in.
Salzburg in October: The city is adorned with the warm colors of fall, making it the perfect time for a scenic drive through the Salzkammergut Lake District or a hike on the city mountains.
Salzburg in November: As the weather begins to cool, cozy up by the fire at one of the city's many quaint cafes and enjoy a warm drink. There is really nothing happening in Salzburg in November, but your experience will be more authentic.
Salzburg in December: The city is transformed into a winter wonderland, with twinkling lights, festive markets, and holiday cheer. Experience the season's magic with a horse-drawn carriage ride through the city's snow-covered streets.
The Best Days to Visit Salzburg
If you're looking for a personal recommendation, I must say that Sundays are my all-time favorite day to visit and conduct tours. Sundays in Salzburg are peaceful and serene, with a slow pace and a quiet atmosphere. The only thing that breaks the silence is the beautiful church bells ringing throughout the city. Sunday Mass at the Salzburg Cathedral comes highly recommended.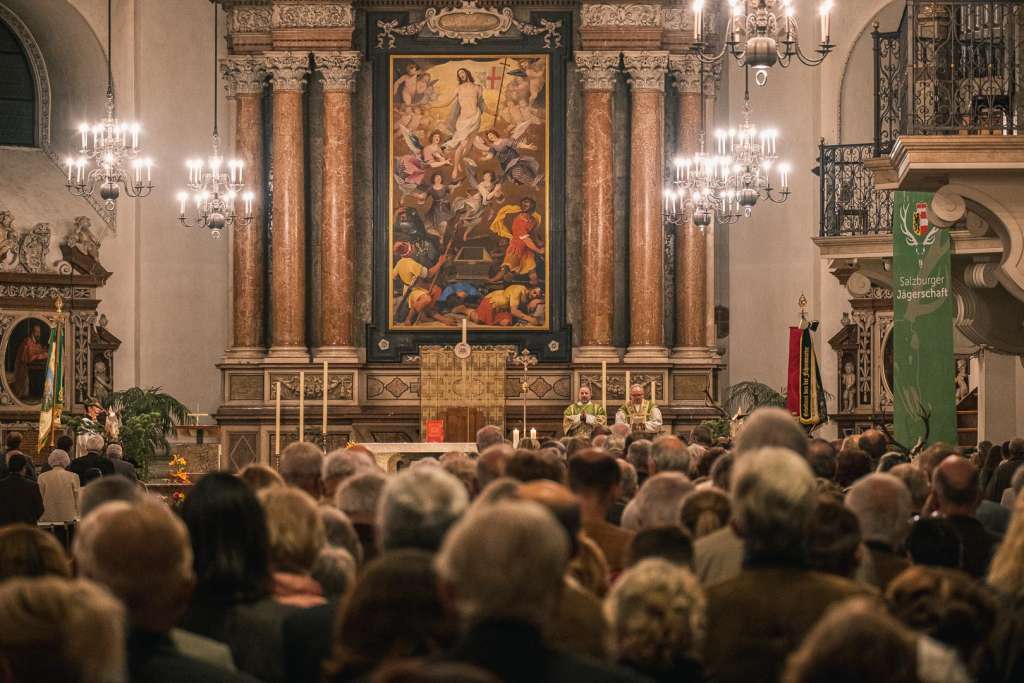 However, Sundays might not be the best day for everyone. If you're into shopping, you might want to avoid Sundays since all the shops are closed. While museums and attractions are open, some restaurants are also closed, which can be a bit of a surprise.
If you're looking to avoid crowds and high prices, I would suggest avoiding Saturdays. Saturdays are busier, and in terms of accommodation, more expensive as tourists flock to the city for the weekend.
For a more balanced experience, weekdays from Wednesday to Friday are generally good days to visit. Some museums may be closed on Mondays or Tuesdays, so be sure to check the schedules before making your plans.
When is the Best Time to Visit Salzburg for Events?
If you're a classical music lover, Salzburg is the place to be in July and August during the Salzburger Festspiele. This world-renowned festival is a feast for the ears and attracts the rich and famous. But be prepared for the crowds and high prices during this busy time. And don't forget to visit the Birthplace of Wolfgang Amadeus Mozart and pick up some Mozart chocolate from Konditorei Fürst.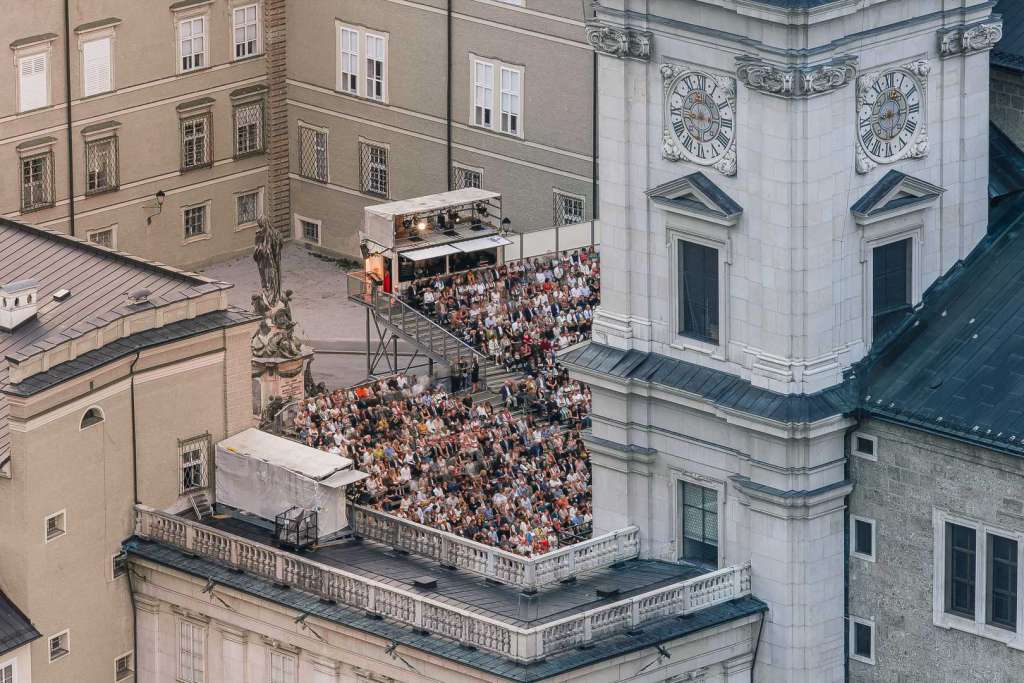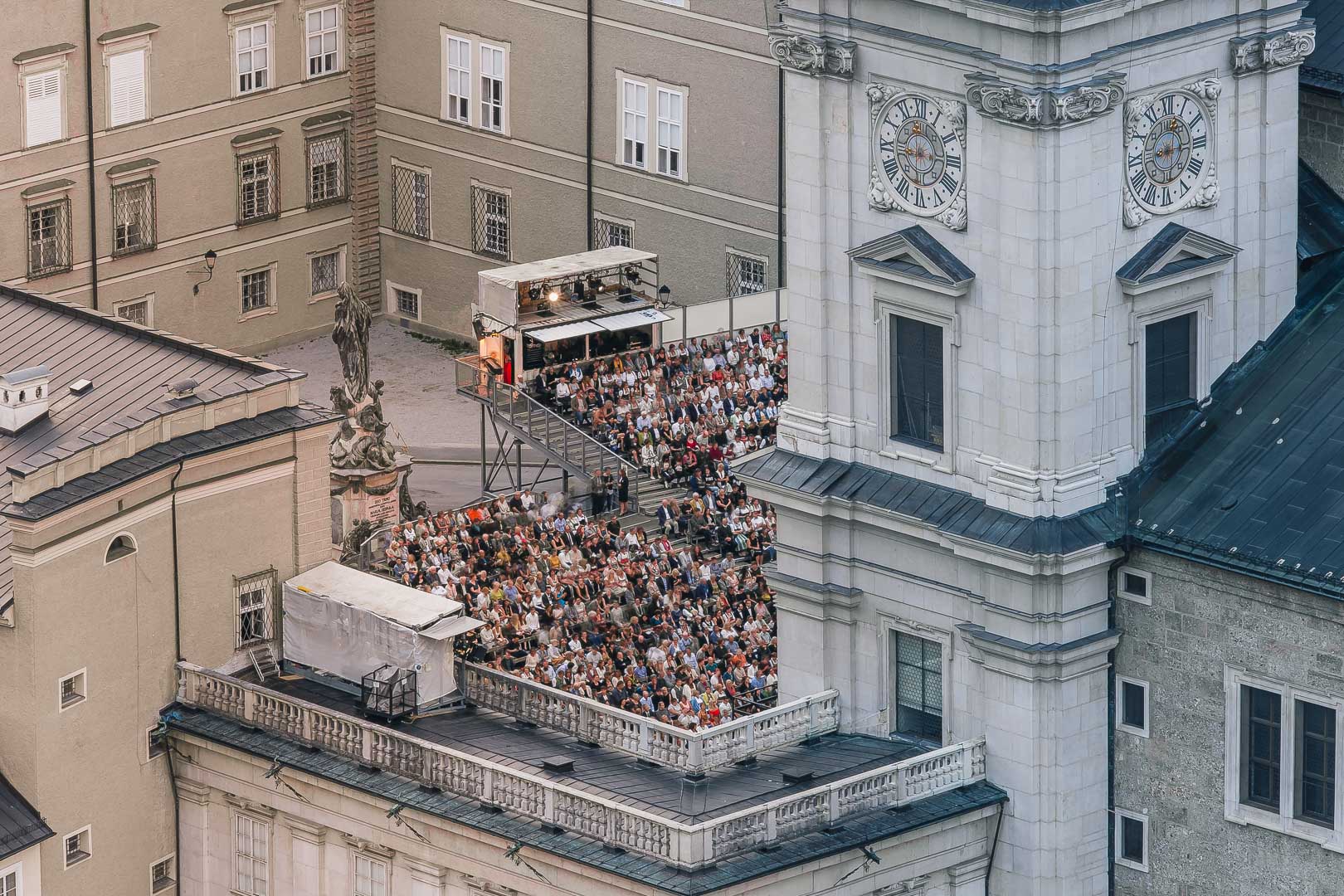 For a traditional and lively experience, the Rupertikirtag festival is a must-visit. Held in honor of St. Rupert, the patron saint of Salzburg, this festival is a celebration of local culture and heritage. Join in the festivities by singing traditional songs, riding the theme park rides, trying local delicacies, and shopping for souvenirs and handicrafts.
Easter time in Salzburg is a religious and cultural experience like no other, but most religious holidays in Salzburg are celebrated in some way or another. That's because Salzburg was run by the catholic church in the past and nowadays is one of only two residences of an archbishop. The cathedral is the place to be when religious holidays are on.
Finally, if you're in the mood for some festive cheer, the Salzburg Christmas Markets are the perfect place to be between late November and Christmas Eve. With several Christmas Markets around Salzburg, you can grab Xmas treats and gifts and enjoy musical concerts and Krampus parades. Spread the visits out over several days or see them all in one day; either way, you're sure to get into the holiday spirit!
Read this article if you are looking for classical concerts in Salzburg. The reality is that Salzburg does not host large events. While there are smaller events that take place throughout the year. Salzburg has a traditional and conservative atmosphere, making it difficult for contemporary events to gain traction. Despite this, it has been reported that there are events happening around the cathedral almost 200 days per year, including the Salzburg Marathon, the Red Bull X-Alps, a brass music festival, the Salzburg Festival Jedermann, and an organic food festival. So, whether you're visiting Salzburg in the high season or the shoulder season, you're bound to find something fun and interesting to do. Although it might not be a major event, it will surely be a memorable experience!
When is the Best Time to Visit Salzburg on a Budget?
Salzburg is expensive, especially in the high season. What's expensive? What's expensive is accommodation in Salzburg since there are not enough options. In the high season, demand far outweighs supply, and hotels raise their prices. As you may know, I worked for a hostel in Salzburg. The hostel was fully booked most of the time from April until October. On many days in July and August, desperate travelers walked in looking for last-minute accommodation. During high season most options are booked.
As soon as hotels and hostels are not fully booked anymore in the low season, they start to compete on prices, and a hostel dormitory bed becomes available for as little as €11,- compared to €40,- in the high season. You get the point.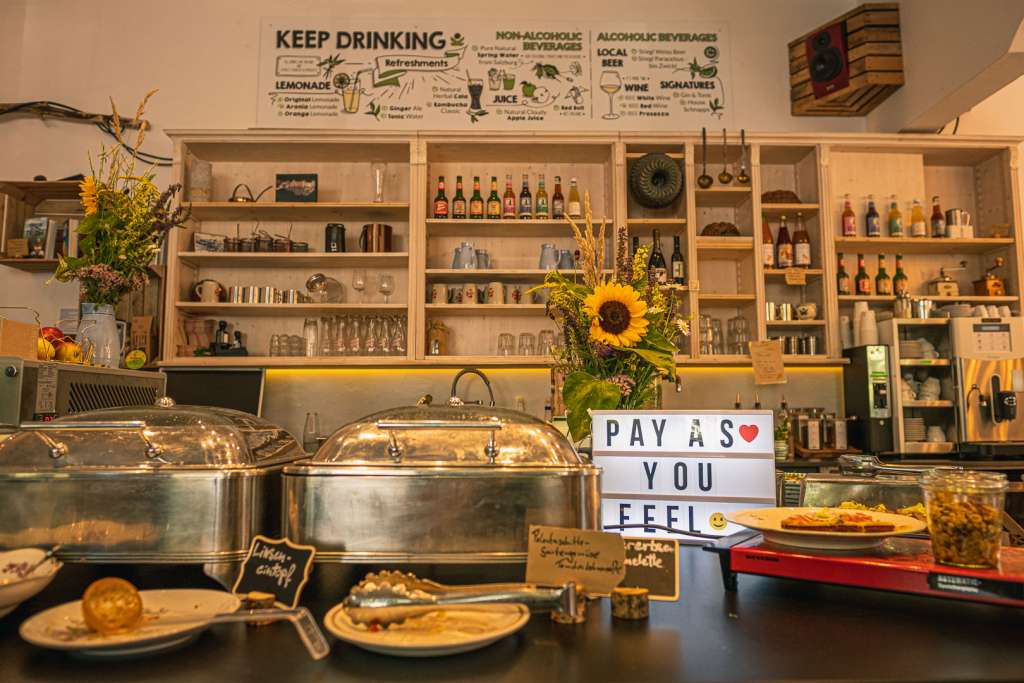 The best time to visit Salzburg on a budget is during the shoulder season of spring or fall. But I mentioned before that Salzburg becomes more popular, and should season is not what it used to be. If you want to ensure you get the lowest possible prices, consider a visit in November or between the middle of January and the end of March. While that sacrifices the chance for warm weather, it guarantees a more authentic travel experience, and you might even experience snow.
The prices of food and entrance tickets in Salzburg remain stable regardless of the travel season. The cost of the Salzburg Card increases by a few euros during peak seasons, but there are no significant changes. The most notable difference in prices can be seen in the accommodation cost. On the other hand, traveling to Salzburg during the shoulder season (spring and fall) can provide a budget-friendly cultural experience, as there are many local events and festivals taking place during these months. This offers travelers the opportunity to immerse themselves in the local culture and enjoy unique experiences at an affordable cost.
To further save money, consider traveling mid-week instead of over the weekend and opting for budget-friendly dining options, such as local cafes and markets, instead of high-end restaurants. With a little planning, it is possible to experience Salzburg without breaking the bank.
The Best Time to Visit Salzburg to Avoid the Crowds
During the shoulder season of spring and fall is, not only the weather still comfortable and prices for accommodations and activities are lower, but there are significantly fewer crowds than during peak season. September can still be crowded. October less, but there are still many tourists. November is quiet, but the only time Salzburg feels like a ghost town is from the second week of January until the middle of March.
Additionally, if you're looking to avoid crowds but still want to experience Salzburg's festivals and events, consider visiting during the first or last week of the event. For example, visiting the Salzburger Festspiele during the first week of the festival, when the crowds are thinner, and prices are lower, is a great option, and when the beer festival of Rupertikirtag rolls around, I avoid Fridays and Saturdays like the plague. By planning your trip strategically, you can enjoy all that Salzburg has to offer without being overwhelmed by the crowds.