The Best Way to Travel Between Vienna and Salzburg
Explorer's note: Some links in this post are affiliate links. If you make a booking through them, we may earn a small commission at no extra cost to you. This helps us keep providing tours and top-notch travel advice.
Heading from Vienna to Salzburg? The train ride between these two Austrian cities is not just a mere transfer. Fast and convenient, the train stands out as the go-to mode of transport but I will also offer you alternative ideas on how to get from Vienna to Salzburg.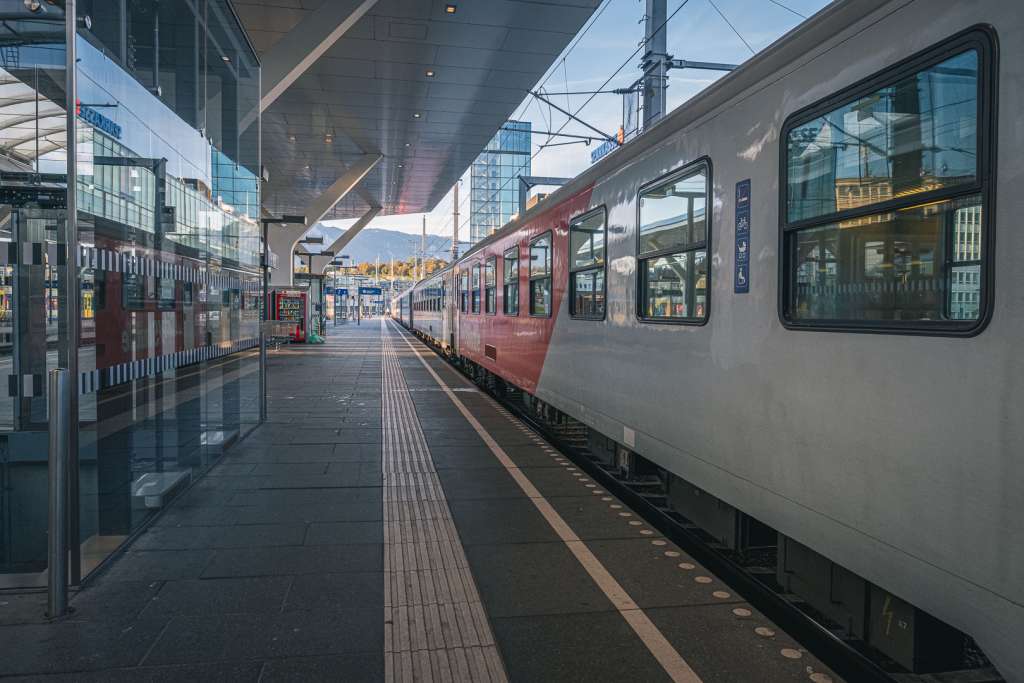 This guide is all about giving you the inside track on traveling from Vienna to Salzburg by train or alternative modes of transport. Whether you're looking for the swiftest, the most cost-effective, or the most thrilling way to traverse this route.
As mentioned, the train is the most popular way to travel from Vienna to Salzburg and that's for a reason. Trains leave out of Vienna towards Salzburg every half hour, promising a scenic 2.5-hour journey that's as smooth as it is punctual. With two competing train companies, you find plenty of options.
In the following sections, we'll unpack everything you need to know to make your trip from Vienna to Salzburg as memorable as the destinations themselves. From a snapshot of what the journey is like to a deep dive into alternative modes of transport.
Train Travel – The Preferred Route from Vienna to Salzburg
When you're planning your trip from Vienna to Salzburg, the train emerges as the top choice for its blend of speed, convenience, and value. Clocking in at just 2 hours and 30 minutes travel time, the rail journey is not only swift but also frequent, with services running at least every half-hour. Starting from around €30,- in 2023, train travel is both accessible and economical.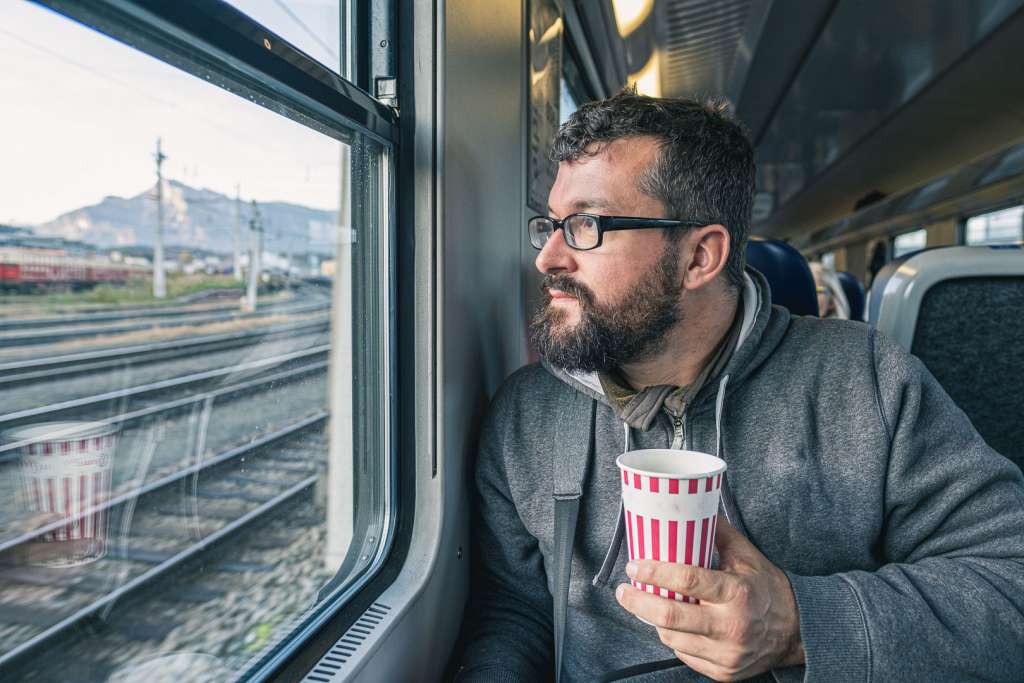 Choosing Your Train: ÖBB vs. Westbahn
Since 2012 we have had two train companies in Austria. The more traditional and long-established ÖBB and their private competitor Westbahn. Let's take a closer look!
ÖBB – The Austrian Federal Railways
When it comes to rail travel in Austria, the ÖBB (Österreichische Bundesbahnen) stands as the largest and most established player. With roots stretching back to the days of the Habsburg monarchy in the 19th century, ÖBB has grown into a network that not only connects Austria's cities but also ensures even tiny villages are not left off the map. This extensive reach is a testament to the company's commitment to transportation accessibility, with a workforce of 40,000 ensuring that over a million passengers daily can get where they need to go.
The Vienna to Salzburg route, in particular, is busy in the ÖBB service, seeing the highest frequency of travelers. It's a vital link not just for domestic travel but for those journeying from Eastern Europe to the heart of Germany and further into Western Europe. This route exemplifies the blend of historical significance and modern efficiency that ÖBB represents.
Westbahn – The Private Competitor
However, since 2012, travelers on this route have had another option: Westbahn. This private competitor has quickly become a favorite for many, with its distinctive green and blue trains offering a more wallet-friendly and flexible travel alternative. Westbahn's service, which operates every 30 minutes from Wien Westbahnhof, is particularly appealing to those who prefer to travel without the constraints of a fixed schedule.
Westbahn's approach to ticketing is emblematic of its modern, customer-oriented ethos. Unlike ÖBB, which maintains ticket counters and information centers, Westbahn has streamlined the process, allowing passengers to hop on a train and purchase their tickets during the journey. This ease of access is a unique selling point for Westbahn, catering to spontaneous travelers and those who value convenience and simplicity in their travel arrangements.
Purchasing Your Ticket
When it comes to securing your seat for the journey from Vienna to Salzburg, you've got options that cater to both the planners and the spontaneous among us.
ÖBB: Planning Ahead Pays Off
ÖBB, the long-standing railway authority, rewards those who think ahead. By booking early, choosing to travel on less busy days, or having a discount card (Vorteilscard), you can snag tickets at the same prices as Westbahn. And don't worry about the hustle of travel—Austrian trains are known for having ample space, so the chance of having to stand is slim, even without a reservation.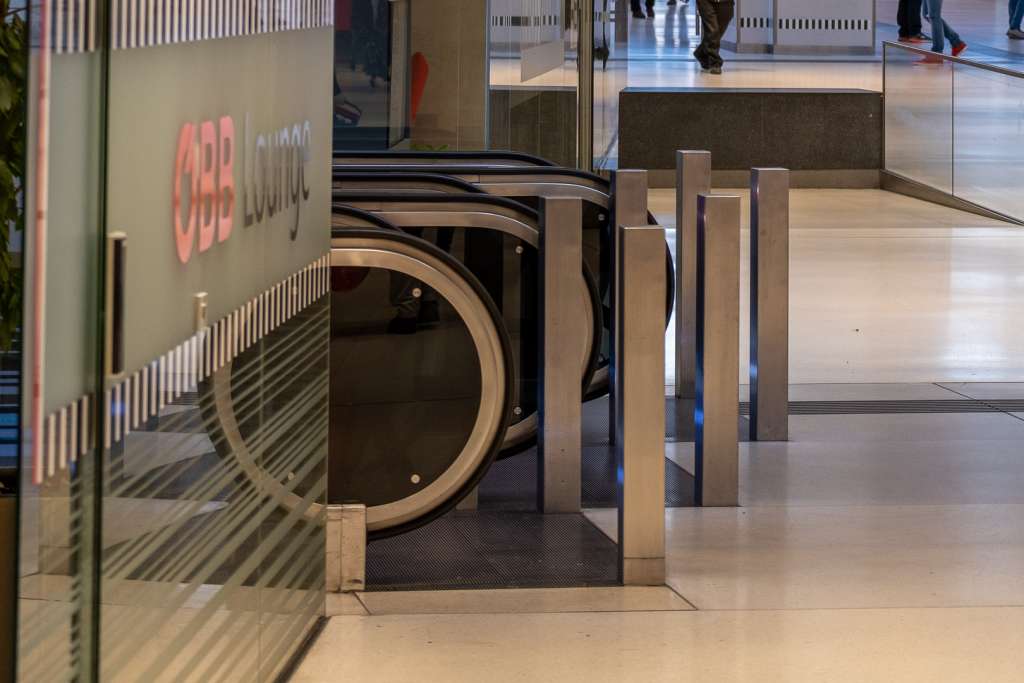 Westbahn: Spontaneity Meets Savings
For those who prefer to keep their plans flexible, Westbahn is your ally. Hop on a train at Vienna's Westbahnhof without a ticket in hand, and simply pay the standard fare to the conductor on board. It's straightforward and often lighter on the wallet, with standard fares typically undercutting ÖBB's regular prices. I have to mention, however, that things have changed in recent years and Westbahn is not much cheaper than ÖBB anymore if you can't get a discount. More on that soon.
Trainline: The Savvy Traveler's Secret
For ticket purchases, both Westbahn and ÖBB offer online booking platforms. Yet, there's an ace up the sleeve with Trainline, a third-party service that aggregates ticket options from both companies, often revealing the best deals at a glance. It's perfect for those who want to weigh their options without the hassle of navigating multiple websites.
Buying Tickets: A Step-by-Step Guide
Westbahn: No pre-booking? No problem. Board the train, find a seat, and the conductor will sort you out with a ticket. Prefer to plan and get a discount? Hit up the Westbahn website and look for the 'Westsuperpreise' deals. To find them, go to "Fares" and "Westsuperpreise. You can also buy Westbahn tickets from Austrian tobacco shops (like the one inside the station) or online. These tickets are sometimes discounted but only God knows when.
ÖBB: If you're leaning towards ÖBB, booking online is your best bet for discounts. Otherwise, ticket machines and offices at the station are at your service. The way to get a discounted ÖBB ticket is to book a few days in advance which makes it impractical if you don't want to fix your schedule or to have a yearly discount card which you won't have if you are a traveler.
Cost Comparison: What's the Damage?
ÖBB can match Westbahn's prices if you're willing to book in advance, travel on off-peak days, or if you're a holder of their discount card, the Vorteilscard. The Vorteilscard doesn't make sense for most travelers as it's a paid one-year pass. In 2020, Westbahn's standard fare sat at €33.50, while ÖBB's was €56.80. Unfortunately, nowadays, in 2023, Westbahn and ÖBB prices are almost the same, and even for discounted Westbahn tickets you have to purchase days in advance.
But with Westbahn's discounts, tickets could drop to between €23.99 and €28.99. ÖBB's 'Sparschiene' offers can level the playing field, but it's a game of timing and availability.
The Bottom Line
Ultimately, Westbahn shines for its blend of convenience and value, especially if you're not one to pin down plans. ÖBB, on the other hand, was only worth considering if you've got the luxury of booking ahead or if you're traveling with a Eurail Pass but as I mentioned, if you can't get a discount, there is no huge difference in price anymore.
It's worth noting that Austrian trains are rarely, if ever, fully booked, allowing for a degree of spontaneity in your travel plans. While seat reservations are not mandatory and often unnecessary, they are available for those who prefer guaranteed seating.
SIDENOTE: It's important to mention that there are no bus services directly competing with the train route from Vienna to Salzburg Hbf. If you search for a bus on the Flixbus website you will find a connection but it's Flixbus selling the Westbahn train tickets.
Stations and Boarding: Your Gateway to a Smooth Journey
Your train journey from Vienna to Salzburg is a tale of two stations: Vienna's Westbahnhof and Hauptbahnhof. Each serves as a hub for different rail services, so knowing where to board is key.
Vienna's Westbahnhof: The Westbahn Departure Point
I am fascinated by the history of Westbahnhof. Westbahnhof, as the name suggests, was the train for westbound trains. However, after the Soviet Union was established, westwards was the only way to go from Vienna. Therefore, Westbahnhof began to serve as the main train station which it kind of still does. If you're catching a Westbahn train, this is where your journey begins. The station is well-connected and easily accessible by metro or tram.
Wien Hauptbahnhof: ÖBB's Modern Hub
A few years ago, ÖBB began using the actual main train station, Vienna Hauptbahnhof again. For ÖBB travelers, Hauptbahnhof is your starting line when traveling from Vienna to Salzburg.
Finding Your Way
Both stations are traveler-friendly, with clear signage and helpful staff. If you're at Hauptbahnhof, look out for the large departure boards for your platform number. At Westbahnhof, it's just as simple – check the schedule, and follow the signs to the right track.
Boarding Tips
Tickets in Hand: If you're traveling with ÖBB and need a ticket, the machines or counters are ready to assist. For Westbahn, while not necessary, you can grab a ticket at the tobacco shop inside the station.
Platform Navigation: Both stations are designed with ease in mind. Information screens display times and platform numbers, ensuring you're on the right track.
From Airport to Rails: If you're transiting from Vienna Airport to Salzburg, consider the direct ÖBB trains for a seamless transfer that could save you the cost and time of traveling into the city first.
Scenic Views and Travel Tips
As you settle into your seat and the train starts, you're about to be treated to a visual symphony of Austria's countryside. Initially, the view from your window will be a tapestry of fields and rolling hills. As you approach the one-and-a-half-hour mark, keep your gaze fixed on the left side of the train (in the direction of travel) to catch the first glimpses of the alpine grandeur awaiting you in Salzburg.
Onboard Amenities for a Comfortable Ride
Modern comforts aren't amiss on this journey. Both ÖBB and Westbahn trains are equipped with amenities designed to enhance your travel experience. Expect clean, comfortable seating, power outlets for your devices, and dining options for a quick snack or a cup of coffee.
Choosing the Best Seat
For the finest views, snag a seat on the left side of the train when heading to Salzburg. This strategic spot offers a chance to admire the distant mountains as they slowly grow larger on the horizon. If comfort is your priority, look for seats with a table – they offer more space and a place to rest your belongings.
Beyond the Window
Remember, while the journey offers its own visual rewards, it's just a prelude to the breathtaking scenery you'll discover in Salzburg itself. And for those with a thirst for even more dramatic landscapes, consider a train trip from Salzburg to Innsbruck, or look into Austria's most scenic train routes for your next adventure.
Arriving in Salzburg
The journey concludes at Salzburg's Hauptbahnhof, the city's primary and sole train station. Just a stone's throw from the historic old town and conveniently close to most accommodations, you're never far from where you need to be. If your bags are light and your spirit for walking is high, the old town is a short stroll away. Otherwise, our guide on Salzburg's public transport is your next best read.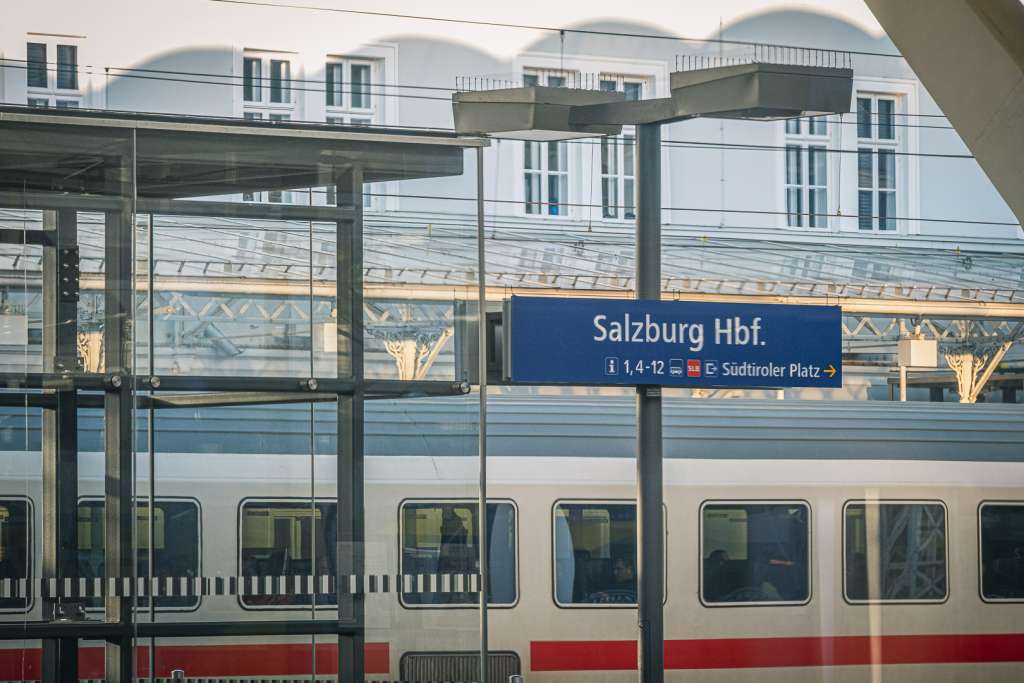 4 Alternative Modes of Transport
1. Driving – Car Rentals
Taking the wheel for a drive from Vienna to Salzburg opens up a realm of possibilities. If you're traveling as a group, cherish solitude, or have an appetite for discovery off the beaten path, renting a car could be your ticket to freedom.
Car Rental Insights
In Vienna, car rental prices begin at approximately €70 per day. For a party of four or five, this option can be more economical than the train, especially when you split the cost. Most rental agencies offer convenient pick-up in Vienna and drop-off in Salzburg, making one-way trips hassle-free. However, keep in mind that with a full car, luggage space may be tight.
The Journey is the Destination
The drive itself is an attraction, with the route often dubbed the "Romantic Road" for its scenic views and charming stops. This isn't just a clever marketing ploy; the path is genuinely dotted with sights that beckon for your attention. If you're pressed for time but still want a taste of Austria's heartland, consider pausing at the majestic Melk Abbey before cruising towards the crystal-clear waters of Lake Traunsee and the picturesque Salzkammergut region. There is no need to stop in the Salzkammergut if you are in a hurry. The scenery is worth the drive.
Hallstatt and Beyond
However, if you have the time, you should head south from the A1 Highway and not only take the country roads through the Salzkammergut but stop several times in that area. While Hallstatt's fairy-tale allure is undeniable, neighboring gems like Gmunden, Sankt Wolfgang, and Sankt Gilgen offer equally enchanting experiences without the crowds. These locales promise a more intimate glimpse into Austria's soul.
With this guide to the Salzkammergut Lake District, you will get an idea of what it's about.
Planning Your Road Trip
For those with time to spare, a multi-day road trip allows for a deeper exploration of Austria's nooks and crannies. But if you're aiming to condense the journey into a single day, strategic planning is key to maximizing your sightseeing. Our comprehensive guide to driving from Vienna to Salzburg is an essential companion for plotting your course.
Before You Go
Renting a car is straightforward, with numerous options available online or at the airport. Costs will vary based on the vehicle size, rental duration, and insurance choices. Remember to consider parking fees in both cities and if you're unfamiliar with the area, a GPS or a reliable map app is invaluable. Rentalcars.com is handy for comparing offers and booking a rental car.
2. Private Shuttles: Personalized and Exclusive Travel
For those where budget is a secondary concern, or for larger groups seeking a seamless experience, private shuttles emerge as a prime choice. These services, while on the pricier side, often come with the perk of including a visit to the iconic Hallstatt, potentially saving you a day on your itinerary.
Case in Point: A Group's Journey
Take, for instance, a group from Thailand I once assisted. They inquired about the best way to travel from Vienna to Salzburg. While the train is usually my go-to recommendation for its balance of cost and convenience, they opted for a private shuttle. Admittedly, I was initially taken aback by the cost—private shuttles can run into the hundreds of euros. However, breaking down the numbers can be an eye-opener. A €700 service divided among eight travelers suddenly becomes a reasonable option, especially when you factor in the full-day experience, the scenic drive through the Salzkammergut, and the stops at places like Hallstatt.
The Ultimate in Tailored Travel
What elevates the private shuttle experience is the door-to-door service. Imagine being picked up from your doorstep in Vienna and whisked away to your destination in Salzburg, with no need to navigate public transport or handle your luggage at every turn.
Comparing with Car Rentals
It's worth comparing this option to the previously mentioned car rental. While a rental car also offers the freedom to explore and save a day traveling between Vienna and Salzburg, it does so at a significantly lower cost. However, it lacks the bespoke nature of a private shuttle service.
Our Recommended Shuttle Service
For those inclined towards this luxurious mode of travel, we have a preferred private shuttle provider we trust for the journey from Vienna to Salzburg.
Emerging Alternatives: Shared Shuttle Services
In recent times, shared shuttle services have also entered the scene, offering individual travelers a middle ground between public transport and private shuttles. These services range from €100 to €200 and could be a viable alternative, though we're still gathering insights on their quality. If you decide to try one, we'd love to hear about your experience to inform future updates to this guide.
Making the Choice
When considering a private shuttle, weigh the convenience against the cost, and if it aligns with your travel philosophy, booking is just a few clicks away on the provider's website.
3. Car Sharing: The Social Way to Travel
For those looking to blend economy with a dash of adventure, car sharing platforms like Blablacar offer a unique travel alternative. On the Vienna-Salzburg route, Blablacar is bustling with daily offers, where drivers with empty seats welcome fellow travelers to join them. If you're new to the concept, it's quite straightforward: Blablacar consolidates various car-sharing services, allowing drivers to list available seats in their vehicles.
Why Choose Car Sharing?
There are two standout reasons to opt for car sharing on your journey between Vienna and Salzburg:
Cost-Effectiveness: It's undeniably budget-friendly. A seat through Blablacar typically costs around €15, which is a steal compared to the standard train fares of €33.50 or even the discounted train tickets starting at €24.

The Social Element: Beyond the savings, car sharing is a golden ticket for meeting new people. It's particularly appealing for solo adventurers eager to exchange stories and make connections on the road. Blablacar's platform ensures safety with a rating and verification system for drivers, so you can ride with confidence.

Convenience with a Personal Touch
Another plus is the personalized travel experience. You can coordinate with your driver on the most convenient pickup and dropoff points. While the Vienna-Salzburg route is well-served by train stations, the flexibility to set your own travel points can be a bonus.
A Personal Reflection
From my own experience, Blablacar was once a staple in my travel diet. However, as priorities shift with time, the appeal of saving every euro has waned, and the tranquility of a solo train ride often trumps the effort of coordinating a car share.
Is Car Sharing Right for You?
If you're on an extended journey, watching your budget, or simply relishing the prospect of the new company, car sharing stands out as an excellent choice. It's more than just a ride; it's a chance to weave new narratives into your travel tapestry as you journey from Vienna to Salzburg.
4. For the Adventurous: Hitchhiking from Vienna to Salzburg
For those who carry the spirit of adventure in their backpacks and travel on a shoestring budget, hitchhiking can be an exhilarating option. While it's true that Austrians may be somewhat reserved about picking up hitchhikers, the sheer volume of traffic—around 100,000 vehicles per day on the A1 Westautobahn—plays in favor of the thumb.
The Realities of Hitchhiking
It's a roll of the dice, but when you do catch a ride, you might just land a direct lift to your destination, bypassing the small stops along the way. However, I must be upfront—I haven't personally hitchhiked between Vienna and Salzburg. So, for the nitty-gritty details, I'd point you toward the hitchwiki page for Vienna, a treasure trove of hitchhiker anecdotes and tips.
Preparation and Safety
If you're set on hitchhiking, here are a few pointers to keep in mind:
Visibility is Key: Make sure you're easily seen by drivers. Stand in a safe, well-lit area.
Signage Helps: A clear, readable sign displaying your destination can work wonders.
Stay Safe: Always prioritize your safety. Trust your instincts about which rides to accept.
Legalities: Be aware of the local laws regarding hitchhiking to avoid any legal trouble.
Finding Your Hitchhiking Spot
As for where to thumb a ride, aim for spots where drivers can safely stop. Gas stations along the A1 are often your best bet. They provide a moment for drivers to pause and consider giving you a lift. Embarking on the hitchhiking journey from Vienna to Salzburg is a testament to the adventurous soul.
Once you've reached Salzburg, the adventure continues. Dive into the city's top sights with the "15 Essential Attractions in Salzburg" guide, or sync up with one of my free walking tours if your visit aligns with the schedule.
Planning Your Trip from Vienna to Salzburg
Whether you're planning for a day trip, contemplating an overnight stay in Salzburg to bask in the city's after-dark allure, or turning the trip from Vienna to Salzburg into an odyssey of its own by renting a car—getting lost in the wonders en route—here's your guide to making every moment count.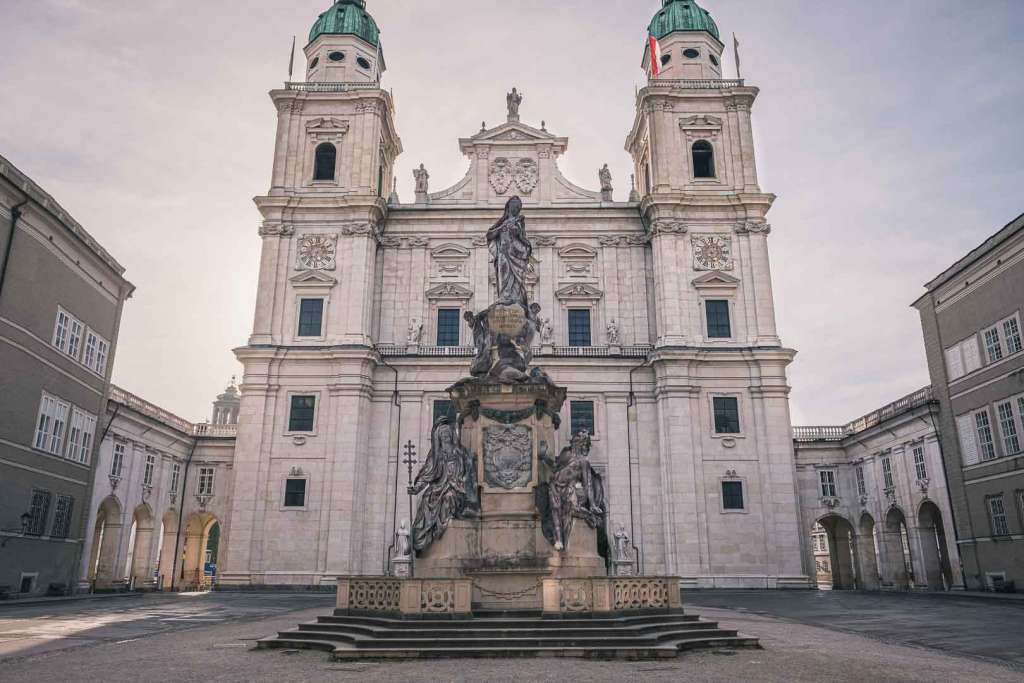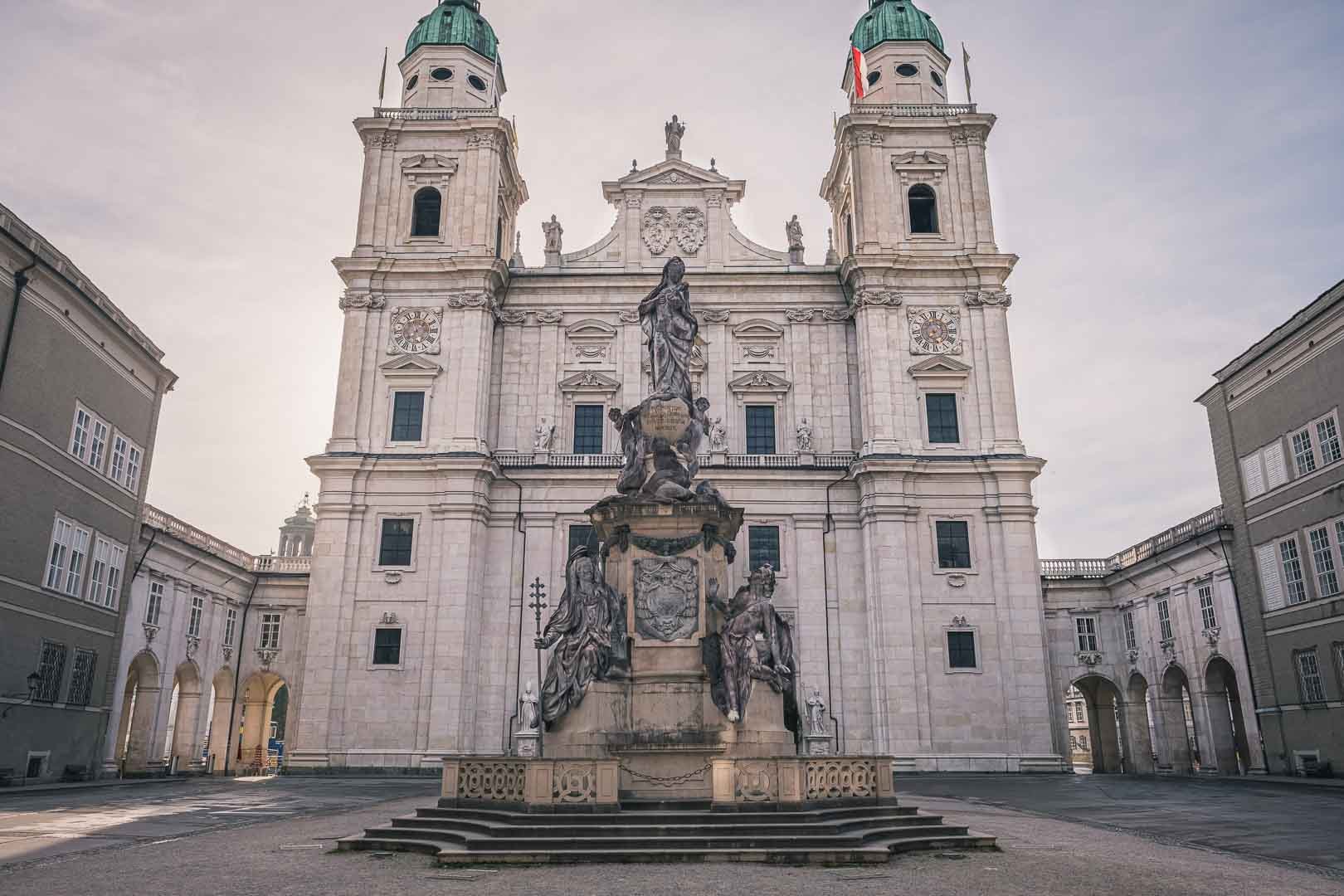 Timing Your Adventure
To make the most of your day when traveling from Vienna to Salzburg, consider the early-bird approach. Catching the first rays of sunlight can give you a head start on the day's explorations. Trains run frequently, but an early departure means you'll sidestep the larger crowds and have more time to wander through Salzburg's charming streets.
Maximizing Your Day
If you're aiming to soak up as much of Salzburg as possible without an overnight stay, plan to leave Vienna early and return late. This will afford you the luxury of a leisurely lunch and the chance to dip into some of Salzburg's famed cafes. Keep an eye on train schedules—the last Westbahn train currently departs at 18:52, but ÖBB offers later services if you fancy lingering longer in the city's evening glow.
Day Trips vs. Overnight Stays: Exploring Salzburg
Yes, a day trip is feasible. The swift 2.5-hour train ride makes Salzburg an accessible destination from Vienna. Once there, the old town welcomes you with open arms, ready to reveal its treasures within a 2 to 6-hour stroll. Your pace dictates your path—whether it's a brisk walk through history or a leisurely saunter with frequent stops to admire and explore. If you are wondering how to spend the perfect day in Salzburg, here is what you need to know.
The Case for Staying Over
However, Salzburg deserves more than a fleeting visit. While a day trip teases you with a taste of its splendor, staying overnight allows you to savor the city's full flavor. From dusk till dawn, Salzburg unfurls its beauty in a more relaxed tempo. For those who decide to embrace the city's nighttime serenade, here's a curated list of accommodation options.
Detours Worth the Drive
If you're steering the wheel yourself or opting for a shuttle, the journey from Vienna to Salzburg is dotted with detours that promise to enrich your Austrian narrative. Melk Abbey's baroque brilliance, the tranquil shores of Lake Traunsee, and the storybook villages of the Salzkammergut are just a few chapters in Austria's anthology of sights worth the stop.
Planning Your Pit Stops
To truly embrace these sights, don't rush. Allocate time, breathe in the views, and let the history seep into your travel. These stops are more than mere attractions; they're moments that will linger long after the journey ends.
Summary
Here's the lowdown: the train isn't just your best bet; it's a delightful experience in itself. With a journey time of about 2 hours and 30 minutes and departures every half hour, you're set for a hassle-free trip. And while you don't need to book in advance, buying your tickets early could save you a few euros.
You've got two train operators: Westbahn and ÖBB. Westbahn often wins on price and flexibility, making it a solid choice for those who like to keep it casual and cost-effective. ÖBB offers a sense of tradition and reliability, especially if you're the type to plan ahead.
If you want more adventure and sightseeing or are traveling in a pack, here are more options:
Car Rentals: You're the master of your itinerary, and with the right group, it's as economical as it is exhilarating. Plus, you get to explore those off-the-map spots that the trains can't reach.

Private Shuttles: They're a splurge, sure, but for larger groups or those seeking a touch of luxury, they can be surprisingly reasonable when you break down the per-head cost. Plus, they add that exclusive 'pick-up and drop-off' service.

Car Sharing: It's not just about saving pennies; it's about the people you meet. Platforms like Blablacar not only offer a wallet-friendly way to travel but also the chance to make new friends and share stories.

Hitchhiking: It's not for everyone, but for the true adventurers, it's a tale worth telling. It's about the journey, the unexpected detours, and the stories you'll gather along the way.
In conclusion, whether you're a solo traveler with a thirst for adventure or a group looking for the most cost-effective route, Salzburg awaits you with open arms. The train from Vienna might be the tried-and-true path, but the alternatives have their own charm. Whatever you choose, Salzburg won't disappoint. And remember, whether you're there for a day trip or an overnight stay, Salzburg deserves to be savored. So go ahead, choose your adventure, and let Salzburg do the rest.